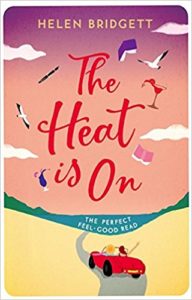 #bookreview – The Heat is On by Helen Bridgett @Helen_Bridgett @RedDoorBooks #Lovebooksgrouptours #BlogTour
I'm so pleased to be reviewing The Heat is On by Helen Bridgett today. I loved The Mercury Travel Club and I loved this one, the follow up, as well. My thanks to Red Door and Kelly Lacey from Love Books Group Tours for the review copy and the place on the tour.
'And have you booked in your vejazzler?'
'My what?'
'You can't roll up with your grey wire wool when he's expecting rhinestone!'

Angie Shepherd is back and this time she means business!

Life is perfect for Angie Shepherd. Her dreams of becoming an entrepreneur have come true, business is booming, and her best friend Patty is back in town. So when the opportunity of investing in a luxury hotel comes up, it seems like a no-brainer. It's all going swimmingly until a rival travel agency opens up across the street. Before long, The Mercury Travel Club is undercut, double-crossed and in deep trouble. It's time for Angie to up the stakes. But with costs mounting up, sales going down, and her personal life suddenly in freefall, can Angie and her friends weather the storm?

Witty and charming in equal measure, this feel-good novel shows that when the going gets tough, the tough definitely get going.
---

I was a big fan of the first outing for The Mercury Travel Club, so I couldn't wait to get back to Angie, Patty and co. As with most books in a series, it took me just a little bit of time to remind myself who everyone was and what had happened before but I was soon settled in and loving being back with these engaging characters.
So, Angie and Charlie are running their travel business and doing a grand job of it with the help of Josie, who comes up with all sorts of ways of getting people signed up for their trips. Angie's relationship with Michael is bobbing along ok and Patty, Angie's slightly mad best friend, is with Jack. All is well until, that is, a new travel agency, filled with technology and delights to entice any customer, comes along and opens up bang opposite Mercury.
I really felt for Angie. She'd put her all into Mercury and is devastated to think that she might lose it. Heck, I was devastated for her! But I loved all the ways she, Charlie and everyone else, came up with to try and keep their beloved business going. I won't say whether it works or not but let's just say that all was concluded satisfactorily. I said in my review for The Mercury Travel Club that Helen Bridgett ought to go into business herself with her wonderful ideas and I stand by that as once again she's come up with some corkers. I'd love to go on one of the trips myself, especially the treasure trail.
There are a cast of characters that really work here and I'd be very happy to read more about them in the future. Some are wacky (Patty and Angie's mum in particular), some are kind (Jack and Michael), some put their all into whatever they do (Angie and Charlie), but all are fabulously well-rounded individuals who add their own special something to the story.
The Heat is On made me smile a lot. It's warm, it's feel-good, it's fun, even riotously so at times. It's about comradeship, finding love and starting all over again. Helen Bridgett's stories are an absolute pleasure to read. I do hope we'll meet Angie and co again in more Mercury adventures.
---

---

Helen Bridgett was born in the North-East and now lives in Manchester having stopped off at a few places in between. Following a career in Marketing, Helen took an MA in TV and Radio Scriptwriting and created short films before writing her first novel. She loves nothing more than a glass of wine and witty banter with friends; her love of dialogue feeds into her work and has given her the perfect excuse to eavesdrop on conversations. Helen lives with her husband and their chocolate Labrador, Angus; all three can often be found wandering the Cumbrian hills or in country pubs.