#BlogTour #GuestPost by Jackie Baldwin, Author of Perfect Dead @JackieMBaldwin1 @KillerReads #LoveBooksGroupTours
Jackie Baldwin is my guest today with a post about why she set her latest novel, Perfect Dead, against a backdrop of the art world. I'd like to thank Kelly Lacey from Love Books Group Tours for the place on the blog tour and Jackie for writing such an interesting post.

Each murder brings him one step closer to the perfect death.

Ex-priest, DI Farrell is called on to investigate a gruesome death in rural Scotland. All evidence points to suicide, except for one loose end: every light in the cottage was switched off. Why would he kill himself in the dark?

The question sparks a murder investigation that leads to the mysterious Ivy House, home of 'The Collective,' a sinister commune of artists who will do anything to keep their twisted secrets hidden.

And when the remains of a young girl are uncovered on a barren stretch of coastline, Farrell realises that there is something rotten in this tight-knit community. Now he must track down a ruthless killer before another person dies, this time much closer to home…
You can buy Perfect Dead in ebook and paperback.
---

An Artful Choice by Jackie Baldwin
I have a confession to make. I am truly dreadful at art. I was asked to leave the art class at the tender age of fourteen. When my children were toddlers I used to paint with them and then put our efforts up on the kitchen wall. It was impossible to distinguish my efforts from those of the children. I suspect that theirs were better! I fared no better at sewing and knitting. Anything I knitted turned into a tea cosy and I took Latin to escape sewing.
So why set my novel against the backdrop of the art world? One of my closest friends is an artist and has provided me with a tantalising glimpse into alien territory. The first thing that struck me was the intensity that some artists bring to their work. When they talk about their art it is almost as if they are talking about another dimension. In perhaps the same way as a writer has an internal world peopled by characters and their voices, so an artist sees all manner of connections between things that the rest of us are oblivious to. One example might be drawing meaning from geology and how all the different strata of the earth are layered upon each other. Another might be the way the eye moves between light and shade and issues of perception.
In a further parallel between the art world and the literary landscape, there is an apparent view that commercial artists are in some way prostituting their talent or selling out by catering to the mainstream or to someone else's vision. This distinction is also evident in literature with literary fiction deemed more elevated and appealing to a narrower audience than genre fiction which has wider popular appeal. It occurred to me that for some people there must be a whole lot of shame, envy and frustration bound up in that exclusion zone.
One thing that struck me as I researched this alien world was how obsessive artists can be. It is more than a lifestyle or a career; it is a compulsion, a 'Magnificent Obsession,' if you like. It can defy all reason. Artists, writers and musicians can be prone to mental health conditions and walk a dangerous tightrope as they struggle to fully express their creative vision without becoming engulfed by its very intensity.
Needless to say this is all very fertile territory for a writer to explore. One irony for me in writing this book was that I had to create a few art works of my own, or at least describe them from my imagination. Given the indignity of my own artistic past, I found this strangely liberating! Maybe it is time to shed my inhibitions and enrol in an art class?
Only kidding! I know my limitations.
Thanks so much, Jackie. I'm rubbish at art, knitting and sewing too, so you're not alone!
---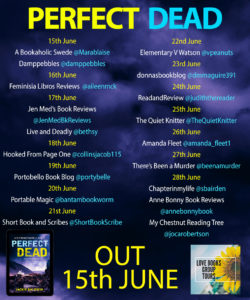 ---

Jackie Baldwin is a Scottish crime writer. Her debut crime novel, Dead Man's Prayer, was published by Killer Reads, Harper Collins on 2nd September 2016. The second in the series, Perfect Dead was published on 15th June 2018. For most of her working life, she has been a solicitor specialising in Family and Criminal Law. However, she now practices in Dumfries as a hypnotherapist which is where her novels are set. Married, with two grown up children, she has filled her empty nest with Golden Retrievers. She can often be found in a forest walking the dogs, covered in mud and with twigs in her hair.