Seven Day Spotlight – w/e 22/04/18
Hello. It's that time of the week again – Sundays don't half come round fast. Here's what happened this week on my blog:
Monday was a busy day with three posts. I reviewed The Man on the Middle Floor by Elizabeth S. Moore, I shared an extract from The Sapphire Widow by Dinah Jefferies and I helped to reveal the cover of The Weekend Spa Break by Anne John-Ligali.
Tuesday was almost as busy with two posts. I shared extracts from Game Show by Allie Cresswell and Things Bright and Beautiful by Anbara Salam.
On Wednesday, I reviewed The War Nurses by Lizzie Page.
And on Thursday, I reviewed The Girl I Used to Know by Faith Hogan.
Friday saw me posting a guest post from CS Duffy about a lucky escape from Ted Bundy.
And on Saturday, I posted an extract from Rebellious Spirits by Ruth Ball, along with a recipe for treacle poitín, which is apparently a bit like rum.
---
So, what have I added to my TBR pile this week?
The Map of Us by Jules Preston – pre-order
Violet North is wonderfully inconvenient. Abandoned by her family and lost in an imagined world of moors and adventure, her life changes in the space of just 37 words exchanged with a stranger at her front door.

Decades later, Daniel Bearing has inherited his father's multi-million pound business, and is utterly lost. He has no idea who he is or where his life is headed.

When Violet's granddaughter's marriage falls apart, Tilly, always adept with numbers, compiles a detailed statistical report to pinpoint why. But the Compatibility Index Tilly creates has unforeseen consequences for everyone in her world.

Tilly and Daniel share a secret too. 10.37am, April 22nd.
Soon, a complex web of secrets and lies is exposed and an adventure begins with a blue typewriter…
Her Watchful Eye by Julie Corbin
Ruby lives alone in the house she once shared with her husband. By day she sleeps and by night she watches people. She's a CCTV operator, trained to spot early signs of danger. But some things are impossible to predict.

One night, through the eye of the camera, Ruby sees a girl she thought she would never see again. Secretly, harmlessly, Ruby starts to watch her. Until just watching isn't enough . . .

Then someone finds out what she's been up to and things spiral out of her control. In the end, one person will end up behind bars, and another will end up dead.
Call of the Curlew by Elizabeth Brooks
Virginia Wrathmell has always known she will meet her death on the marsh.

One snowy New Year's Eve, at the age of eighty-six, Virginia feels the time has finally come.

New Year's Eve, 1939. Virginia is ten, an orphan arriving to meet her new parents at their mysterious house, Salt Winds. Her new home sits on the edge of a vast marsh, a beautiful but dangerous place. War feels far away out here amongst the birds and shifting sands – until the day a German fighter plane crashes into the marsh. The people at Salt Winds are the only ones to see it.

What happens next is something Virginia will regret for the next seventy-five years, and which will change the whole course of her life.
Sticks and Stones by Jo Jakeman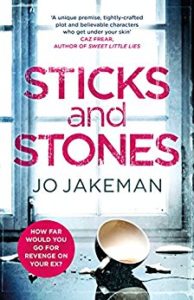 Imogen's husband is a bad man. His ex-wife and his new mistress might have different perspectives but Imogen thinks she knows the truth. And now he's given her an ultimatum: get out of the family home in the next fortnight or I'll fight you for custody of our son.

In a moment of madness, Imogen does something unthinkable: she locks her husband in the cellar. Now she's in control. But how far will she go to protect her son and punish her husband? And what will happen when his ex and his girlfriend get tangled up in her plans?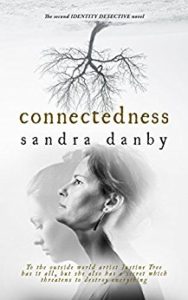 TO THE OUTSIDE WORLD, ARTIST JUSTINE TREE HAS IT ALL… BUT SHE ALWAYS HAS A SECRET THAT THREATENS TO DESTROY EVERYTHING

Justine's art sells around the world, but does anyone truly know her? When her mother dies, she returns to her childhood home in Yorkshire where she decides to confront her past. She asks journalist Rose Haldane to find the baby she gave away when she was an art student, but only when Rose starts to ask difficult questions does Justine truly understand what she must face.

Is Justine strong enough to admit the secrets and lies of her past? To speak aloud the deeds she has hidden for 27 years, the real inspiration for her work that sells for millions of pounds. Could the truth trash her artistic reputation? Does Justine care more about her daughter, or her art? And what will she do if her daughter hates her?

This tale of art, adoption, romance and loss moves between now and the Eighties, from London's art world to the bleak isolated cliffs of East Yorkshire and the hot orange blossom streets of Málaga, Spain.
Nail-bitingly modern domestic noir
A tense, Hitchcockian psychological thriller
Louise Voss returns with her darkest, most chilling, novel yet…

Lynn Naismith gave up the job she loved when she married Ed, the love of her life, but it was worth it for the happy years they enjoyed together. Now, ten years on, Ed has been diagnosed with early-onset dementia, and things start to happen; things more sinister than missing keys and lost words. As some memories are forgotten, others, long buried, begin to surface … and Lynn's perfect world begins to crumble.
But is it Ed's mind playing tricks, or hers…?
One Summer in Italy by Sue Moorcroft
When Sofia Bianchi's father Aldo dies, it makes her stop and look at things afresh. Having been his carer for so many years, she knows it's time for her to live her own life – and to fulfil some promises she made to Aldo in his final days.

So there's nothing for it but to escape to Italy's Umbrian mountains where, tucked away in a sleepy Italian village, lie plenty of family secrets waiting to be discovered. There, Sofia also finds Amy who is desperately trying to find her way in life after discovering her dad isn't her biological father.

Sofia sets about helping Amy through this difficult time, but it's the handsome Levi who proves to be the biggest distraction for Sofia, as her new life starts to take off…
Her Mother's Secret by Rosanna Ley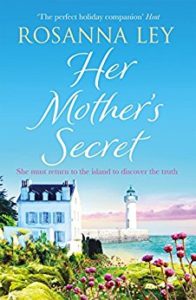 For many years Colette has avoided returning to her homeland – the magical island of Belle-Île-en-Mer in Southern Brittany – afraid to confront the painful memories she left behind. She is living on the Cornish coast when she hears about her mother Thea's failing health and realises that the time has come for her to go home. But can Colette ever forgive Thea for what she has done?

Despite Colette's wariness, romantic Belle-Île still fascinates her. She takes on the running of her mother's flower shop and makes friends with Élodie from the Old Lighthouse where Thea once worked as a nanny and with the enigmatic Étienne who shares Colette's mixed feelings about the island. As Thea opens up to her for the first time, Colette finds herself softening and being drawn back into the landscape of her past. But can Belle-Île also be a part of her future?

The ghosts of that past still linger. What happened all those years ago and how did it cause the rift between mother and daughter? It becomes clear that the beauty of Belle-Île hides a devastating family secret – one that Colette is determined to unravel at any cost.
When I Find You by Emma Curtis – pre-order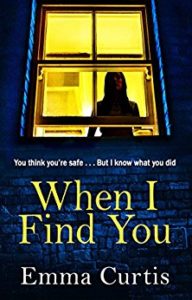 What do you do when someone takes advantage of your greatest weakness?

When Laura wakes up after her office Christmas party and sees a man's shirt on the floor, she is horrified. But this is no ordinary one-night-stand regret.

Laura suffers from severe face-blindness, a condition that means she is completely unable to identify and remember faces. So the man she spent all night dancing with and kissing – the man she thought she'd brought home – was 'Pink Shirt'.

But the shirt on her floor is blue.

And now Laura must go to work every day, and face the man who took advantage of her condition. The man she has no way of recognising.

She doesn't know who he is . . . but she'll make him pay.
The Housekeeper's Daughter by Rosie Meddon – pre-order
A story of family, secrets and love set in the beautiful Devonshire countryside at Woodicombe House.

Kate Bratton dreams of more. It's 1914, and her life is mapped out ahead of her: continue working as a maid in the beautiful Woodicombe House, settle down with Luke, the gardener and, of course, start a family.

Desperate to run away in search of adventure, Kate's plans are curtailed by the arrival of the Russell family at Woodicombe House. Tasked with becoming a ladies-maid for their daughter, Naomi, Kate gets a glimpse of the other side of life. Little does she know that all families have secrets, no matter their standing.

Will Kate return to the safety of her life before the Russell's arrival? Or will the handsome Ned Russell turn her head?