#bookreview – The Man on the Middle Floor by Elizabeth S. Moore @LizzyMoore19 @RedDoorBooks #blogtour
I'm delighted to welcome you to my stop on the blog tour for The Man on the Middle Floor by Elizabeth S. Moore, published by the fantastic Red Door Publishing. Thank you to Anna Burtt for asking me to be a part of it and for providing a review copy. I've just, rather embarrassingly, realised that whilst I had this post written in my diary for today, the blog tour poster says my stop should have been on the 12th. I'm not sure what happened there but better late than never, eh? My apologies to the author and publisher!
---

Lionel Shriver meets Mark Haddon in this break-out debut
Despite living in the same three-flat house in the suburbs of London, the residents are strangers to one another. The bottom floor is home to Tam, a recent ex-cop who spends his days drowning his sorrows in whisky. On the middle floor is Nick, a young man with Asperger's who likes to stick to his schedules and routines. The top floor belongs to Karen, a doctor and researcher who has spent her life trying to understand the rising rates of autism. They have lived their lives separately, until now, when an unsolved murder and the man on the middle floor connect them all together. Told from three points of view, The Man on the Middle Floor is about disconnection in all its forms; sexual, physical, parental and emotional. It questions whether society is meeting the needs of the fast growing autistic section of society, or exacerbating it.

Thought-provoking and thrilling, The Man on the Middle Floor will leave readers talking.
The Man on the Middle Floor is available now in ebook and paperback.
---
Well now, this is quite a book. I don't know what I was expecting but I'm not sure it was quite what I got. The eponymous man on the middle floor is Nick, a man in his early 20s with Asberger's Syndrome. He's living on his own in a flat, coping by having strict routines. Unfortunately, he's been misunderstood by his family and has not had the easiest time but at least living alone gives him the order he needs. Until something happens that shakes up his life. This something happens early on in the novel and it shocked me to the core. It really changed the tone of the book for me.
The ground floor flat is occupied by Tam, a policeman frustrated by modern policing. And the flat above Nick's is occupied by Karen, a doctor who just happens to specialise in research related to autism. One fateful week they all seem to collide for the first time.
This book was like a doll's house where you open the front of it and peer inside. I had a bird's eye view of the goings on and I just couldn't stop reading, despite the difficult storylines and thoroughly unlikeable characters, who I actually found really quite fascinating. Karen, in particular, is so incredibly selfish that I really disliked her, but I also found her so intriguing to read about.
It's billed as Lionel Shriver meets Mark Haddon, a very accurate description in my opinion. Comparison with The Curious Incident is inevitable, but The Man on the Middle Floor is much grittier and far more disturbing, particularly in relation to Nick, but also Karen's relationship with her children.
Elizabeth S. Moore certainly doesn't hold back. This book packs many a punch in its 300 or so pages. It's unexpected, thought-provoking, interesting, shocking and a very well thought out book. It's certainly one I won't forget in a hurry!
---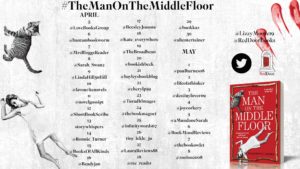 ---

Elizabeth S. Moore has worked as a journalist since she won the Decanter Young Wine Writer of the Year at seventeen. She has written columns and articles on restaurants, politics, South Africa and all things foodie. She comes from a family that has given her a lot of writing material and is currently finishing her second book, having written the first after completing the Faber Write a Novel course and being approached by fourteen agents after reading an excerpt of her novel to industry professionals. Elizabeth lives in London with her South African husband and has three daughters and a son as well as two lazy Labradors.