Seven Day Spotlight – w/e 17/06/18
Welcome to this week's Seven Day Spotlight. It's been a busy week on my blog, here's what I posted:
On Monday, I posted a Q&A with Sandra Danby, along with an extract from her latest book, Connectedness.
On Tuesday, I posted a guest post from Alison Murdoch, author of Bed 12, about how serious illness made her relationship stronger.
I also shared an extract from The Forgotten by J.V. Baptie.
On Wednesday, I reviewed Her Mother's Secret by Rosanna Ley.
And on Thursday, I reviewed The Women of Heachley Hall by Rachel Walkley. You've just got time to enter the competition to win an e-copy.
I also had a guest post from Jacqui Rose, author of Toxic, about how she writes.
On Friday, I reviewed I Never Lie by Jody Sabral.
I also had a guest post from Kate Vane, author of Brand New Friend, talking about why she has returned to the crime genre.
And finally, on Saturday I reviewed The Forgotten Guide to Happiness by Sophie Jenkins and also shared an extract from the book.
---
And so to acquisitions. You may remember the excesses of last week. Well, this week has been like the week after a blowout when you practically starve yourself. Unintentionally, I have only added two books to my TBR pile this week.
The Story Collector by Evie Gaughan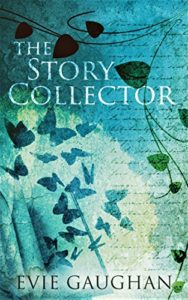 A beautiful and mysterious tale from the author of The Heirloom and The Mysterious Bakery On Rue De Paris.
Thornwood Village, 1910. Anna, a young farm girl, volunteers to help an intriguing American visitor, Harold Griffin-Krauss, translate 'fairy stories' from Irish to English.
But all is not as it seems and Anna soon finds herself at the heart of a mystery that threatens the future of her community and her very way of life…
Captivated by the land of myth, folklore and superstition, Sarah Harper finds herself walking in the footsteps of Harold and Anna one hundred years later, unearthing dark secrets that both enchant and unnerve.
The Story Collector treads the intriguing line between the everyday and the otherworldly, the seen and the unseen. With a taste for the magical in everyday life, Evie Gaughan's latest novel is full of ordinary characters with extraordinary tales to tell.
The Life of Stuff by Susannah Walker
Only after her mother's death does Susannah Walker discover how much of a hoarder she had become. Over the following months, she has to sort through a dilapidated house filled to the brim with rubbish and treasures, in search of a woman she'd never really known or understood in life. This is her last chance to piece together her mother's story and make sense of their troubled relationship. What emerges from the mess of scattered papers, discarded photographs and an extraordinary amount of stuff is the history of a sad and fractured family, haunted by dead children, divorce and alcohol.

The Life of Stuff is a deeply personal memoir about mourning and the shoring up of possessions against the losses and griefs of life, which also raises universal questions about what makes us the people we are. What do our possessions say about us? Why do we project such meaning onto them? And what painful circumstances turn someone who loves their home and the stuff it contains into an incurable hoarder who ends their days in squalor?