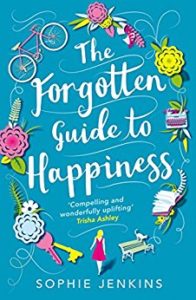 #bookreview + #Extract from The Forgotten Guide to Happiness by Sophie Jenkins @sophiejenkinsuk @AvonBooksUK #BlogTour
I'm so pleased to welcome you to my stop on the blog tour for The Forgotten Guide to Happiness by Sophie Jenkins. I'm reviewing the book today and also have an extract to share with you. My thanks to Sabah Khan from Avon Books for the review copy and the place on the tour.
Sometimes, happiness can be found where you least expect it…

Twenty-eight-year-old Lana Green has never been good at making friends. She's perfectly happy to be left alone with her books. Or at least, that's what she tells herself.

Nancy Ellis Hall was once a celebrated writer. Now eighty, she lives alone in her North London house, and thinks she's doing just fine. But dementia is loosening Nancy's grip on the world.

When Lana and Nancy become unconventional house mates, their lives will change in ways they never expected. But can an unusual friendship rescue two women who don't realise they need to be saved?
You can buy the ebook for just 99p and it will be available in paperback from 9th August.
---

Well now, this is one unusual and quirky sort of book. I loved the idea of the two women, from different generations, becoming unlikely housemates.
Lana is a young woman, a writer with one book under her belt. But she has to write what she knows. Her first book, Love Crazy, was based on her relationship with Mark Bridges. Her second is called Heartbreak – perhaps you can see what might have happened. She's lost and lonely and broke. She has to give up her flat and needs somewhere to live and by chance ends up meeting Jack Buchanan, whose stepmother, Nancy, could do with a housemate to keep her on the straight and narrow. Nancy has dementia and is absolutely gloriously portrayed. Lana really takes to Nancy, even with all that comes with her illness, especially when she realises that she's Nancy Ellis Hall, a well known novelist.
There's so much more to this book and I don't want to start giving away too much. It's not really like any other book I have read. There are sections that made me giggle, some where I could cheerfully have shaken Lana for the choices she made, and some that were sad. But it's the overall unusualness of the story, the characters and the way the whole story is written that really stands out.
I loved the relationship between Lana and Nancy. Where most people would find Nancy too difficult to cope with, Lana completely embraces everything about her and delights in living with such a well known author.  I also thought Jack was the most wonderful character, understated and kind and just an all round lovely man. Lana takes on a creative writing course and her students are an eclectic bunch too. The characterisations in this book are very well-drawn, I thought.
This is a charming read, a delightful look at unusual friendships, love and loss. Sophie Jenkins has a warm and wry writing style, and with The Forgotten Guide to Happiness she's written a really rather delightful book.
---

Some days start off looking hopeful: it's August, the sun is out, the birds are singing, people are smiling – this was one of those days. I was waiting with anticipation for my literary agent Kitty Golding to let me into her apartment block. She lives in the penthouse of a modern architectural block bordering Regent's Park, which is five storeys high and glass-fronted, giving it the effect of a doll's house. On the ground floor, the white sofa had its back to the window and I could see the top of a head of black, curly hair – could be a man or woman, girl, boy or dog. I was itching to reach in and rearrange the furniture.

The intercom clicked into life. 'Come on up, Lana.' The door clunked open, and I got into the lift which took me up to my agent's floor.

Kitty was waiting for me, smiling faintly. Early forties, lean, glossy black hair, wearing a lime and heather coloured boiled-wool dress.

She held the door open, and I smiled back at her and went into her office. The glass wall looked out at the sky and the rooftops above the busy street below. The other three walls were lined with books. Mine was easy to spot: Love Crazy, with LANA GREEN emblazoned along the spine.

I headed for a low tan and chrome chair, and for a discon­certing second I had the sensation of plummeting – the chair was lower than it looked. I tugged at my red skirt: I could see my fake-tanned knees in close-up.

Kitty took the chair opposite me, gripping the armrests and lowering herself in a sort of triceps dip. She picked up the typescript of my sequel, Heartbreak, from the glass table and flicked through a few pages, nodding thoughtfully.
---

---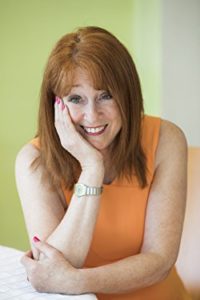 Sophie Jenkins's debut novel The Forgotten Guide to Happiness is published by Avon. After studying creative writing at City University, Sophie took an MA in Prose Fiction at Middlesex University and finds that the creative stimulation of belonging to writing groups wonderfully balances the solitude of writing. She is a member of the Society of Authors and the Romantic Novelists' Association and lives in lively north London. In The Forgotten Guide to Happiness, Sophie explores the enduring happiness of love that persists even when memories are fading, and its life-changing effect on those who witness it.