Seven Day Spotlight – w/e 12/08/18
Welcome to this week's Seven Day Spotlight post. Here's what I posted this week on my blog:
On Monday, I shared my review of The Little Cornish Kitchen by Jane Linfoot. I loved this book which will make you happy and hungry.
Tuesday's post was my review of The Lost Letters by Sarah Mitchell. I thought this debut novel was full of emotion and depth.
Wednesday was a two post day with me sharing an extract from 11 Missed Calls by Elisabeth Carpenter and my review of An Unwanted Guest by Shari Lapena which I thought was the perfect murder mystery.
Thursday was another two post day with a guest post by Helen Hollick entitled Pirates: The Tales Mixed With the Truth and an extract from The Last Thing She Told Me by Linda Green.
And finally for this week, on Friday I shared my review of Sunset Over the Cherry Orchard by Jo Thomas, a book with such a strong sense of place, fantastic characters and an uplifting Spanish storyline.
---
It's been a quiet week for acquisitions, just three this week. Keep this up and I'll be through my TBR pile in no time, ha ha ha.
An Italian Summer by Fanny Blake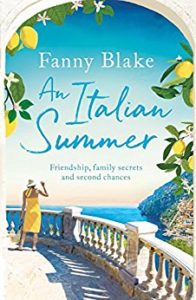 A compelling novel about friendship, family secrets and second chances, set against the backdrop of southern Italy.

Sandy is in her fifties, and at a crossroads in her life: she's a teacher and respected by her pupils, but she feels she is being sidelined in favour of younger colleagues. So when her mother dies, leaving her a sealed envelope addressed to an unknown woman living in Naples, Sandy decides to head to Italy to resolve the mystery by delivering the letter herself.

She books herself on to a small sightseeing trip from Rome to Naples and the Amalfi Coast, hoping to meet some like-minded people along the way. Who is the mysterious woman she is searching for? And will Sandy find friendship, or even love, along the way…?
The Babysitter by Sheryl Browne
You trust her with your family. Would you trust her with your life?

Mark and Melissa Cain are thrilled to have found Jade, a babysitter who is brilliant with their young children. Having seen her own house burn to the ground, Jade needs them as much as they need her. Moving Jade into the family home can only be a good thing, can't it?

As Mark works long hours as a police officer and Melissa struggles with running a business, the family become ever more reliant on their babysitter, who is only too happy to help. And as Melissa begins to slip into depression, it's Jade who is left picking up the pieces.

But Mark soon notices things aren't quite as they seem. Things at home feel wrong, and as Mark begins to investigate their seemingly perfect sitter, what he discovers shocks him to his core. He's met Jade before. And now he suspects he might know what she wants …

Mark is in a race against time to protect his family. But what will he find as he goes back to his family home?
The Tissue Veil by Brenda Bannister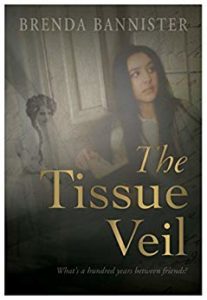 What if you discovered a hundred-year-old diary under your floorboards – and then found references in it to yourself? Or if you lived in 1901, yet kept seeing glimpses of a girl from modern times? And what if both of you had problems that only the other could really understand? Emily and Aysha live in the same Stepney house and an inexplicable link develops between them, fuelled by Aysha's discovery of a journal and Emily's sightings of a 'future ghost'. Each takes courage from the other's predicament – after all, what's a hundred years between friends?