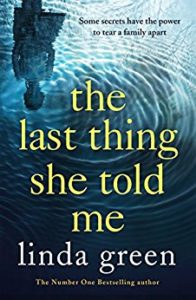 ShortBookandScribes #Extract from #TheLastThingSheToldMe by Linda Green @LindaGreenisms @QuercusBooks @MillsReid11
I recently reviewed this fabulous book and you can read my review here. I'm so pleased to be able to share chapter one with you today, If you like the sound of it and fancy reading it for yourself then you can get the ebook for just 99p and it's also available in paperback.
The blurb and author information are on my review post so I'll just get on and let you read this great extract – just click here to go through to the pdf. I hope you love it as much as I did.