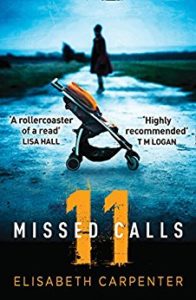 ShortBookandScribes #BlogTour #Extract – 11 Missed Calls by Elisabeth Carpenter @LibbyCPT @AvonBooksUK #BlogTour
Welcome to my stop on the blog tour for 11 Missed Calls by Elisabeth Carpenter. I have a fab extract for you today and would like to thank Sabah Khan from Avon Books for the place on the tour.
Here are two things I know about my mother:
1. She had dark hair, like mine. 
2. She wasn't very happy at the end.

Anna has always believed that her mother, Debbie, died 30 years ago on the night she disappeared.

But when her father gets a strange note, she realises that she's never been told the full story of what happened that night on the cliff.

Confused and upset, Anna turns to her husband Jack – but when she finds a love letter from another woman in his wallet, she realises there's no-one left to help her, least of all her family.

And then a body is found…
---

'Is this it?' says Robert, standing up. 'It's a crank letter. You've had them before, haven't you, Dad?'

'What?' I say. 'No one said anything to me.'

'I suppose they didn't want to upset you,' Robert says.

I frown at him, making a note in my mind to ask Monica about it next time I see her.

'But what if it's not?' I say quietly. 'My memory box is covered in shells.'

Robert tuts. 'That could mean anything. You're just making it significant because it means something to you. It's like these charlatan psychics. If Debbie were alive, why would she make contact now after so long?'

'Something might've happened,' I say to Dad. 'It says it's time. Why did she address it to Monica and not you?'

Dad shakes his head.

'I've no idea what it means,' he says. 'Neither does Monica. We'll just have to wait and see if she sends something else.'

'If it's even a she who wrote it,' says Robert. 'It could be anyone.'

'Did you reply?' I say.

We both look up at Dad.

'I … I think Monica might have. I've been a bit shaken by it all, to be honest.'

'It sounds a bit sinister,' I say. 'What does Monica think it means?'

Dad takes one of the glasses of champagne and takes a large sip.

'Like I said, she doesn't know.'

Robert looks at me and shrugs.

'That's because it's a load of crap.'

'Uncle Robert!' Sophie runs into the kitchen and jumps onto Robert's lap. 'Did you just say crap?'

'Of course not!' says Robert. 'I said slap.'

'Which isn't much better,' says Dad, rubbing the top of Sophie's head.

I walk into the living room and switch off the television. I look down at the email again. Monica received it days ago, yet didn't show Dad. I look out of the window, leaning against the glass. I don't know what I expect to see outside. But a thought strikes me.

Monica knows more than she is letting on.
---

---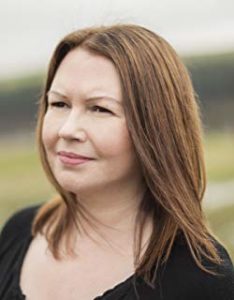 Libby Carpenter lives in Preston with her family. She completed a BA in English Literature and Language with the Open University in 2011.
Libby was awarded a Northern Writers' New Fiction award, and was longlisted for Yeovil Literary Prize (2015 and 2016) and the MsLexia Women's Novel award (2015). She loves living in the north of England and sets most of her stories in the area. She currently works as a book keeper. Her first novel, 99 Red Balloons, became a bestseller in 2017.
Author bio and photo taken from Amazon