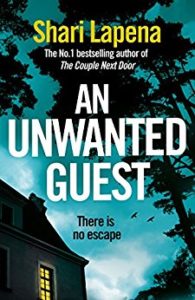 ShortBookandScribes #BookReview – An Unwanted Guest by Shari Lapena
I'm so pleased to be able to share my review of An Unwanted Guest by Shari Lapena with you today. I read this book in daily staves via The Pigeonhole and would like to thank them and the publishers for the opportunity.

We can't choose the strangers we meet.

As the guests arrive at beautiful, remote Mitchell's Inn, they're all looking forward to a relaxing weekend deep in the forest, miles from anywhere. They watch their fellow guests with interest, from a polite distance.

Usually we can avoid the people who make us nervous, make us afraid.

With a violent storm raging, the group finds itself completely cut off from the outside world. Nobody can get in – or out. And then the first body is found . . . and the horrifying truth comes to light. There's a killer among them – and nowhere to run.

Until we find ourselves in a situation we can't escape. Trapped.
---
An Unwanted Guest is a book I kept hearing about all the time so when it became available to read on The Pigeonhole I jumped at the chance. This meant that I read a stave every day for ten days. I'm not sure this worked so well for me at first as I think I would have benefitted from getting more stuck into the book at the beginning, but once I was familiar with the characters I was engrossed.
This is one of those very atmospheric reads, one where the setting and location is crucial. Extreme weather and huge wide-open spaces add to the sense of foreboding that I started to feel very early on.
Mitchell's Inn is a remote hotel upon which a number of guests descend for what should be a relaxing weekend but ends up being anything but. There's snow, ice and a storm which cuts off the power, so pretty quickly the guests become more involved with each other than they would have done. Some of them are in couples, some are friends and some are there alone, but none of them know anybody else apart from the person they arrived with. Along with the owner of the hotel and his son, there are twelve of them altogether but then a body is found and that total starts to decrease. The first death could possibly be an accident but what occurs afterwards is most definitely not. Can you imagine being confined in a building with a murderer and not knowing who it is? That intense, claustrophobic feeling is what An Unwanted Guest is all about.
I thought the characterisations were excellent. Along with the guests, I had no idea who the murderer might be and I suspected each and every one of them. In fact, I had no clue at all until very near the end when I started to get an inkling. I did turn out to be right but honestly, it could have been anybody and to maintain that level of mystery and not give away lots of pointers shows how talented Shari Lapena is. I haven't read her other books yet but I'm keen to do so now.
This is a clever book. The author captures the way people feel when they're under threat, how they start to suspect and accuse other people, how they feel vulnerable and scared, how they begin to divulge things about themselves that they wouldn't have ordinarily. It's the perfect murder mystery.
---

Shari Lapena worked as a lawyer and as an English teacher before turning to writing fiction. A Stranger in the House, as well as Lapena's suspense debut, The Couple Next Door, were both New York Times and international bestsellers.