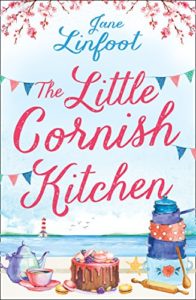 ShortBookandScribes #BookReview – The Little Cornish Kitchen by Jane Linfoot @janelinfoot @rararesources #BlogTour #Giveaway
I'm delighted to be reviewing The Little Cornish Kitchen by Jane Linfoot today as it's a little cracker of a book. I also have details of a fab giveaway for you where you can win your very own copy, along with a mermaid notebook and sugar unicorns! My thanks to Rachel Gilbey from Rachel's Random Resources for the place on the tour.
---
It's time to come home to Cornwall

With an exciting new life in Paris, Clemmie Hamilton isn't looking forward to heading home to the picturesque but sleepy village of St Aidan, Cornwall. However, when she discovers that the cosy apartment by the sea, which her grandmother left to her, is under threat from neighbour and property developer, Charlie Hobson, Clemmie realises she can't abandon her home in its time of need.

With her childhood friends encouraging her, Clemmie decides to turn the apartment into 'The Little Cornish Kitchen' – a boutique pop up pudding club raising money for the repairs to the building in an effort to stop Charlie once and for all. But when Charlie and his easy charm won't seem to go away, everything soon becomes even messier than the state of Clemmie's Cornish kitchen…
---

Do you want to visit Cornwall for the summer and drool over the most delicious sounding hunk desserts? Well, look no further because you can do all that between the pages of this lovely book.
Jane Linfoot's books really appeal to me, so much so that I have had a couple of them on my reading pile for a while now. But I was utterly seduced by the idea of The Little Cornish Kitchen. The popularity of Cornwall as a setting never seems to wane, and nor should it as it's a stunning area, often by the sea – perfect! And the kitchen bit spoke to me too as I love books about baking.
Clemmie is a free spirit. She's travelled far and wide but comes back to the little village of St Aidan in Cornwall to finally receive the legacy her grandmother, Laura, left to her years earlier: a gorgeous little flat in Seaspray Cottage with a balcony overlooking the sea. Already I'm almost weak at the thought of the beauty of the views. Add in her neighbour in the flat next door, Charlie Hobson, who happens to share the balcony, and life's getting a little more complicated for Clemmie and very interesting for me as a reader.
To make some money her friends come up with the idea to set up a pop-up kitchen in the flat and host singles nights and the like. Clemmie, who's not much of a baker, finds herself raiding Laura's recipes for delicious desserts such as lemon meringues, chocolate roulade and sorbets and she takes to it like a sugar addict to buttercream. The descriptions of the food in this book are absolutely mouth-watering and if you're so inclined there are recipes at the back so you can make some of your very own.
At times I wanted to shake Clemmie and tell her to open her eyes and see what's right in front of her. But any good romance has to have a bit of conflict before it all comes right. And it wasn't only romance where Clemmie buried her head in the sand as her family life was also a bit problematical as well. But she has a lovely group of friends to help her through it all and the friendships were one of the strongest things about this book, I thought.
I loved the pop-up kitchen – what a great idea! I do like to read books about people setting up businesses and succeeding and even more so when food is involved. I also adored Charlie. He's the strong and silent type but seems like he has the weight of the world on his shoulders sometimes. The bond that starts to develop between him and Clemmie is so lovely, so heart-warming, that it really made me smile.
In fact, this whole book is like that. It's a real pleasure from start to finish, it will make you hungry, it will make you happy and it will make you swoon a little bit. I thought it was fabulous.
---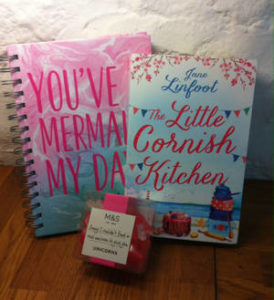 a Rafflecopter giveaway

*Terms and Conditions –Worldwide entries welcome.  Please enter using the Rafflecopter box below.  The winner will be selected at random via Rafflecopter from all valid entries and will be notified by Twitter and/or email. If no response is received within 7 days then the organiser reserves the right to select an alternative winner. Open to all entrants aged 18 or over.  Any personal data given as part of the competition entry is used for this purpose only and will not be shared with third parties, with the exception of the winners' information. This will be passed to the giveaway organiser and used only for fulfilment of the prize, after which time the data will be deleted.  I am not responsible for despatch or delivery of the prize.
---

---

Jane Linfoot is a best selling author, who lives in a muddy cottage, up a steep hill in Derbyshire, with her family, their pets, and an astonishing number of spiders. Although she loves seeing cow noses over the garden wall, she's happy she can walk to a supermarket.
Jane grew up in North Yorkshire where she spent a lot of her childhood avoiding horizontal gales blowing off the sea, and wrote her first book by accident, while working as an architect, and renovating country houses. While she loves to write feelgood books that let readers escape, she's always surprised to hear her stories make people laugh, admits to (occasionally) crying as she writes, and credits her characters for creating their own story lines.
Jane's garden would be less brambly if she wasn't on Facebook and Twitter so often. On days when she wants to be really scared, she rides a tandem.
Her latest books include a series of stand alone novels, based around a seaside wedding shop in Cornwall. Cupcakes and Confetti – The Little Wedding Shop by the Sea, Sequins and Snowflakes – Christmas at the Little Wedding Shop, and Bunting and Bouquets – Summer at the Little Wedding Shop, and most recently, The Little Cornish Kitchen. These are all published by Harper Impulse,  an imprint of Harper Collins.
Follow Jane on Twitter, or find her on her Author Page Facebook or her Personal Page Facebook. She's also on Instagram, and has lots of Pinterest boards relating to her novels.