Seven Day Spotlight – w/e 10/12/17
Welcome to this week's Seven Day Spotlight post. We've had some of this today:
and it's cold so not exactly the best day for the central heating to break down! My other half is still working on it so please cross your fingers and hope he manages to mend it.
---
This week on my blog:
I started the week on Monday with two quite different posts. I had a fab guest post from K.S. Hunter, author of One More Time, talking about the best obsession storylines in film and literature.
And by complete contrast, I reviewed children's book Fangs and Feasts in Transratania by Geronimo Stilton.
On Tuesday I shared an extract from Made in Japan by SJ Parks.
I also posted an extract from Twice the Speed of Dark by Lulu Allison.
Wednesday brought my Q&A with Erin Green as part of the blog tour for A Christmas Wish. There's still a giveaway to enter on that post.
On Thursday I posted an extract from A Ragbag of Riches by James Chilton.
Friday was a wintry sort of day. I posted a review of Ours is the Winter by Laurie Ellingham (you have a few hours to enter the giveaway) and I also posted a guest post by Rebecca Raisin about her favourite Christmas films, along with an extract from Winter at Cedarwood Lodge.
On Saturday I posted my review of The Book Lovers' Miscellany by Claire Cock-Starkey.
And today I shared an extract from Blackmail, Sex and Lies by Kathryn McMaster and there's a copy of the book up for grabs too.
---
This is what I have added to my TBR pile this week: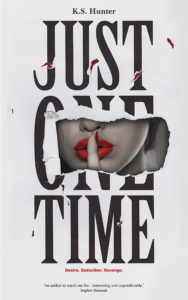 The first novel by K.S. Hunter, the alter ego of an international bestselling author, whose identity will remain a secret.

Desire can have dire consequences

Two years ago, David Madden made a mistake that almost cost him his marriage. His wife, Alison, gave him another chance, but she has not forgotten, nor has she forgiven.

She is irresistible

Then David meets the alluring Nina at a theatre in London. When he loses his phone in the dark, she helps him find it, and by giving her his number he unwittingly invites her into his life.

What David initially views as an innocent flirt turns into a dangerous game of deception. His increasingly suspicious wife thinks something is up, and each lie he tells pushes them further apart.

She is insatiable

Nina pursues David relentlessly, following him to New York where she gives him an ultimatum: sleep with her, just one time, and then she'll get out of his life forever; or she'll ruin everything he holds dear.

She is unstoppable

Of course, once won't be enough for Nina, and what David hoped would be the end is merely the beginning.

A modern-day Fatal Attraction, Just One Time is a steamy psychological thriller that will have you hooked from the first page and holding your breath until its shocking conclusion.
December Girl by Nicola Cassidy
Molly Thomas is a feisty, independent soul, born on the Winter Solstice. At every stage of her life, she has faced troubles.

As a young woman, her family are evicted from their home at Christmas. Molly swears vengeance on the jealous neighbour and land agent responsible, Flann Montgomery.

Then in 1896, her baby son is taken from his pram. While Molly searches the streets for little Oliver, the police are called but her baby is gone.

Why does trouble seem to follow Molly? And will she ever find out what happened to her child?

December Girl is a tale of family bonds, love, revenge and murder.
The Murderess by Jennifer Wells
1931: Fifteen-year-old Kate witnesses her mother Millicent push a stranger from a station platform into the path of an oncoming train. There was no warning, seemingly no reason, and absolutely no remorse.

1940: Exactly nine years later, Kate returns to the station and notices a tramp laying flowers on the exact spot that the murder was committed; the identity of the victim, still remains unknown.

With a country torn apart by war and her family estate and name in tatters, Kate has nothing to lose as she attempts to uncover family secrets that date back to the Great War and solve a mystery that blights her family name.
I Am Watching You by Teresa Driscoll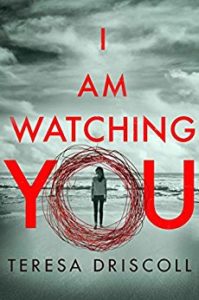 What would it take to make you intervene?

When Ella Longfield overhears two attractive young men flirting with teenage girls on a train, she thinks nothing of it—until she realises they are fresh out of prison and her maternal instinct is put on high alert. But just as she's decided to call for help, something stops her. The next day, she wakes up to the news that one of the girls—beautiful, green-eyed Anna Ballard—has disappeared.

A year later, Anna is still missing. Ella is wracked with guilt over what she failed to do, and she's not the only one who can't forget. Someone is sending her threatening letters—letters that make her fear for her life.

Then an anniversary appeal reveals that Anna's friends and family might have something to hide. Anna's best friend, Sarah, hasn't been telling the whole truth about what really happened that night—and her parents have been keeping secrets of their own.

Someone knows where Anna is—and they're not telling. But they are watching Ella.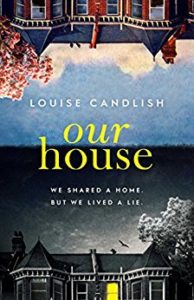 On a bright January morning in the London suburbs, a family moves into the house they've just bought in Trinity Avenue.
Nothing strange about that. Except it is your house. And you didn't sell it.
Fred Sadler has just died of old age. It's 1986, seventy years after he marched off to WWI, and the ghost of Fred Sadler hovers near the ceiling of the nursing home. To Fred's dismay, the arrangement of his funeral falls to his prudish sister-in-law, Viola. As she dominates the remembrance of Fred, he agonizes over his inability to set the record straight.

Was old Uncle Fred really suffering from shell shock? Why was he locked up most of his life in the Whitby Hospital for the Insane? Could his family not have done more for him?

Fred's memories of his life as a child, his family's hotel, the War, and the mental hospital, clash with Viola's version of events as the family gathers on a rainy October night to pay their respects.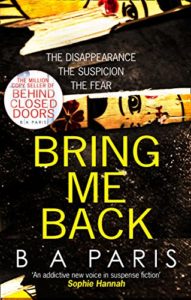 The Disappearance
Twelve years ago Finn's girlfriend disappeared.

The Suspicion
He told the police the truth about that night.
Just not quite the whole truth.

The Fear
Now Finn has moved on.
But his past won't stay buried…
The Bulletproof Proposal by Rebekah Louise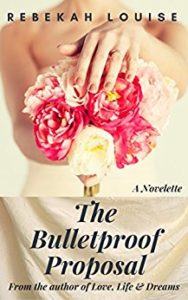 After five years of dating Lisa is anticipating that all-important question, will you marry me?

Impatient, Lisa decides to take matters into her own hands and propose to Matt, after all it is the 21st Century.

Only she takes it one step further and with the help of her best friend Mandy, she prepares the ultimate proposal.

What she doesn't know is whether this will be the beginning of her happily-ever- after or the beginning of the end.
In the early nineties, newlywed Ruth Flint arrives at Echo Hall to find an unhappy house full of mysteries that its occupants won't discuss. When her husband, Adam, is called up to the Gulf War, her shaky marriage is tested to the core.

During World War 2 Elsie Flint is living at Echo Hall with her unsympathetic inlaws. While her husband,Jack is away with the RAF, his cousin Daniel is her only support. But Daniel is hiding a secret that will threaten their friendship forever.

At the end of the Edwardian era, Rachel and Leah Walters meet Jacob Flint, an encounter leading to conflict that will haunt the family throughout World War 1 and beyond.

As Ruth discovers the secrets of Echo Hall, will she be able to bring peace to the Flint family, and in doing so, discover what she really wants and needs?
Ice Cream in Winter by Grace Thompson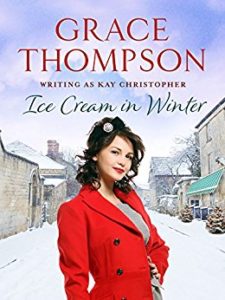 Romance and heartache abound as a local ice cream shop struggles to stay afloat

Christmas, 1940. As the festive season approaches in a small Welsh village, two friends, Patricia and Vanessa, fall for the same man. Vanessa will stop at nothing to win his affections, but ultimately it is Patricia who finds love.

Yet when tragedy strikes, it is Patricia who has to piece her life back together. Throwing herself into revitalising a traditional gelato business, she finds comfort from an unexpected source. Soon local gossip makes her worry if her new suitor can be trusted… is he too good to be true?
What do you think of this selection? Have you read any or would you like to?