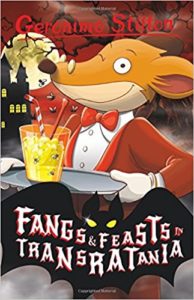 #bookreview – Fangs and Feasts in Transratania by #GeronimoStilton @SweetCherryPub #ChildrensFiction
This is one of my occasional children's book reviews. Thank you to Sweet Cherry Publishing for the review copy (and the yummy sweets that came with it) and I do apologise for taking so long to get round to this review.
Here's what Fangs and Feasts in Transratania is about:

After a mysterious phone call from his cousin Trap, Geronimo sets off for Ratoff in spooky Transratania. The garlic-fuelled town holds many mysteries, not least the residents of Ratoff Castle. Maybe it's the way they sleep during the day, maybe it's the blood-red drink they have with every meal, but there's something not quite right about them …Who are these mice? And will Geronimo manage to survive the night? For children aged 5-7 and also available as part of a 10 book box set.
If your child (or you!) like the sound of it then it's available now in paperback.
---
Fangs and Feasts in Transratania is just the sort of book I would have loved when I was a kid. Although it's part of a series I don't think you need to read them in any order, they all just feature Geronimo Stilton in various adventures.
This one follows him as he goes to Ratoff in Transratania. Quite obviously a play on Dracula, it's ideal for a Halloween read, although you can read it any time you like and enjoy the story.
Geronimo is the narrator of the story and he's great fun, as is the whole story. I liked the illustrations that appear throughout the whole book. They're all in black and white and help to tell the story. Certain words are picked out in bold and different fonts. I know this doesn't appeal to everybody but I liked it and it certainly made the reading that little bit more interesting.
Aimed at 5-7 year olds, it might appeal to slightly older children but definitely not to younger than 5 I would say. I think if I was 5-7 years old then this is a series that I would be lapping up.
---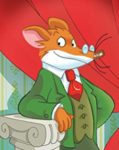 Born in New Mouse City, Mouse Island, GERONIMO STILTON is Rattus Emeritus of Mousomorphic Literature and of Neo-Ratonic Comparative Philosophy. For the past twenty years, he has been running The Rodent's Gazette, New Mouse City's most widely read daily newspaper. Stilton was awarded the Ratitzer Prize for his scoops on The Curse of the Cheese Pyramid and The Search for Sunken Treasure. He has also received the Andersen 2000 Prize for Personality of the Year. One of his bestsellers won the 2002 eBook Award for world's best ratlings' electronic book. His works have been published all over the globe. In his spare time, Mr. Stilton collects antique cheese rinds and plays golf. But what he most enjoys is telling stories to his nephew Benjamin.