#blogtour – Ours is the Winter by @laurieellingham @NeverlandBT #bookreview #giveaway
I'm delighted today to be posting as part of the blog tour for Ours is the Winter by Laurie Ellingham. Thank you to HQ and Jenny from Neverland Blog Tours for the review copy and the place on the tour. I have my review for you and a giveaway too. First here's that all important info from the back of the book:

Journeying across the Arctic, their pasts are about to catch up with them.
Erica, Molly and Noah are embarking on the challenge of a lifetime, driving Siberian huskies across the frozen wilderness of the Arctic. Cut off from the world and their loved ones and thrown together under gruelling conditions, it isn't long before the cracks start to show.
Erica has it all. A loving husband, a successful career and the most adorable baby daughter. But Erica has been living a double life, and as she nears her fortieth birthday her lies threaten to come crashing down.
Molly was on her way to stardom. But when her brother died, so did her dreams of becoming an Olympic champion. Consumed by rage and grief, she has shut out everyone around her, but now she's about to learn that comfort can come from the most unexpected places.
Noah has a darkness inside him and is hounded by nightmares from his past. Tortured, trapped and struggling to save his fractured relationship, he knows this journey is not going to help, but try telling his girlfriend that.
As their lives and lies become ever more entwined, it becomes clear that in the frozen wilds there is nowhere to hide.
You can read other reviews on Goodreads and you can buy the book on Amazon UK.
---
For some reason, novels set in the Arctic always seem to appeal to me. I think it has something to do with the vast, at turns bleak and beautiful, landscape, the feeling of remoteness. So Ours is the Winter appealed immediately.
We first of all meet Erica, a woman with a secret. She's set up a trip for herself and her half-sister, Molly, to go to the Arctic and spend a week sledding with huskies. Wow, what an amazing trip that must be (although I must admit the very basic facilities and sleeping in a tent would put me off somewhat!). Molly has suffered a tragedy in her life and is broken-hearted. On the trip she meets Noah, someone who is also suffering, and his partner, Rachel.
To say much more about the characters would, I think, give too much away but there's a lot more to it than meets the eye. The author drip-feeds the back stories to us really skilfully. She doesn't just tell us, she lets us find out through the characters what has made Molly and Noah so broken and what Erica is hiding.
It's such an atmospheric and fascinating setting and so well-portrayed I could almost feel the biting cold, see the Northern Lights and hear the huskies barking. I loved it as a backdrop to this story and it worked perfectly as a way of forcing the issues that need to be faced as everybody was pushed together and had no escape.
Ours is the Winter is ultimately an uplifting story of hope and redemption. I had an idea about what was going to happen and I thought there was going to be a ridiculous coincidence but the author turned that around and instead made it completely plausible.
This is a really lovely read and I think it will melt even the iciest of hearts. It's an emotional, moving and warm story, with a strong sense of place.
---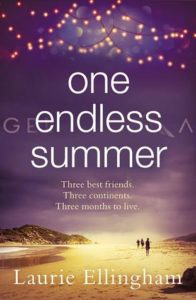 ---
---

When I'm not running around after my two children, my husband, our Cockerpoo Rodney, or just plain running, I love nothing more than disappearing into the fictional world of my characters preferably with a large coffee and a Twix (or two) to hand.
When I am in the thick of a character crisis, I can often be seen walking around the village with my jumper on inside out and back to front, chatting (and occasionally laughing) away to myself.
I have a first class honours degree in psychology and a background in Public Relations, both of which help in everything I do.