Seven Day Spotlight – w/e 10/02/19
It's that time of the week again. Here's a recap of what I posted on my blog during the last seven days.
First up, on Monday, I shared an extract from Summer on the Italian Lakes by Lucy Coleman.
Tuesday's post was a guest post about women's suffrage and A Rebel at Penningtons by Rachel Brimble. There's still time to enter the giveaway to win a £15 Amazon gift certificate.
On Wednesday I shared my review of The Day We Met by Roxie Cooper.
Thursday's post was a guest post by Steven J. Gill about the inspiration behind The Rock 'n' The Roll. 'N' That.
Friday's post was a guest post by Julie Houston talking about the inspiration behind Coming Home to Holly Close Farm.
On Saturday I shared an extract from In Safe Hands by J.P. Carter.
And finally, this morning I posted my review of The Couple by Sarah Mitchell.
---
Here's what I've added to my reading pile this week:
The First Time Lauren Pailing Died by Alyson Rudd
Lauren Pailing is born in the sixties, and a child of the seventies.

She is thirteen years old the first time she dies.

Lauren Pailing is a teenager in the eighties, becomes a Londoner in the nineties. And each time she dies, new lives begin for the people who loved her – while Lauren enters a brand new life, too.

But in each of Lauren's lives, a man called Peter Stanning disappears. And, in each of her lives, Lauren sets out to find him.

And so it is that every ending is also a beginning. And so it is that, with each new beginning, Peter Stanning inches closer to finally being found…

Perfect for fans of Kate Atkinson and Maggie O'Farrell, The First Time Lauren Pailing Diedis a book about loss, grief – and how, despite it not always feeling that way, every ending marks the start of something new.
The Perfect Betrayal by Lauren North
'I THOUGHT SHE WAS OUR FRIEND.
I THOUGHT SHE WAS TRYING TO HELP US.'

After the sudden death of her husband, Tess is drowning in grief. All she has left is her son, Jamie, and she'll do anything to protect him – but she's struggling to cope.

When grief counsellor Shelley knocks on their door, everything changes. Shelley is beautiful, confident and takes control when Tess can't bear to face the outside world.

But when questions arise over her husband's death and strange things start to happen, Tess begins to suspect that Shelley may have an ulterior motive. Tess knows she must do everything she can to keep Jamie safe – but who can she trust?
When You Read This by Mary Adkins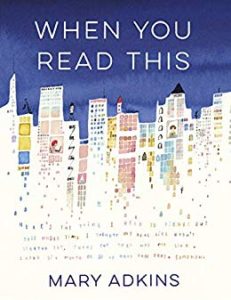 Iris Massey is gone. 
But she's left something behind.

For four years, Iris Massey worked side by side with PR maven Smith Simonyi, helping clients perfect their brands. But Iris has died, taken by terminal illness at only thirty-three. Adrift without his friend and colleague, Smith is surprised to discover that in her last six months, Iris created a blog filled with sharp and often funny musings on the end of a life not quite fulfilled. She also made one final request: for Smith to get her posts published as a book. With the help of his charmingly eager, if overbearingly forthright, new intern Carl, Smith tackles the task of fulfilling Iris's last wish.

Before he can do so, though, he must get the approval of Iris's big sister Jade, an haute cuisine chef who's been knocked sideways by her loss. Each carrying their own baggage, Smith and Jade end up on a collision course with their own unresolved pasts and with each other.

Funny and moving in equal measures, WHEN YOU READ THIS is a sparkling debut about love, life, and all the emails you really wish you'd never sent.
How do you live with yourself as an adult when you were convicted of murder as a child?

And when you can't remember the crime…
HOW DO YOU KNOW YOU'RE GUILTY?

Charlotte wants a fresh start. She wants to forget her past, forget her crime – and, most of all, forget that one terrible moment.

It's the reason she's been given a new name, a new life. The reason she spent years in prison.

But even on the outside, with an ankle monitor and court-mandated therapy, she can't escape the devastating memory of the night that turned her and her only friend into national hate figures.

But now her friend has found her.

And despite the lies she tells to survive, she soon finds herself being dragged deeper and deeper into a past she cannot confront.

Even if it's going to cost Charlotte her life…
The Shadow Between Us by Carol Mason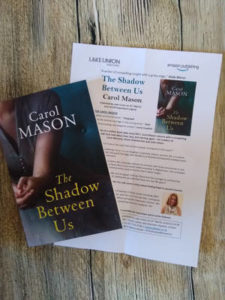 What is it about the coast that attracts people running from their past?

Maybe there's something in a sea breeze that blows away your problems. Maybe when you look out at the ocean you can see the future; forget the secrets and pain holding you back.

Or at least you can forget them for a time.

When Olivia moves to Port Townsend, her marriage is floundering, and her life is in pieces. She doesn't know if things with her husband Mark are truly over, or quite why the phone call she longs for on her daughter's birthday will never come.

Joining a letter-writing club seems like a harmless decision. But when she meets Ned, an ex-soldier badly wounded in Afghanistan, this unlooked-for friendship revives unexpected emotions and memories she'd rather forget.

Can Olivia find the courage to confront what she's hiding from and finally begin to heal the wounds that have torn her life apart? From the bestselling author of After You Left comes a story about finding hope in second chances.
My Sister's Lies by S D Robertson
For a decade, Hannah's life has been pretty close to perfect – she has a great job, she's married to Mark, and her child-free existence means she's free as a bird. The only sadness in her life is a fall-out with her sister Diane, who hasn't spoken to her in over ten years. But now Diane is on her doorstep – and this time, she's got her teenage daughter Mia in tow.

When Diane asks if Mia can stay with Hannah and Mark for a few days, Hannah is glad of the chance to get to know her niece. But as the days turn into weeks and Diane doesn't return, Hannah begins to worry. Why hasn't her sister been in touch?

Diane is carrying a devastating secret that will destroy Hannah's carefully constructed life. But how much is she willing to reveal – and when will she pick her moment?

An emotional story that delves into the true meaning of family, sisterhood and secrets. Perfect for fans of Kerry Fisher and Adele Parks.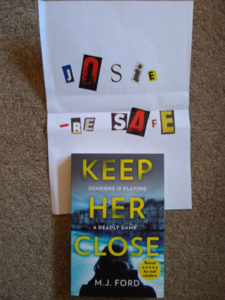 When a young woman goes missing from Jesus College, Oxford, DS Josie Masters is plunged into a world of panic as fear grips the city. Along with Thames Valley Police's newest recruit, the handsome DS Pryce, Josie must act fast – and when two more students disappear from Oriel and Somerville colleges, she realises the killer is sending her a deadly message in a cruel game of cat and mouse. This time, the case is personal – but who is the perpetrator?

In a desperate race against the clock, Josie hunts for the kidnapper, and soon discovers he could be a lot closer to home than she'd ever thought…
The Age of Misadventure by Judy Leigh
You're never too old to live dangerously…

The gloriously funny new novel from the author of A Grand Old Time.

All Georgie Turner wants is to keep her family together. But with her daughter growing up fast, her sister married to a man Georgie hates, and their aging aunt getting more and more outrageous, nothing's simple.

So when her brother-in-law makes his biggest mistake yet, Georgie sees the chance to reunite the ladies in her life. And after a little persuasion, three generations of Turner women head off on a very unusual road trip. Georgie's confident that some sun, sea and a bottle or two of prosecco will make this an adventure they'll never forget.

What could possibly go wrong?