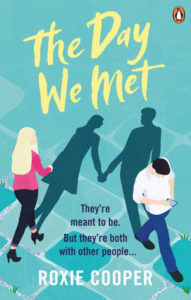 ShortBookandScribes #BookReview – The Day We Met by Roxie Cooper @toodletinkbaby @EburyPublishing #RandomThingsTours #TheDayWeMet
I'm delighted to be reviewing The Day We Met by Roxie Cooper today as it's a truly brilliant book. My thanks to Anne Cater of Random Things Tours for the place on the tour.
Stephanie and Jamie are meant to be. The problem is they're both with other people…

________________________________

Stephanie doesn't believe in fate, true love or living happily ever after. She's content enough being engaged to Matt. But then she meets Jamie, who understands her more than anyone else ever has.

Jamie is happily married to his childhood sweetheart Helen and believes in everything Stephanie doesn't. So why does he have such a strong connection with Stephanie?

When Stephanie and Jamie meet one fateful weekend in 2006 it will change everything…

Ten years. Two people. One epic love story.

The Day We Met is an immensely moving and heart-warming epic love story perfect for fans of Josie Silver's One Day in December and Zoë Folbigg's The Note.
Or support your high street with Hive.
---

The Day We Met is an absolutely wonderful story. I'd been warned that tissues would be needed and yet I'd got almost all the way through without a tear. There was me thinking that the tissues would be wasted and then wham bam, Roxie Cooper did something that had me sobbing (albeit quietly as I was reading in bed). How could you, Ms Cooper?
What do you do when you're with the one you love, you're happy with your life together but then you meet someone who just exceeds everything, the one you absolutely click with, who you can't live without. This is what happened to Stephanie and Jamie and I can tell you that their story over the ensuing ten years is one that you don't want to miss.
This is a big book at 450 or so pages but I couldn't put it down and found myself needing to read more about this, the ultimate love story. Stephanie and Jamie have something special, an intense connection, and although they don't see each other that often over the years, there is almost an invisible thread there, one which cannot be broken.
I loved the two characters. They're both extremely likeable and both have integrity. They're not doing what they're doing lightly. I couldn't help but hope for the best outcome for them.
There's a Spotify playlist to accompany this book and each song plays a small part in the narrative. I knew most of the songs and looked up those I didn't. It's a fabulous list. It's testament to the emotional kick of this book that when I heard one of the songs on the radio the day after I finished reading, my first thought was of Stephanie and Jamie and I welled up all over again (Purple Rain by Prince in case you're wondering).
I thought The Day We Met was at turns heartbreaking and uplifting. It's billed as an epic love story and yes, I think that's exactly what it is. Cooper absolutely captures the love and the conflict of the characters' relationships and despite the fact that we're talking adultery here, she made me sympathetic to the fact that not everything is black and white. It's not cloying or overly sentimental, it's just perfectly pitched.
It's an epic love story and a truly epic read. I adored it from start to finish.
---

---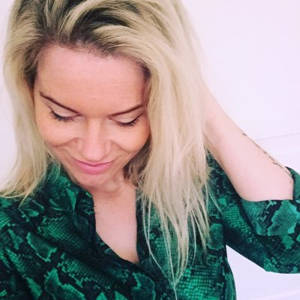 Roxie Cooper lives in Yarm, a pretty little market town in the North-East. After reading Classics at Newcastle University, she realised she needed a break from studying Latin, Ancient Greek and all that serious stuff, so naturally, she became a dancer in a nightclub (à la Coyote Ugly) for a few years before going to live in Australia. When she returned, she swapped dancing on a bar, to practising at the Bar, and became a barrister for 7 years.