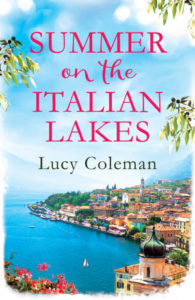 ShortBookandScribes #BlogTour #Extract from Summer on the Italian Lakes by Lucy Coleman @LucyColemanAuth @Aria_Fiction
I'm very pleased to be able to share an extract with you today from Summer on the Italian Lakes by Lucy Coleman, as part of the blog tour. My thanks to Vicky Joss from Aria for the place on the tour.

The feel-good read of 2019, perfect for fans of Lucy Diamond and Karen Swan.

Brianna Middleton has won the hearts of millions of readers with her sweeping – and steamy – love stories. But the girl behind the typewriter is struggling…. Not only does she have writer's block, but she's a world-famous romance author with zero romance in her own life.

So the opportunity to spend the summer teaching at a writer's retreat in an idyllic villa on the shores of Lake Garda – owned by superstar author Arran Jamieson – could this be just the thing to fire up Brie's writing – and romantic – mojo?

Brie's sun-drenched Italian summer could be the beginning of this writer's very own happy-ever-after…

Escape the January blues with this sun-drenched, heart-warming story from the bestselling author of Snowflakes Over Holly Cove. What readers are saying about Lucy Coleman…
Buy links:
---

Sniff. Sniff. Sniff.

My hand gropes around in the semi-darkness for yet another tissue; the flow of tears is now almost completely obliterating my vision. When all that my fingers succeed in finding is a gaping cardboard hole, it is with great reluctance that I drag my watery gaze away from those adoring eyes in front of me.

Empty? How can the box be empty?

I scowl in disgust, scanning the sofa and taking in the profusion of crumpled whiteness caught in the flickering glow from the TV screen. I'm surrounded on one side by what looks like a surreal stack of miniature snowballs and, despite my tears, I begin laughing. With a defeated shrug, I drag the sleeve of my PJ top across each cheek in a quick swiping action. Then I return my gaze to its original position staring, mesmerised, into Jude Law's eyes.

He's looking directly at me as if it's just the two of us here and I take in every little detail of that half-smile he's trying so hard to disguise. Okay, so it's aimed at Cameron Diaz and not at me because I'm watching The Holiday and it's just a film; but on pause Cameron isn't even in the frame. Jude is all mine to savour for as long as I want.

To my horror, suddenly the screen goes black as the TV switches into standby mode and the room is consumed in an eerily bleak darkness. With a thudding heart, I frantically scrabble around, desperately trying to locate the remote control and in the process upending the remains of a bowl of crisps.

'Damn it! Now is not the time to be eco-friendly!' I cry out angrily, at my so-called intelligent TV system.

My fingers continue to rake across the surface of the sofa, each passing second making me feel increasingly desperate. Home alone. And in the dark I'm feeling scared. A creak behind me sets me on edge, my heart beginning to race and increasing the urgency of my search. I discover the half eaten bar of chocolate and push it carefully to one side, then move on to discover the almost empty bag of popcorn. Swallowing hard to disperse a lump that has risen in my throat, I'm painfully aware that binge eating isn't the answer to anything. But you know how it is, one handful turns into two… then three.

As my eyes finally begin to adjust to the gloom, I see a dark shape poking out from beneath the discarded scatter cushion. I snatch it up, stabbing my index finger on the power button. Two clicks and Jude is back, bathing us both in a comforting glow of light. Warmly wrapped up in his navy blue, wool overcoat and sporting that festive red scarf, the ground around him is dusted with snow. I settle back, feeling happy once more.

'I missed you,' I whisper, softly. My voice wavers a little. I wish he could talk back. To me. And not to Cameron.

That gorgeously cheeky little glint in his eye threatens to melt my now calm heart, as I surrender to his powerfully romantic gaze. Stuffing a generously sized square of chocolate into my mouth, I rather reluctantly press play and the film continues. The camera pans around to catch the utterly gorgeous Cameron fluttering her eyelashes at Jude, and in that instant she snatches him back. Once more the tears start to fall. Sometimes life can be so cruel.

Why can't I find my own Jude Law?

Sniff.

Swipe.

Sniff.
---

---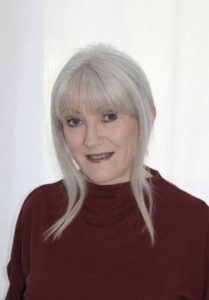 Lucy lives in the Forest of Dean in the UK with her lovely husband and Bengal cat, Ziggy. Her novels have been short-listed in the UK's Festival of Romance and the eFestival of Words Book Awards. Lucy won the 2013 UK Festival of Romance: Innovation in Romantic Fiction award.
Follow Aria