ShortBookandScribes #BlogTour #Extract from In Safe Hands by J.P. Carter @AvonBooksUK
Welcome to my stop on the blog tour for In Safe Hands by J.P. Carter. I have a short extract from the book to share with you today. My thanks to Sabah Khan from Avon Books for the place on the tour.

How far would you go to save the ones you love? The first book in a stunning new crime series featuring DCI Anna Tate.

When nine children are snatched from a nursery school in South London, their distressed parents have no idea if they will ever see them again. The community in the surrounding area in shock. How could this happen right under their noses? No one in the quiet suburban street saw anything – or at least that's what they're saying.

But DCI Anna Tate knows that nothing is impossible, and she also knows that time is quickly running out. It's unclear if the kidnappers are desperate for money or set on revenge, but the ransom is going up by £1million daily. And they know that one little boy in particular is fighting for his life.

It's one of the most disturbing cases DCI Anna Tate has ever worked on – not only because nine children are being held hostage, but because she's pretty sure that someone close to them is lying…
Or support your high street with Hive.
---

One of his men was telling those inside to calm down and step away from the door. The same officer then used his boot to kick at it three times before it gave way.

There was a light on inside the storeroom and it revealed a sight that made every muscle in Anna's body go stiff.

A woman was lying on the floor with the back of her head resting in a small pool of her own blood. Two other women were kneeling beside her and a third was standing over them with a mobile phone in her hand.

'Tasha needs to get to a hospital,' one of them cried out. 'We can't wake her up.'

The distraught women all appeared to be in their twenties or early thirties and were casually dressed in matching blue T-shirts and jeans. Their eyes were cloudy with fear and their faces awash with tears.

'Stay calm and step out,' Anna said, keeping her voice low so as not to inflame an already stressful situation. 'We'll call the paramedics.'

The women quickly exited the room, and Anna half expected them to break down in floods of tears. But instead all three dashed across the playroom to one of the other doors that had a sign on it which read: Quiet Room.

The first to reach it peered inside and then let out an anguished cry that sent a bolt of ice down Anna's spine.

'Oh my God,' the woman screamed. 'They're gone.'

Anna stepped forward and looked into the room, which contained a sofa, a few chairs and a low table.
---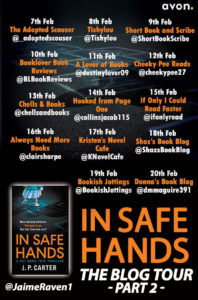 ---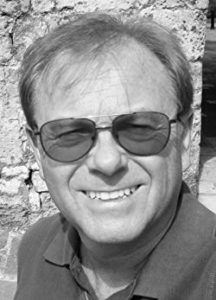 J. P. Carter is the pseudonym of a bestselling author who has also written sixteen books under the names Jaime and James Raven. Before becoming a full-time writer he spent a career in journalism as a newspaper reporter and television producer. He was, for a number of years, director of a major UK news division and co-owned a TV production company. He now splits his time between homes in Hampshire and Spain with his wife.
Author bio and picture taken from Amazon.