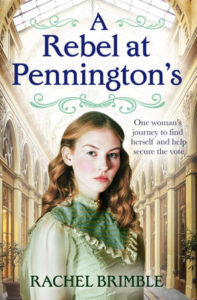 ShortBookandScribes #BlogTour #GuestPost by Rachel Brimble, Author of A Rebel at Pennington's @RachelBrimble @rararesources #Giveaway
I'm delighted to be sharing a fabulous post by Rachel Brimble on Women's Suffrage and A Rebel at Pennington's today. It's part of the blog tour and I'd like to thank Rachel Gilbey from Rachel's Random Resources for the place on the tour. There's also a chance to win an Amazon Gift Certificate so get entering!
One woman's journey to find herself and help secure the vote. Perfect for the fans of the TV series Mr Selfridgeand The Paradise.

1911 Bath. Banished from her ancestral home, passionate suffrage campaigner, Esther Stanbury works as a window dresser in Pennington's Department Store. She has hopes and dreams for women's progression and will do anything to help secure the vote. Owner of the prestigious Phoenix Hotel, Lawrence Culford has what most would view as a successful life. But Lawrence is harbouring shame, resentment and an anger that threatens his future happiness.

When Esther and Lawrence meet their mutual understanding of life's challenges unites them and they are drawn to the possibility of a life of love that neither thought existed. With the Coronation of King-Emperor George V looming, the atmosphere in Bath is building to fever pitch, as is the suffragists' determination to secure the vote.

Will Esther's rebellious nature lead her to ruin or can they overcome their pasts and look to build a future together?
Purchase Links  –
---
Women's Suffrage & A Rebel At Pennington's by Rachel Brimble
When I was around the age of thirteen or fourteen, my school did a project on women's suffrage and their fight to win the vote. I can still remember how quickly the topic took hold of me and the passion I felt from the injustice towards my fellow females.
I handed in my project and was awarded an A.
Something inside of me shifted. A belief and need to know more about the women who sacrificed so much of themselves, their occupations and home lives in order to right what was a clear wrong. Little did I know that my interest in women's suffrage would never wane as I grew older.
For as long as I can remember, I've wanted to one day write a novel where women's fight for the vote played a big part in the book. A Rebel At Pennington's is my twenty-first published novel and it was only when I was writing the previous book in the series (The Mistress of Pennington's) that a secondary character came onstage as a suffragist.
I'd finally found the heroine who would star in my first venture into writing a story involving the Cause.
I cannot tell you how excited I was to start my research! I bought books, visited websites, spoke to the archivist at our local history centre and attended two talks from historians marking the centenary of the vote being obtained.
It was the choice of being a suffragist (peaceful) and suffragette (militant) that ultimately prevailed in the issue with which I wanted my heroine, Esther Stanbury, to struggle. I can imagine the growing frustrations of the women campaigners and how their constant rebuttals and failures to be heard provoked an increasing and ardent need to 'do whatever was necessary.' Yet, the more I read, the more the question of whether or not their actions were, in fact, terrorism began to emerge in my mind.
Throughout my research, my emotions ranged from pride, to shock, to indignation to jubilation and it was these emotions that I used to power the book and, ultimately, Esther. She is a combination of a few real-life suffragists and suffragettes who came up in my research and fascinated and/or resonated with me.
I am not, and will never claim to be, a historian in any shape of form, but I do consider myself a novelist and that means my job is to entertain. To write a story that will interest and inspire my readers. Leave them with a something to think about, something to feel or about which to form their own opinion. I absolutely loved researching this significant time in women's history and loved writing A Rebel At Pennington's.
Fingers crossed, my passion for women's suffrage and the women who paved the way for the rest of us comes across in my latest novel.
Long live the vote!
Thank you, Rachel. It sounds like Esther is the character you've always wanted to write and suffrage is such a fascinating subject.
---

Win £15/$15 Amazon Gift Certificate (Open Internationally)
*Terms and Conditions –Worldwide entries welcome. Please enter using the Rafflecopter box below. The winner will be selected at random via Rafflecopter from all valid entries and will be notified by Twitter and/or email. If no response is received within 7 days then the giveaway organiser reserves the right to select an alternative winner. Open to all entrants aged 18 or over. Any personal data given as part of the competition entry is used for this purpose only and will not be shared with third parties, with the exception of the winners' information. This will passed to the giveaway organiser and used only for fulfilment of the prize, after which time the giveaway organiser will delete the data. I am not responsible for despatch or delivery of the prize.
---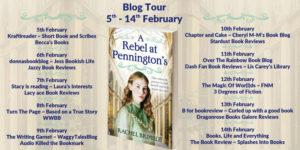 ---

Rachel lives with her husband and their two daughters in a small town near Bath in the UK. Since 2007, she has had several novels published by small US presses, eight books published by Harlequin Superromance (Templeton Cove Stories) and four Victorian romances with eKensington/Lyrical.
In January 2018, she signed a four-book deal with Aria Fiction for a new Edwardian series set in Bath's finest department store. The first book, The Mistress of Pennington's released July 2018.
Rachel is a member of the Romantic Novelists Association and Romance Writers of America, and was selected to mentor the Superromance finalist of So You Think You Can Write 2014 contest. When she isn't writing, you'll find Rachel with her head in a book or walking the beautiful English countryside with her family. Her dream place to live is Bourton-on-the-Water in South West England.
She likes nothing more than connecting and chatting with her readers and fellow romance writers. Rachel would love to hear from you!