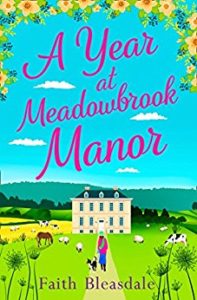 #blogtour – A Year at Meadowbrook Manor by @FaithBleasdale @AvonBooksUK #extract
I'm delighted to be sharing an extract from A Year at Meadowbrook Manor by Faith Bleasdale with you today. Thank you to Sabah Khan at Avon Books for the spot on the tour. Just look at that gorgeous cover. I love the sound of this book and wish I could have found the time to read it. Here's what it's about:

One divided family, one life-changing year…

Harriet Singer hasn't been home in ten years. When her beloved dad dies suddenly, she races to be there for her estranged siblings, despite the memories it brings back.

Then Harriet learns that all four Singer siblings must live together for one year, caring for their dad's Animal Sanctuary, or forfeit their inheritance.

Living under the same roof could make or break the family, but it's time Harriet stopped running and faced her past. Especially when her first love turns up…
You can get the ebook now and the paperback from tomorrow.
---

From Chapter 12, 143-144
She could almost feel him watching her as she passed through the gate through to the back garden. She wanted so much to have him with her that she felt scared. There was a massive history of feelings there. She didn't even know how to process them, or how to acknowledge them. She didn't know if she could think about it, it scared her too much, as she opened the back door and crept in. Connor was her first love but they'd never been lovers. And she wasn't sure what sort of love that was. A crush or something more? But nothing had ever happened between them. Not even a kiss. Connor had said that evening how they were totally wrong for each other, so why was she feeling like this? What if her father dying and losing her job was making her yearn for something she thought she had buried years and years ago? What if it wasn't real? But what if it was?

Bloody Connor, it always came back to him. Bloody, bloody Connor.

She pulled the towel tighter around her as she walked through the hall towards the staircase. It was dark as she scrambled to find the light switch. She startled as she put the light on and saw Mark lurking outside her father's study, his hand on the door handle.

'What are you doing?' she exclaimed.

'Sorry, Harriet, I was just going to help myself to some of your father's brandy,' Mark answered quickly, like a rabbit caught in the headlights. 

'There's brandy in the drawing room,' she said, feeling confused.

'I know but the one in the study is the nicest and I, well, I hoped you wouldn't mind.' He again looked awkward as he shuffled from foot to foot. Harriet did mind. She didn't know why but she did.

'Of course not. Right, well goodnight,' she said. He smiled at her and went upstairs without bothering with the brandy. If he thought it was odd that she was wrapped in a towel dripping water over the floor, he didn't say.
---

---

Faith lives in North Devon, a single mum. She grew up in North Devon, studied History in Bristol, then moved to London – spending some time living in Singapore. Returning to North Devon when her child was born and now lives an idyllic countryside and beach life – normally in the rain.