ShortBookandScribes Seven Day Spotlight – w/e 22/09/19
Welcome to this week's Seven Day Spotlight. I've had the most uneventful week ever so rather than bore you with what I had for my lunch on Tuesday I'll just crack on with the round up.
Here's what I posted this week:
Monday's post was an extract from Plenty Under the Counter by Kathleen Hewitt.
On Tuesday I reviewed The Ten Thousand Doors of January by Alix E. Harrow.
On Wednesday I reviewed Moments by Daphne Denley and shared an extract from Wicked By Design by Katy Moran.
On Thursday I reviewed Lake Child by Isabel Ashdown.
Friday's post was my review of Kitty and the Tiger Treasure by Paula Harrison and illustrated by Jenny Løvlie.
On Saturday I reviewed An Echo of Scandal by Laura Madeleine and shared a guest post by Paul Tudor Owen, author of The Weighing of the Heart, about cover design.
---
Here's this week's bookish loveliness:
The Last Landlady by Laura Thompson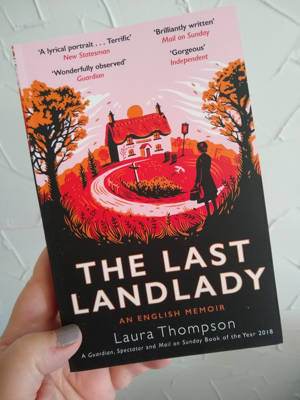 Laura Thompson s grandmother Violet was one of the great landladies. Born in a London pub, she became the first woman to be given a publican s licence in her own name and, just as pubs defined her life, she seemed in many ways to embody their essence.

Laura spent part of her childhood in Violet s Home Counties establishment, mesmerised by her gift for cultivating the mix of cosiness and glamour that defined the pub s atmosphere, making it a unique reflection of the national character. Her memories of this time are just as intoxicating: beer and ash on the carpets in the morning, the deepening rhythms of mirth at night, the magical brightness of glass behind the bar…

Through them Laura traces the story of the English pub, asking why it has occupied such a treasured position in our culture. But even Violet, as she grew older, recognised that places like hers were a dying breed, and Laura also considers the precarious future they face. Part memoir, part social history, part elegy, The Last Landlady pays tribute to an extraordinary woman and the world she epitomised.
I Will Make You Pay by Teresa Driscoll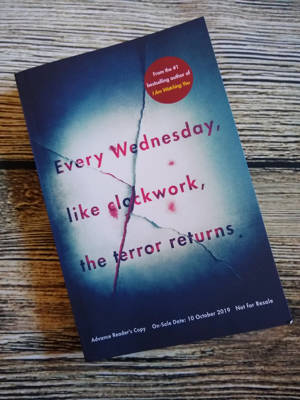 Every Wednesday, like clockwork, the terror returns.

It seems like an ordinary Wednesday, until the phone rings. A mysterious caller with a chilling threat. Journalist Alice Henderson hangs up, ready to dismiss it as a hoax against the newspaper. But the next Wednesday, the stalker makes another move—and it becomes clear that this is all about Alice.

Someone wants her to suffer, but for what? Her articles have made her a popular local champion—could it be her past rather than her work that's put her life in danger? Alice is determined not to give in to fear, but with the police investigation at a dead end, her boyfriend insists on hiring private investigator Matthew Hill.

With every passing Wednesday the warnings escalate, until it's not only Alice but also her family in the stalker's sights. As her tormentor closes in, can Alice uncover what she's being punished for before the terrifying threats become an unthinkable reality?
The Glittering Hour by Iona Grey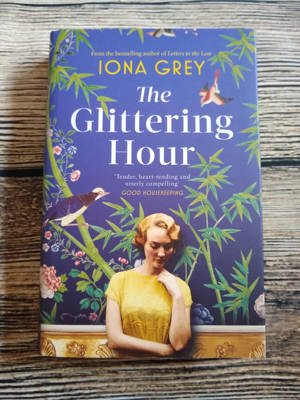 1925. The war is over and a new generation is coming of age, keen to put the trauma of the previous one behind them.

Selina Lennox is a Bright Young Thing whose life is dedicated to the pursuit of pleasure; to parties and drinking and staying just the right side of scandal. Lawrence Weston is a struggling artist, desperate to escape the poverty of his upbringing and make something of himself.  When their worlds collide one summer night, neither can resist the thrill of the forbidden, the lure of a love affair that they know cannot possibly last.

But there is a dark side to pleasure and a price to be paid for breaking the rules.  By the end of that summer everything has changed.
?
A decade later, nine year old Alice is staying at Blackwood Hall with her distant grandparents, piecing together clues from her mother's letters to discover the secrets of the past, the truth about the present, and hope for the future.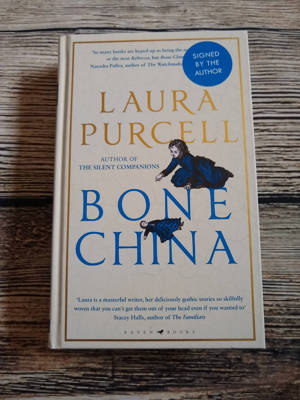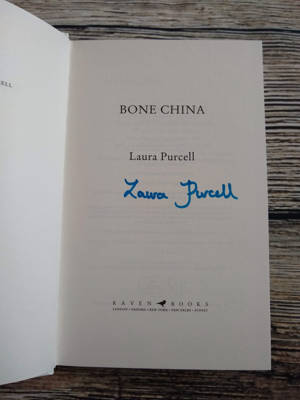 Consumption has ravaged Louise Pinecroft's family, leaving her and her father alone and heartbroken.

But Dr Pinecroft has plans for a revolutionary experiment: convinced that sea air will prove to be the cure his wife and children needed, he arranges to house a group of prisoners suffering from the same disease in the cliffs beneath his new Cornish home.

Forty years later, Hester Why arrives at Morvoren House to take up a position as nurse to the now partially paralysed and almost entirely mute Miss Pinecroft. Hester has fled to Cornwall to try and escape her past, but surrounded by superstitious staff enacting bizarre rituals, she soon discovers that her new home may be just as dangerous as her last.
The Silent Companions by Laura Purcell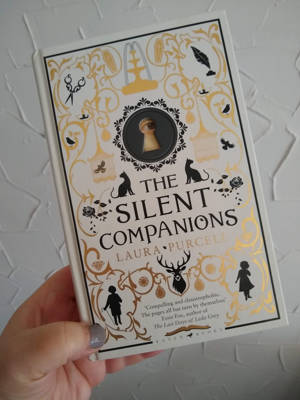 Some doors are locked for a reason…

Newly married, newly widowed Elsie is sent to see out her pregnancy at her late husband's crumbling country estate, The Bridge.

With her new servants resentful and the local villagers actively hostile, Elsie only has her husband's awkward cousin for company. Or so she thinks. For inside her new home lies a locked room, and beyond that door lies a two-hundred-year-old diary and a deeply unsettling painted wooden figure – a Silent Companion – that bears a striking resemblance to Elsie herself…
The Ex Girlfriend by Nicola Moriarty
SHE WANTS HIM BACK. SHE WANTS YOU GONE.

Luke is the one. After everything she's been through, Georgia knows she deserves someone like him, to make her feel loved. Safe.

The only problem is his ex-girlfriend. Luke says Cadence is having trouble accepting their break-up, but Georgia thinks there's more to the story. She has the feeling someone is watching her.

So when everything starts to go wrong at work, at home, in her old friendships and her happy new relationship with Luke, Georgia starts to feel afraid.

It's becoming clear Cadence wants what she has. But how far will she go to get it?
The Photographer of the Lost by Caroline Scott
In the aftermath of war, everyone is searching for answers . . .
An epic novel of forbidden love, loss, and the shattered hearts left behind in the wake of World War I

'A poignant hymn to those who gave up their lives for their country and to those who were left behind' Fanny Blake, bestselling author of A Summer Reunion

1921. Families are desperately trying to piece together the fragments of their broken lives. While many survivors of the Great War have been reunited with their loved ones, Edie's husband Francis has not come home. He is considered 'missing in action', but when Edie receives a mysterious photograph taken by Francis in the post, hope flares. And so she begins to search.

Harry, Francis's brother, fought alongside him. He too longs for Francis to be alive, so they can forgive each other for the last things they ever said. Both brothers shared a love of photography and it is that which brings Harry back to the Western Front. Hired by grieving families to photograph gravesites, as he travels through battle-scarred France gathering news for British wives and mothers, Harry also searches for evidence of his brother.

And as Harry and Edie's paths converge, they get closer to a startling truth.

An incredibly moving account of an often-forgotten moment in history, The Photographer of the Lost tells the story of the thousands of soldiers who were lost amid the chaos and ruins, and the even greater number of men and women desperate to find them again.
Blackpool's Angel by Maggie Mason
Blackpool, 1893

Tilly has come a long way from the run-down tenements in which she grew up. She has a small but comfortable home, a loving, handsome husband, two beautiful little'uns – Betsy and Bunty – and she earns herself a little money weaving wicker baskets. Life is good.

Until the day Tilly returns home to find a policeman standing on her doorstep. Her Arthur won't be coming home tonight – nor any night – having fallen to his death whilst working on Blackpool tower. Suddenly Tilly is her daughters' sole protector, and she's never felt more alone.

With the threat of destitution nipping at their heels, Tilly struggles to make ends meet and keep a roof over her girls' heads. In a town run by men Tilly has to ask herself what she's willing to do to keep her family together and safe – and will it be enough?

The perfect read for fans of Mary Wood, Kitty Neale, Val Wood and Nadine Dorries
ONCE YOU'RE IN, THEY'LL NEVER LET YOU LEAVE.

Laura is grieving after the sudden death of her husband. Struggling to cope emotionally and financially, Laura is grateful when a local community, Oak Leaf Organics, offer her and her 17-year-old daughter Tilly a home.

But as Laura and Tilly settle into life with their new 'family', sinister things begin to happen. When one of the community dies in suspicious circumstances Laura wants to leave but Tilly, enthralled by the charismatic leader, Alex, refuses to go.

Desperately searching for a way to save her daughter, Laura uncovers a horrifying secret but Alex and his family aren't the only ones with something to hide. Just as Laura has been digging into their past, they've been digging into hers and she discovers the terrifying reason they invited her and Tilly in, and why they'll never let them leave…
I was also sent a tote bag from Boldwood for taking part in one of their very first blog tours.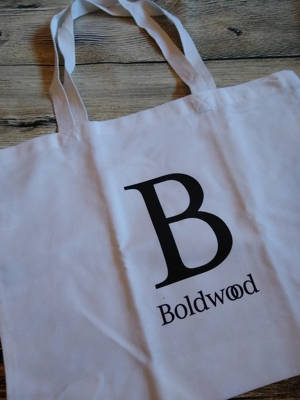 The latest edition of Strong Words magazine arrived……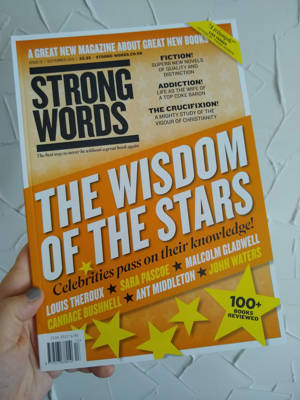 ….and also the latest edition, The Translation Issue, of NB magazine (featuring a few of my reviews).