ShortBookandScribes #BookReview – An Echo of Scandal by Laura Madeleine @TransworldBooks #RandomThingsTours #BlogTour
I am very pleased today to be reviewing An Echo of Scandal by Laura Madeleine as part of the blog tour. It's a fantastic story! My thanks to Anne Cater from Random Things Tours for the place on the tour and to Hannah Bright from Transworld, for the gorgeous copy of the book for review purposes.
---
The sumptuous and seductive world of Tangier in the early 20th century is a world where men make decisions and women follow. But Alejandra is determined to secure her independence, at any cost.

In the dead of night, with blood on her hands, she made her escape. Accused of murder, Alejandra flees her home, escaping to the southern edge of Spain, where she faces a life
of poverty and destitution.

Seduced by the power of the rich and the anonymity that waits across the water in Tangier, Ale makes a bid for a new start. But it will come at a cost: a life of deception. Because Ale's new friends want to know what she is running from, they want to know who she is and whether they can trust her.

Fifty years later, a young American writer wanders the streets of Tangier, searching for inspiration. When he stumbles across a trace of Ale's life, he finds himself tangled in a story of scandal, love and danger that has not yet reached its end.
---

An Echo of Scandal is a story rich with detail and a strong sense of place. I thought it was a fantastic read.
It starts with a murder and so it gets off to something of a flying start. Alejandra is a young woman with no back story and no sense of where she comes from. She lives in a brothel but does not want to end up a whore, and so she learns to cook. She manages to survive doing that until the fateful night when the story begins.
Set mostly in Tangier, the story flits between 1928 and 1978 in alternating chapters. The later story features Sam Hackett, an American writer looking for inspiration and it is a chance find that gives him the spark he needs to write again. How the two stories are linked starts to gradually unfold in the most engrossing fashion to bewitch and beguile the reader with a tale so incredible and so brilliant.
I adored Laura Madeleine's writing for several reasons. First of all, I loved the cocktail recipes at the beginning of Alejandra's chapters. I love to drink cocktails but don't know much about making them and the mention of jiggers and ponies as units of measurement seemed very authentic and so enticing. Secondly, this is a book that puts a lot of emphasis on food and drink and how they can be used to almost spellbind a person. It's a book full of sensations and I just loved the descriptions of the food that Ale was cooking.
But more than anything, this is an author who is able to create an enchanting story that I found myself pulled back into time and time again. It's by no means an easy life for Ale and later for Sam, and the harshness of life and the sharp contrasts in how people lived are portrayed beautifully, along with the streets of Tangier in both time frames. Each time one character's chapter ended I felt reluctant to leave them, every single time! It's a gorgeously evocative book and I thought it was wonderful.
---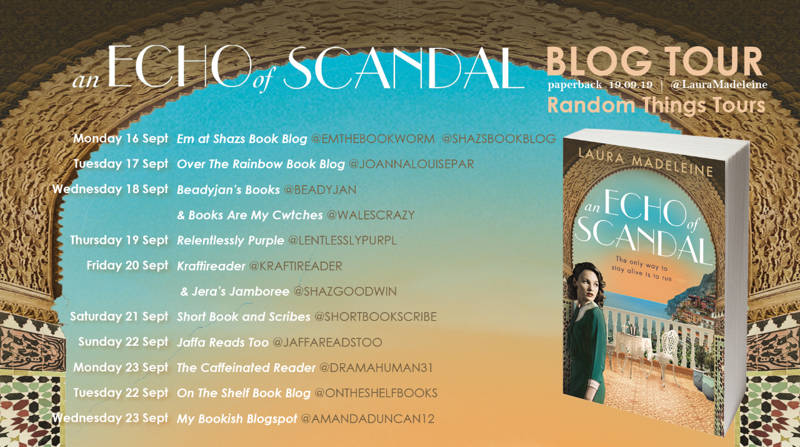 ---

After a childhood spent acting professionally and training at a theatre school, Laura Madeleine changed her mind, and went to study English Literature at Newnham College, Cambridge.
She now writes fiction, as well as recipes, and was formerly the resident cake baker for Domestic Sluttery. She lives in Bristol, but can often be found visiting her family in Devon, eating cheese and getting up to mischief with her sister, fantasy author Lucy Hounsom.