ShortBookandScribes Seven Day Spotlight – w/e 07/07/19
It's that time again. Don't the weeks fly? Only two weeks until the end of our son's first year of school and I just can't believe it.
This week I finally got to the end of my Line of Duty slow-binge. I know I will want to watch all the series again when series six comes out in 2021. This is a show I could never tire of. I also watched the first episode of Years and Years and I thought it was really thought-provoking. I enjoyed it a lot and can't wait to see what happens next.
In other news, I have been knuckling down with blog tour reads as I've seriously overbooked myself. Wish me luck!
---
Here's what I posted this week:
Monday was a day off.
Tuesday's post was my review of The Closer I Get by Paul Burston.
Wednesday's post was my review of The Last Stage by Louise Voss.
Thursday was a two post day with my reviews of The Library of Lost and Found by Phaedra Patrick and The Arrival of Tavish the Tractor by Anne K. Stewart.
Another two post day on Friday with my review of Sea of Bones by Deborah O'Donoghue and a guest post by Martin Gore, author of The Road to Cromer Pier, telling us how to write a pantomime.
And another two post day on Saturday with my review of The Familiars by Stacey Halls and an extract from A Fatal Game by Nicholas Searle.
---
And so to this week's book post. A bit of a bumper week which is fabulous, although I have nowhere to put them!. I'm not complaining, you understand, just contemplating whether to start a new book pile or try and perch them on the top of the teetering piles I already have and risk an avalanche. Let me know what you think of any of the titles.
James is getting on a bit and needs full-time help. So Phoebe and Robert, his middle-aged offspring, employ Mandy, who seems willing to take him off their hands. But as James regales his family with tales of Mandy's virtues, their shopping trips, and the shared pleasure of their journeys to garden centres, Phoebe and Robert sense something is amiss. Is this really their father, the distant figure who never once turned up for a sports day, now happily chortling over cuckoo clocks and television soaps?

Then something happens that throws everything into new relief, and Phoebe and Robert discover that life most definitely does not stop for the elderly. It just moves onto a very different plane – changing all the stories they thought they knew so well.
Secrets of the Homefront Girls by Kate Thompson
Stratford, 1939

Britain may be at war, but on the home front keeping up morale and keeping up appearances go hand in hand. For the young women working on the lipstick production line at Yardley's cosmetics factory, it's business as usual.

Headstrong Renee Gunn is the queen of the lipstick belt – although her cheeky attitude means she's often in trouble. When Esther, an Austrian refugee, arrives at Yardley's, it's Renee who takes her under her wing and teaches her to be a true cockney.

But outside of the factory, things are more complicated. Lily, Renee's older sister, has suddenly returned home after six years away, and is hiding a dark secret. Meanwhile Esther is finding life in England more difficult than expected, and it's not long before Renee finds herself in trouble, with nowhere to turn.

In the face of the Blitz, the Yardley girls are bound together by friendship and loyalty – but could the secrets they are hiding be the biggest danger of all?
Some houses are never at peace.

England, 1917

Reeling from the death of her fiancé, Stella Marcham welcomes the opportunity to stay with her pregnant sister, Madeleine, at her imposing country mansion, Greyswick – but she arrives to discover a house of unease and her sister gripped by fear and suspicion.

Before long, strange incidents begin to trouble Stella – sobbing in the night, little footsteps on the stairs – and as events escalate, she finds herself drawn to the tragic history of the house.

Aided by a wounded war veteran, Stella sets about uncovering Greyswick's dark and terrible secrets – secrets the dead whisper from the other side…

In the classic tradition of The Woman in Black, Anita Frank weaves a spell-binding debut of family tragedy, loss and redemption.
Nightingale Point by Luan Goldie
On an ordinary Saturday morning in 1996, the residents of Nightingale Point wake up to their normal lives and worries.

Mary has a secret life that no one knows about, not even Malachi and Tristan, the brothers she vowed to look after.
Malachi had to grow up too quickly. Between looking after Tristan and nursing a broken heart, he feels older than his twenty-one years.
Tristan wishes Malachi would stop pining for Pamela. No wonder he's falling in with the wrong crowd, without Malachi to keep him straight.
Elvis is trying hard to remember to the instructions his care worker gave him, but sometimes he gets confused and forgets things.
Pamela wants to run back to Malachi but her overprotective father has locked her in and there's no way out.

It's a day like any other, until something extraordinary happens. When the sun sets, Nightingale Point is irrevocably changed and somehow, through the darkness, the residents must find a way back to lightness, and back to each other.
Drugs, smuggling, big money and political intrigue in Iceland rally with love, passion, murder and betrayal until the winner takes all … in the masterful, explosive conclusion to the award-winning Reykjavík Noir trilogy…

The prison doors slam shut behind Agla, when her sentence ends, but her lover Sonja is not there to meet her.

As a group of foreign businessmen tries to draw Agla into an ingenious fraud that stretches from Iceland around the world, Agla and her former nemesis, María find the stakes being raised at a terrifying speed.
Ruthless drug baron Ingimar will stop at nothing to protect his empire, but he has no idea about the powder keg he is sitting on in his own home.
At the same time, a deadly threat to Sonya and her family brings her from London back to Iceland, where she needs to settle scores with longstanding adversaries if she wants to stay alive.

With a shocking crescendo, the lives of these characters collide, as drugs, smuggling, big money and political intrigue rally with love, passion, murder and betrayal until the winner takes all … in the masterful, explosive conclusion to the award-winning Reykjavík Noir trilogy.
Little Siberia by Antti Tuomainen
The arrival of a meteorite in a small Finnish town causes chaos and crime in this poignant, chilling and hilarious new thriller from the King of Helsinki Noir

A man with dark thoughts on his mind is racing along the remote snowy roads of Hurmevaara in Finland, when there is flash in the sky and something crashes into the car. That something turns about to be a highly valuable meteorite. With euro signs lighting up the eyes of the locals, the unexpected treasure is temporarily placed in a neighbourhood museum, under the watchful eye of a priest named Joel.

But Joel has a lot more on his mind than simply protecting the riches that have apparently rained down from heaven. His wife has just revealed that she is pregnant. Unfortunately Joel has strong reason to think the baby isn't his. As Joel tries to fend off repeated and bungled attempts to steal the meteorite, he must also come to terms with his own situation, and discover who the father of the baby really is.

Transporting the reader to the culture, landscape and mores of northern Finland Little Siberia is both a crime novel and a hilarious, blacker-than-black comedy about faith and disbelief, love and death, and what to do when bolts from the blue – both literal and figurative – turn your life upside down.
Blood Song by Johana Gustawsson
The action swings from London to Sweden, and then back into the past, to Franco's Spain, as Roy & Castells hunt a monstrous killer … in the lastest instalment of Johana Gustawsson's award-winning series

Spain, 1938: The country is wracked by civil war, and as Valencia falls to Franco's brutal dictatorship, Republican Therese witnesses the murders of her family. Captured and sent to the notorious Las Ventas women's prison, Therese gives birth to a daughter who is forcibly taken from her.

Falkenberg, Sweden, 2016: A wealthy family is found savagely murdered in their luxurious home. Discovering that her parents have been slaughtered, Aliénor Lindbergh, a new recruit to the UK's Scotland Yard, rushes back to Sweden and finds her hometown rocked by the massacre.

Profiler Emily Roy joins forces with Aliénor and soon finds herself on the trail of a monstrous and prolific killer. Little does she realise that this killer is about to change the life of her colleague, true-crime writer Alexis Castells. Joining forces once again, Roy and Castells' investigation takes them from the Swedish fertility clinics of the present day back to the terror of Franco's rule, and the horrifying events that took place in Spanish orphanages under its rule.

Terrifying, vivid and recounted at breakneck speed, Blood Song is not only a riveting thriller and an examination of corruption in the fertility industry, but a shocking reminder of the atrocities of Spain's dictatorship, in the latest, stunning installment in the award-winning Roy & Castells series.
In the Absence of Miracles by Michael J Malone
A young man discovers a family secret that turns his world upside down in this dark, emotive, shocking psychological thriller by number-one bestselling author Michael J. Malone

John Docherty's mother has just been taken into a nursing home following a massive stroke and she's unlikely to be able to live independently again.

With no other option than to sell the family home, John sets about packing up everything in the house. In sifting through the detritus of his family's past he's forced to revisit, and revise his childhood.
For in a box, in the attic, he finds undeniable truth that he had a brother who disappeared when he himself was only a toddler. A brother no one ever mentioned. A brother he knew absolutely nothing about. A discovery that sets John on a journey from which he may never recover.

For sometimes in that space where memory should reside there is nothing but silence, smoke and ash. And in the absence of truth, in the absence of a miracle, we turn to prayer. And to violence.

Shocking, chilling and heartbreakingly emotive, In the Absence of Miracles is domestic noir at its most powerful, and a sensitively wrought portrait of a family whose shameful lies hide the very darkest of secrets.
Four strangers are missing. Left at their last-known locations are birthday cards that read:

YOUR GIFT IS THE GAME.
DARE TO PLAY?

The police aren't worried – it's just a game. But the families are frantic. As psychologist and private detective Dr Augusta Bloom delves into the lives of the missing people, she finds something that binds them all.

And that something makes them very dangerous indeed.

As more disappearances are reported and new birthday cards uncovered, Dr Bloom races to unravel the mystery and find the missing people.

But what if, this time, they are the ones she should fear?
Three Little Truths by Eithne Shortall
Martha used to be a force of nature: calm, collected, and in charge. But since moving her husband and two daughters to Dublin under sudden and mysterious circumstances, she can't seem to find her footing.

Robin was the "it" girl in school, destined for success. Now she's back at her parents' with her four-year-old son, vowing that her ne'er-do-well ex is out of the picture for good.

Edie has everything she could want, apart from a baby, and the acceptance of her new neighbours. She longs to be one of the girls, and to figure out why her perfect husband seems to be avoiding their perfect future.

Three women looking for a fresh start on idyllic Pine Road. Their friendship will change their lives, and reveal secrets they never imagined. Liane Moriarty meets Lisa Jewell in this story of the love affairs, rivalries and scandals that hide behind every door…
What You Did by Claire McGowan
A vicious assault. A devastating accusation. Who should she trust, her husband or her best friend?

It was supposed to be the perfect reunion: six university friends together again after twenty years. Host Ali finally has the life she always wanted, a career she can be proud of and a wonderful family with her college boyfriend, now husband. But that night her best friend makes an accusation so shocking that nothing will ever be the same again.

When Karen staggers in from the garden, bleeding and traumatised, she claims that she has been assaulted—by Ali's husband, Mike. Ali must make a split-second decision: who should she believe? Her horrified husband, or her best friend? With Mike offering a very different version of events, Ali knows one of them is lying—but which? And why?

When the ensuing chaos forces her to re-examine the golden era the group shared at university, Ali realises there are darker memories too. Memories that have lain dormant for decades. Memories someone would kill to protect.
The Woman Who Wanted More by Vicky Zimmerman
Two women. One unusual cookbook. And a friendship that will show them how to savour each moment . . .

Kate Parker is about to turn forty and her world has fallen apart. Her seemingly rock-solid relationship is
suddenly up in the air, and she's been forced to move back in with her mother. In need of some distraction, Kate (reluctantly) volunteers at her local retirement home.

Cecily Finn is a ninety-seven-year-old resident of Lauderdale House for Exceptional Ladies. Her tongue is as sharp as her mind but lately she's lost her spark, seemingly resigned to the Imminent End.

But then Cecily prescribes Kate a self-help recipe book with a difference – and so begins an unlikely friendship between two lonely and stubborn souls.

Together, these two very different women – one near the end of her life, one adrift somewhere in the middle –
will show each other that food is for feasting, life is for living, and that it's always essential to ask for more.
A Spooky Tale by Sue Wickstead
When the teacher decided to take the class out on a walk the children did not want to go…
But…
What could POSSIBLY go wrong?
why did the class not feel well?
Read the book to find out.

A fictional tale based on a real class walk around the neighbourhood.
where would your walk take you?
Daisy Daydream by Sue Wickstead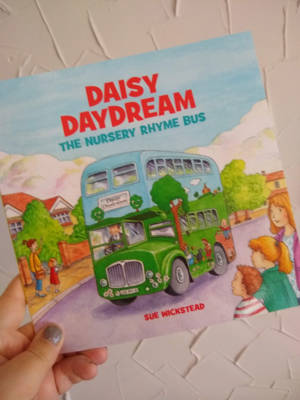 A book of poetry and rhymes with a bus twist.Together with a few tickets full of jokes to capture the imagination of young readers and get them to giggle along on the bus journey.Daisy Daydream the nursery Rhyme bus now has a few nursery rhymes of her own.