ShortBookandScribes #BookReview – The Closer I Get by Paul Burston @OrendaBooks #RandomThingsTours #BlogTour
I'm delighted to be reviewing The Closer I Get by Paul Burston today as part of the blog tour. My thanks to Anne Cater from Random Things Tours for the place on the tour and to Karen from Orenda for sending me a proof copy of the book for review purposes.
---
Tom is a successful author, but he's struggling to finish his novel. His main distraction is an online admirer, Evie, who simply won't leave him alone.

Evie is smart, well read and unstable; she lives with her father and her social-media friendships are not only her escape, but everything she has.

When she's hit with a restraining order, her world is turned upside down, and Tom is free to live his life again, to concentrate on writing.

But things aren't really adding up. For Tom is distracted but also addicted to his online relationships, and when they take a darker, more menacing turn, he feels powerless to change things. Because maybe he needs Evie more than he's letting on.

A compulsive, disturbingly relevant, twisty and powerful psychological thriller, The Closer I Get is also a searing commentary on the fragility and insincerity of online relationships, and the danger that can lurk just one 'like' away…
---

The Closer I Get is a book with a very topical theme, one of social media and how something that is mostly positive can become very negative very quickly.
Tom is a published author. His first book was incredibly successful but his second has bombed. Everyone is wondering if he's a one-hit wonder. But in amongst all those people is Evie, a fan who has become obsessed with him. Her infatuation has not yet turned into violence but she's harassing him online to the point that he has to get the police involved. But for all that he's concerned about her behaviour, there's a part of his ego that needs her attention. It's a fine line, don't you think, between courting attention and that attention becoming unwanted?
This is such a good read. I thought the author did a fabulous job at portraying Tom as the victim and Evie as the perpetrator and yet also showed that sometimes it's not as clear cut as that. Tom also made mistakes. Nevertheless, Evie is a scary individual, measured and careful in her stalking, ensuring that Tom can never be sure she's not behind him in the street, on the other side of a fish tank in an aquarium, or responsible for a tweet that may or may not be aimed at him. I could see how Tom was beginning to question everything and in that way Evie was slowly breaking him down.
This is a dark tale. I didn't know who to trust. Did I believe Tom was totally innocent? Did I think it was all down to Evie? What about Tom's best friend, Emma? And Colin, his neighbour when he decamps to Hastings to try and finish his third book. The waiter that Tom takes a fancy to whilst out to dinner with Emma. Such is the intrigue level that I suspected them all of being a bit on the dodgy side.
There's a rather clever twist at the end, clever to the point that I had to read part of it again to really take it in. Sometimes, things aren't all they seem! This is a book that had me hooked, just wanting to know what was going to happen next. It's an excellent psychological thriller.
---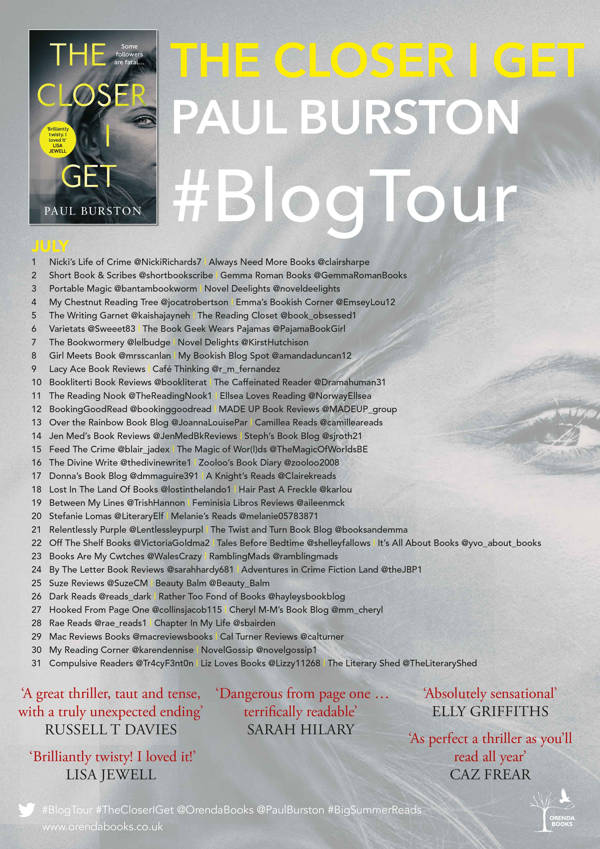 ---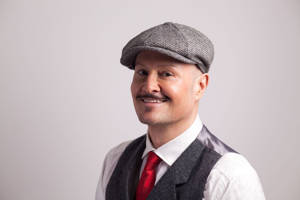 Paul Burston is the author of five novels and the editor of two short story collections. His most recent novel The Black Path, was a WHSmith bestseller. His first novel, Shameless, was shortlisted for the State of Britain Award. His third novel, Lovers & Losers was shortlisted for a Stonewall Award. His fourth, The Gay Divorcee, was optioned for television. He was a founding editor of Attitude magazine and has written for many publications including Guardian, Independent, Time Out, The Times and Sunday Times. In March 2016, he was featured in the British Council's #FiveFilms4Freedom Global List 2016, celebrating "33 visionary people who are promoting freedom, equality and LGBT rights around the world". He is the founder and host of London's award-winning LGBT+ literary salon Polari and founder and chair of The Polari First Book Prize for new writing and the newly announced Polari Prize.