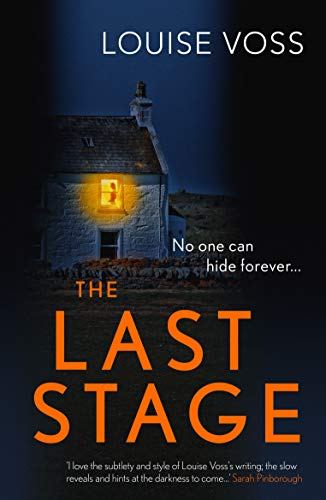 ShortBookandScribes #BookReview – The Last Stage by Louise Voss @OrendaBooks #BlogTour #RandomThingsTours
I'm so pleased to be reviewing The Last Stage by Louise Voss today as part of the blog tour. My thanks to Anne Cater from Random Things Tours for the place on the tour and to Karen from Orenda for sending me a proof copy of the book for review purposes.
---
At the peak of her career as lead singer of a legendary 1980s indie band, Meredith Vincent was driven off the international stage by a horrific incident. Now living a quiet existence in a cottage on the grounds of an old stately home, she has put her past behind her and come to terms with her new life.

When a body is found in the manicured gardens of her home, and a series of inexplicable and unsettling events begins to occur, it becomes clear that someone is watching, someone who knows who she is … Someone who wants vengeance.

And this is only the beginning…

A dark, riveting and chilling psychological thriller, The Last Stage is also a study of secrets and obsessions, where innocent acts can have the most terrifying consequences.
---

First of all, what a prologue. Short but very effective and I was glad I wasn't reading it in bed.
The Last Stage is a clever title, a play on words. Meredith Vincent was part of a band that was once huge. She was the lead singer and in the '80s and '90s the band, Cohen, was riding high. Why then did she suddenly decide to leave it all behind to work as a gift shop manager in a stately home, living in a remote cottage on the grounds? The last stage could be the last time she was on a stage, howling out lyrics. Or it could be the last stage in her life.
For somebody seems out to get Meredith and to ruin her much cultivated anonymity and virtually reclusive life. When one of her friends turns up dead and all sorts of small incidents start to add up, she realises that an attack on her years earlier may not have been the last one.
I liked Meredith very much as a character. She was very closed off in many ways but understandably so as she had suffered a huge trauma in the past. She's very close to her twin brother, Pete, but apart from that friends and family are practically non-existent. I think she just pushed everyone away.
I have to mention the setting. Whilst Greenham Common and a squat in London in the '80s form a small part of the setting, the major part is the stately home where Meredith lives and works. I thought this was inspired and so interesting. The grounds are busy in the day but deserted at night and so Meredith is very much alone there a lot of the time which added to the tension. I also find the idea of working in such a place fascinating, surrounded by opulence and history.
There's a sense of something brewing all the way through the book until the conclusion when all is revealed. I didn't see it coming at all, the sign of a well written story. I did also find myself giggling once or twice at some of the things that were said or which happened. Whilst not a funny book, there's sometimes a sharp edge to the writing that really amused me.
The Last Stage is a fantastic psychological thriller and I enjoyed it such a lot. It's skilfully plotted with a cast of really interesting characters, a great storyline and a fabulous denouement.
---

---

Over her eighteen-year writing career, Louise Voss has had eleven novels published – five solo and six co-written with Mark Edwards: a combination of psychological thrillers, police procedurals and contemporary fiction – and sold over 350,000 books. Her most recent book, The Old You, was a number one bestseller in eBook. Louise has an MA (Dist) in Creative Writing and also works as a literary consultant and mentor for writers at www.thewritingcoach.co.uk. She lives in South-West London and is a proud member of two female crime writing collectives, The Slice Girls and Killer Women.