Seven Day Spotlight – week ending 09/04/17
What a beautiful weekend it's been so far. Such lovely weather just makes you feel happy! Well that and buying lots of books 😉
I've had a fab week on my blog. I've posted reviews of Close to Me by Amanda Reynolds, The Absence of Wings by Mark Stewart and Keep Me Safe by Daniela Sacerdoti and I've been on fab blog tours for Will to Live by Rachel Amphlett, Murder on the Run by Lesley Cookman and The Blood That Binds by Dave Sivers.
Now to acquisitions. An easy way to describe them this week would be:
It's been a week of bargains and books received for upcoming blog tours so here goes:
Fingers in the Sparkle Jar by Chris Packham – I think this memoir sounds absolutely lovely.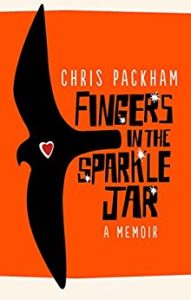 Every minute was magical, every single thing it did was fascinating and everything it didn't do was equally wondrous, and to be sat there, with a Kestrel, a real live Kestrel, my own real live Kestrel on my wrist! I felt like I'd climbed through a hole in heaven's fence.

An introverted, unusual young boy, isolated by his obsessions and a loner at school, Chris Packham only felt at ease in the fields and woods around his suburban home. But when he stole a young Kestrel from its nest, he was about to embark on a friendship that would teach him what it meant to love, and that would change him forever. In his rich, lyrical and emotionally exposing memoir, Chris brings to life his childhood in the 70s, from his bedroom bursting with fox skulls, birds' eggs and sweaty jam jars, to his feral adventures. But pervading his story is the search for freedom, meaning and acceptance in a world that didn't understand him.

Beautifully wrought, this coming-of-age memoir will be unlike any you've ever read.
Shelter by Sarah Franklin – I think this one sounds so good.
Early spring 1944.
In a clearing deep within an English forest two lost souls meet for the first time.

Connie Granger has escaped the devastation of her bombed out city home. She has found work in the Women's Timber Corps, and for her, this remote community must now serve a secret purpose.

Seppe, an Italian prisoner of war, is haunted by his memories. But in the forest camp, he finds a strange kind of freedom.

Their meeting signals new beginnings. In each other they find the means to imagine their own lives anew, and to face that which each fears the most.

But outside their haven, the world is ravaged by war and old certainties are crumbling. Both Connie and Seppe must make a life-defining choice which threatens their fragile existence. How will they make sense of this new world, and find their place within it? What does it mean to be a woman, or a foreign man, in these days of darkness and new light?

A beautiful, gentle and deeply powerful novel about finding solace in the most troubled times, about love, about hope and about renewal after devastation. It asks us to consider what makes a family, what price a woman must pay to live as she chooses, and what we'd fight to the bitter end to protect.
Eve is a garden designer and antique buyer whose husband has left her after several miserable years of marriage. Her latest antique find is an old violin, beautiful but broken.

On meeting Micajah, 20 years younger than her, she feels a spark between them – a sexual spark she hasn't felt in a long time.

As their affair escalates, Micajah shows her how to embrace her sexuality and take charge of it. A musician, he also helps her repair the violin to be even more beautiful than she could have imagined.

Eve goes on a journey of discovery, and the story ends in Venice where she and Micajah set each other free in the world, allowing Eve to take charge of her own happiness at last.
The Housekeeper by Suellen Dainty – 99p
"I am the housekeeper, the hired help with a messy past who cleans up other people's messy lives, the one who protects their messy little secrets."

When Anne Morgan's successful boyfriend—who also happens to be her boss—leaves her for another woman, Anne finds herself in desperate need of a new job and a quiet place to recover. Meanwhile, her celebrity idol, Emma Helmsley (England's answer to Martha Stewart), is in need of a housekeeper, an opportunity which seems too good to be true.

Through her books, website, and blog, Emma Helmsley advises her devoted followers on how to live a balanced life in a hectic world. Her husband, Rob, is a high profile academic, and her children, Jake and Lily, are well-adjusted teenagers. On the surface, they are the perfect family. But Anne soon finds herself intimately ensconced in the Helmsley's dirty laundry, both literally and figuratively. Underneath the dust, grime, and whimsical clutter, everyone has a secret to hide and Anne's own disturbing past threatens to unhinge everything.

For fans of Notes on a Scandal and The Woman Upstairs, The Housekeeper is a nuanced and psychological drama about the dark recesses of the human mind and the dangerous consequences of long-buried secrets.
The Second Chance Tea Shop by Fay Keenan – free!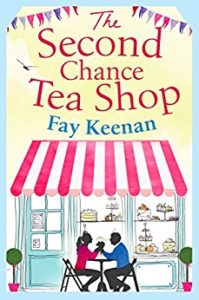 Following the tragic death of her beloved husband, Anna Hemingway decides it's time for a fresh start. So Anna and her three-year-old daughter Ellie move to a picture-perfect cottage in the beautiful village of Little Somerby, and when she takes over the running of the village tea shop, Ellie and Anna start to find happiness again.

But things get complicated when Matthew Carter, the owner of the local cider farm, enters their lives. Throughout a whirlwind year of village fetes and ancient wassails, love, laughter, apple pie and new memories, life slowly blossoms again. But when tragedy strikes and history seems to be repeating itself, Anna must find the strength to hold onto the new life she has built.

This beautiful, life-affirming debut novel marks the beginning of the Little Somerby series, and promises to make you smile, cry, reach for a cream tea, and long for a life in the perfect English countryside.
The Night Visitor by Lucy Atkins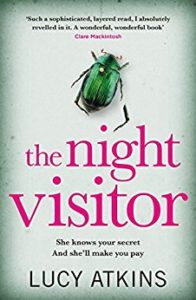 Professor Olivia Sweetman has worked hard to achieve the life she loves, with a high-flying career as a TV presenter and historian, three children and a talented husband. But as she stands before a crowd at the launch of her new bestseller she can barely pretend to smile. Her life has spiralled into deceit and if the truth comes out, she will lose everything.

Only one person knows what Olivia has done. Vivian Tester is the socially awkward sixty-year-old housekeeper of a Sussex manor who found the Victorian diary on which Olivia's book is based. She has now become Olivia's unofficial research assistant. And Vivian has secrets of her own.

As events move between London, Sussex and the idyllic South of France, the relationship between these two women grows more entangled and complex. Then a bizarre act of violence changes everything.
Inside the Whispers by A J Waines – 99p
Where the most dangerous place – is inside your own head…

Following a London Tube disaster, three traumatised survivors turn to clinical psychologist, Dr Samantha Willerby, for help – but she's mystified when their stories don't add up. Her confusion turns to horror when one by one, instead of recovering, they start committing suicide.

When her partner, Conrad, begins to suffer the same terrifying flashbacks, Sam is desperate to find out what is causing them and a mysterious and chilling crime begins to unravel.

Then the flashbacks begin for Sam…

The first book in the Dr Samantha Willerby Series, INSIDE THE WHISPERS is a tense, haunting Psychological Thriller that will leave your nerves in shreds.
The Companion by Sarah Dunnakey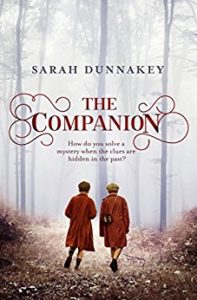 The Companion is a beautiful and powerfully-told story of buried secrets, set between the 1930s and the present day, on the wild Yorkshire moors.

Billy Shaw lives in a palace. Potter's Pleasure Palace, the best entertainment venue in Yorkshire, complete with dancing and swing-boats and picnickers and a roller-skating rink.

Jasper Harper lives in the big house above the valley, with his eccentric mother Edie and Uncle Charles, brother and sister authors who have come from London to write in the seclusion of the moors.

When it is arranged for Billy to become Jasper's companion, Billy arrives to find a wild, peculiar boy in a curiously haphazard household where nothing that's meant is said and the air is thick with secrets. Later, when Charles and Edie are found dead, it is ruled a double suicide, but fictions have become tangled up in facts and it's left to Anna Sallis, almost a century later, to unravel the knots and piece together the truth.
Then She Was Gone by Lisa Jewell – so happy to get my hands on this one by one of my favourite writers.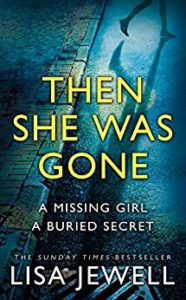 THEN
She was fifteen, her mother's golden girl. She had her whole life ahead of her. And then, in the blink of an eye, Ellie was gone.

NOW
It's been ten years since Ellie disappeared, but Laurel has never given up hope of finding her daughter.
And then one day a charming and charismatic stranger called Floyd walks into a café and sweeps Laurel off her feet.

Before too long she's staying the night at this house and being introduced to his nine year old daughter.
Poppy is precocious and pretty – and meeting her completely takes Laurel's breath away.

Because Poppy is the spitting image of Ellie when she was that age.
And now all those unanswered questions that have haunted Laurel come flooding back.

What happened to Ellie? Where did she go?
Who still has secrets to hide?
The Escape by C.L. Taylor – another of my favourite authors
"Look after your daughter's things. And your daughter…"

When a stranger asks Jo Blackmore for a lift she says yes, then swiftly wishes she hadn't.

The stranger knows Jo's name, she knows her husband Max and she's got a glove belonging to Jo's two year old daughter Elise.

What begins with a subtle threat swiftly turns into a nightmare as the police, social services and even Jo's own husband turn against her.

No one believes that Elise is in danger. But Jo knows there's only one way to keep her child safe – RUN.
The Crying Boy by Jane E. James – 99p – I bought this after reading Jo's fantastic review over at My Chestnut Reading Tree blog.
Clayton and Avril Shaw have lost their little boy and are still grieving when they move into Swallow's Nest on the Yorkshire moors.

In their new house Avril discovers a painting and is intrigued by the history surrounding it. When she learns that the boy in the painting was deaf, like her dead son, she starts to try and communicate with his ghost.

Meanwhile, Clayton finds himself entangled in an equally undesirable friendship with a retired fire chief who knows more about the painting than he is prepared to let on.

Is The Crying Boy painting cursed and can numerous house fires be linked to it?

Struggling with their unstable marriage, the couple find themselves in further danger as an increasingly disturbing bond develops between Avril and The Crying Boy.

In a twist of events Avril's irrational behaviour is brought to a dramatic halt when she discovers she is pregnant. With her affections once again restored for Clayton, she decides to dispose of the sinister portrait. But the cast off painting wants revenge and its anger towards Avril's unborn child might just prove immeasurable.

Can Avril and Clayton live happily ever after or does The Crying Boy have other plans?
Dead Woman Walking by Sharon Bolton – got to be one of my most anticipated books of 2017 so can't wait to read this one for the blog tour later this month.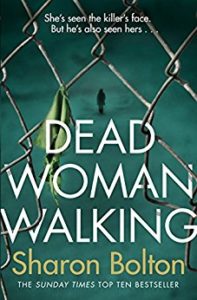 Just before dawn in the hills near the Scottish border, a man murders a young woman. At the same time, a hot-air balloon crashes out of the sky. There's just one survivor.

She's seen the killer's face – but he's also seen hers. And he won't rest until he's eliminated the only witness to his crime.

Alone, scared, trusting no one, she's running to where she feels safe – but it could be the most dangerous place of all . . .
The Darkest Lies by Barbara Copperthwaite – this is a 99p pre-order
Melanie Oak appeared to have the perfect life. Married to her childhood sweetheart, Jacob, the couple live with their beautiful, loving, teenage daughter, Beth, in a pretty village.

Nothing can shake her happiness – until the day that Beth goes missing and is discovered beaten almost to the point of death, her broken body lying in a freezing creek on the marshes near their home.

Consumed with grief, Melanie is determined to find her daughter's attacker. Someone in the village must have seen something. Why won't they talk?

As Melanie tries to piece together what happened to Beth, she discovers that her innocent teenager has been harbouring some dark secrets of her own. The truth may lie closer to home and put Melanie's life in terrible danger…
Hunting the Hangman by Howard Linskey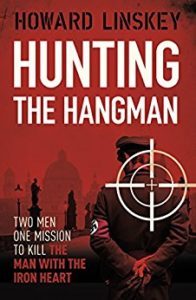 TWO MEN. . . ONE MISSION. . . TO KILL THE MAN WITH THE IRON HEART

Bestselling author Howard Linskey's fifteen year fascination with the assassination attempt on Reinhard Heydrich, the architect of the holocaust, has produced a meticulously researched, historically accurate thriller with a plot that echoes The Day of the Jackal and The Eagle has Landed.

2017 marks the 75th anniversary of the attack on a man so evil even fellow SS officers referred to him as the 'Blond Beast'. In Prague he was known as the Hangman. Hitler, who called him 'The Man with the Iron Heart', considered Heydrich to be his heir, and entrusted him with the implementation of the 'Final Solution' to the Jewish question: the systematic murder of eleven million people.

In 1942 two men were trained by the British SOE to parachute back into their native Czech territory to kill the man ruling their homeland. Jan Kubis and Josef Gabcik risked everything for their country. Their attempt on Reinhard Heydrich's life was one of the single most dramatic events of the Second World War, with horrific consequences for thousands of innocent people
Two women. Two versions of the truth.

Kitty lives in a care home. She can't speak properly, and she has no memory of the accident that put her here. At least that's the story she's sticking to.

Art teacher Alison looks fine on the surface. But the surface is a lie. When a job in a prison comes up she decides to take it – this is her chance to finally make things right.

But someone is watching Kitty and Alison.
Someone who wants revenge for what happened that sunny morning in May.
And only another life will do…
The Wardrobe Mistress by Patrick McGrath
January 1947.

London is in ruins, there's nothing to eat, and it's the coldest winter in living memory. To make matters worse, Charlie Grice, one of the great stage actors of the day, has suddenly died. His widow Joan, the wardrobe mistress, is beside herself with grief.

Then one night she discovers Gricey's secret. Plunged into a dark new world, she realises that the war isn't over after all.
One Summer in Tuscany by Domenica de Rosa
Patricia Wilson's carefully composed ads for the writers' retreat she runs at her thirteenth-century Italian castle promise so much. But while the splendour of their surroundings and chef Aldo's melanzane never fail to wow the guests, huge maintenance bills and bad news from the bank threaten to close Patricia down. It's make or break time for the Castello.

Each of her seven aspiring authors arrives with the inevitable baggage alongside their unpublished manuscripts. But this August something is different, and soon lifelong spinster Mary is riding on the back of Aldo's vespa, and smouldering odd-job man Fabio has set more than one heart racing.

As temperatures rise, the writers gossip, flirt and gently polish their prose by the pool. But with ghosts, scorpions, and some unexpected visitors to contend with, one thing's for sure: neither the Castello, nor Patricia, has ever seen a summer like this.
Death of a Cuckoo by Wendy Percival – I love a good genealogical story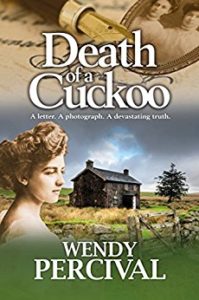 A letter. A photograph. A devastating truth.

When Gina Vincent receives a letter of condolence from a stranger following her mother's death, a photograph slipped inside reveals a disturbing truth – everything she's ever known is based on a lie. Shocked and disorientated, she engages genealogy detective Esme Quentin to help search for answers.

The trail leads to an isolated and abandoned property on the edge of Exmoor, once the home of a strict Victorian institution called The House of Mercy and its enigmatic founder, whose influence seems to linger still in the fabric of the derelict building.

As they dig deeper, Esme realises that the house itself hides a dark and chilling secret, one which must be exposed to unravel the mystery behind Gina's past.

But someone is intent on keeping the secret hidden. Whatever it takes.
A Seaside Affair by Fern Britton – free!
When the residents of the Cornish seaside town of Trevay discover that their much-loved theatre is about to be taken over by coffee chain, Café au Lait, they are up in arms. It is up to Penny Leighton, hotshot producer and now happily married Cornish resident, to come up with a rescue plan. Armed with only her mobile phone and her contacts book, she starts to pull in some serious favours.

The town is soon deluged by actors, all keen to show their support and take part in a charity season at the theatre. One of the arrivals is Jess Tate, girlfriend to TV heartthrob Ryan Hearst. His career is on the rise while hers remains resolutely in the doldrums. But when opportunity comes calling, it isn't just her career prospects that are about to change. Trevay is about to put on the show of its life – but can the villagers, and Jess, hold on to the thing they love the most?
The Buttonmaker's Daughter by Merryn Allingham – I saw this one featured on Being Anne's blog. She's featuring a number of books this weekend, all of which can be downloaded for free. Check out the post here.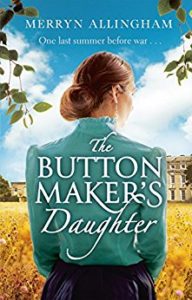 May, 1914. Nestled in Sussex, the Summerhayes mansion seems the perfect country idyll. But with a long-running feud in the Summers family and tensions in Europe deepening, Summerhayes' peaceful days are numbered.

For Elizabeth Summer, the lazy quiet of her home has become stifling. A chance meeting with Aiden Kellaway, an architect's assistant, offers the secret promise of escape. But to secure her family's future, Elizabeth must marry well. A man of trade falls far from her father's uncompromising standards.

As the sweltering heat of 1914 builds to a storm, Elizabeth faces a choice between family loyalty and an uncertain future with the man she loves.

One thing is definite: this summer will change everything.
Living La Vida Loca by Belinda Jones – 99p, gorgeous cover and I love her books.
Carmen has been feeling the need to break free for Too Darn Long. So when her equally frustrated friend Beth suggests the ultimate escape — dancing their way through a series of scorchingly-hot countries — she can't resist! There's just one catch…they can only go on this adventure if they participate in a reality TV show, one intent on teaching them the mournful tango in Argentina, the feisty flamenco in Spain and the sassy, celebratory salsa in Cuba! As they travel from Buenos Aires to Seville and ultimately steamy Havana, each dance has a profound effect on the girls — and indeed the sexy gauchos, matadors and dirty dancers who partner them…But, when the sun goes down, do they have what it takes to go beyond the steps and free their hearts for love?
The Scars Beneath the Soul by Dave Sivers – I've just been on the blog tour for book four in this series so thought I would snap up book 1 for 99p!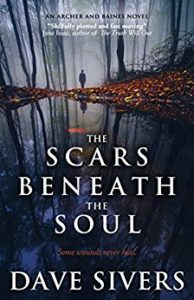 A VIOLENT DEATH…

In a quiet market town in Buckinghamshire, a brutal killer strikes, shattering any illusions Detective Inspector Lizzie Archer might have had about her new patch in Aylesbury Vale being a sleepy hollow.

NEW SCARS…

Disfigured in the line of duty, Archer has transferred in from the Met, hoping to make a fresh start in her life and her career. The last thing she needs is an awkward colleague, but that is what she seems to find in Detective Sergeant Dan Baines.

OLD SCARS…

Baines bears scars of his own, the kind that cannot be seen. Eleven years ago, his family fell victim to a serial killer, and recently his life has fallen into fresh turmoil. Haunted by dreams and visions of his still-missing son, and confused by feelings for his murdered wife's identical twin sister, he finds himself resenting a new boss who knows nothing about the area.

HOW MANY MORE VICTIMS?

But the killer shows no sign of stopping and with no obvious connection between the victims and the body count rising daily, Archer and Baines must put aside their differences and work together if they are to stop a maniac whose appetite for slaughter seemingly knows no bounds.
The Moment by Claire Dyer – one from my wishlist just down to 99p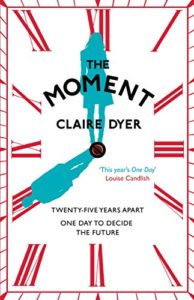 Paddington station, nine a.m., rush hour. As the crowds ebb and flow, time suddenly stands still for two people: Fern and Elliott, ex-lovers who parted twenty-five years before and never expected to see each other again.

But here they are, face to face, and the connection is as powerful as it was the day they first met. Their lives have moved on – to marriage, children and divorce – yet neither has stopped regretting the day that drove them apart.

Fern gives Elliott her number and they tentatively arrange to meet again that evening when both will be travelling back through the station. And, as the day ticks on, and the memories resurface, both Fern and Elliott reflect on the past. As their emotions go round in circles, so does the Paddington clock, counting down the minutes to eight p.m. – and the moment the future is in their hands.
Love, or Nearest Offer by Adele Geras – 99p
On paper, Iris Atkins is an estate agent, but she's not just good at finding suitable houses for her clients. In fact, she has a gift: Iris is able to see into their lives and understand exactly what is missing and what they need – and not just in bricks-and-mortar terms either. Not that she tells them so; she's more subtle than that. But if you hire Iris Atkins as your agent, you may find you don't just end up with the perfect house you'd never choose for yourself, but the perfect job, the perfect partner… the perfect new life?

Of course, concentrating so much on fixing other people's problems doesn't leave much time for examining your own. Over the course of one whirlwind year Iris discovers that while she may know what's best for everyone else, she doesn't necessarily know what's best for herself – and what she finds out could make her happier than she'd ever dreamed of.
Phew! Hope you're still with me. If so, I'd love to hear any comments on any of these books.