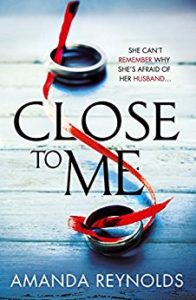 #bookreview – Close to Me by Amanda Reynolds @amandareynoldsj @Wildfirebks #suspense
When Jo Harding falls down the stairs at home, she wakes up in hospital with partial amnesia – she's lost a whole year of memories.

A lot can happen in a year. Was Jo having an affair? Lying to her family? Starting a new life?

She can't remember what she did – or what happened the night she fell.

But she's beginning to realise she might not be as good a wife and mother as she thought.
Close to Me appealed to me as soon as I saw it. I loved the cover image and the tagline "She can't remember why she's afraid of her husband". Reading the blurb interested me even more.
Jo is in a happy marriage to Rob……….isn't she? She has two grown up children and everything's great……..isn't it? After a fall down the stairs she finds she has forgotten the last year. Imagine that! And somehow that last year is significant and things aren't quite as she remembers.
This book is in the psychological thriller genre but in a way it's more of a family saga as much of the story is about Jo and Rob's relationship with each other and with their kids, Sash and Fin. We follow Jo as she tries to work out what happened in the last year and in alternate chapters we actually find out most of it before she does. It's very cleverly written in that respect and I enjoyed both strands.  It's not that fast paced a read, but it's a page turner nevertheless and I was itching to know what really happened when Jo fell and what led up to it.
Jo is the ultimate unreliable narrator – even she doesn't know what the truth is! She's an interesting character. Her kids have left home and she's rattling around in a big converted barn in the middle of nowhere whilst her husband is out at work all day. She's at that stage of life when she either accepts that or finds some other way to fill her days. But what was she doing to fill her days just before the fall?
I found Close to Me to be a really involving read and it kept me wondering right through to the very last page. It's a great debut, both for Amanda Reynolds and for Wildfire, the new publishing imprint of Headline Publishing.
With thanks to the publishers and Amazon Vine for the review copy. Close to Me is published by Wildfire and is available now in paperback and ebook.
---
About the Author
I haven't always been an author, although I always wanted to be. I've been a teaching assistant, a sales trainer, a full-time mum and part-time almost everything you can think of, including a summer spent milking goats.
Five years ago, I decided to properly start writing and that's when I also set up Cotswold Creative Writing, teaching two writing classes a week.
Not many authors find success immediately, and I think that's often a good thing. I certainly wouldn't want my first efforts in print, although I'm not sure I felt like that at the time.
I'm now taking a sabbatical from teaching to live the dream of being published and to concentrate on my next book. I intend to enjoy every moment of it.