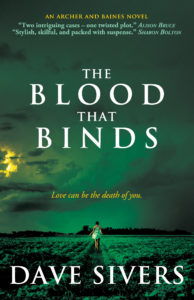 #blogtour – The Blood That Binds by Dave Sivers @DaveSivers #guestpost #suspense
I'm on the blog tour today for The Blood That Binds by Dave Sivers (just look at that cover!). I've got a fabulous guest post from him but first of all here's the all important blurb:
"Two intriguing cases – one twisted plot." – Alison Bruce 

"Stylish, skilful and packed with suspense." – Sharon Bolton 

SOMETIMES THE PAST IS BEST LEFT ALONE

The quiet Buckinghamshire village of Houghton is reeling. Soon after twelve year old Leanne Richards is killed by a hit and run driver, the two classmates who were with her that night disappear, one by one.

Jade and Becky said they couldn't identify the car or the driver. Does someone want to make sure it stays that way? Or are other, darker motives in play?

As DI Lizzie Archer and DS Dan Baines search for the truth, buried pasts and secret loves begin to reveal themselves. But is time running out for the girls? Or is it already too late?
Now for the guest post, the Word document of which Dave entitled "Nicola Smith Natural Beauty" – he's obviously never met me 😉
Natural Beauty. Unnatural Causes.
People who, like me, live in Buckinghamshire's Aylesbury Vale often find a little something extra in the Archer and Baines novels. The books are set in the Vale, and my detectives operate out of Aylesbury nick – a cop shop I've actually visited, had the tour (but didn't get a tee-shirt).
People who know the area seem to enjoy recognising places they know and, even where I create fictitious villages or streets, spotting the real places they think they're loosely based on.
But those readers know better than most that we're not talking about the murder capital of the world.
The Vale sits within the Chilterns Area of Outstanding Natural Beauty, and is one of England's best kept secrets. I'm incredibly lucky to be able to walk out of my front door and be looking out over gorgeous scenery within less than twenty minutes. We have majestic red kites in abundance, and there's always a chance of spotting birds of prey or deer off-course from nearby Ashridge Forest. I love the quiet villages and the small market towns. I love the real sense of community in my own little village.
But yet, I'm supposed to be writing gritty crime fiction.
I remember being at Harrogate Crime Festival some years before I started writing Archer and Baines, and taking in a panel on 'gritty city vs cosy country'. The prevailing view at the time was that tough crime happens in big cities; the countryside is for old ladies with cats, and anything else will be like Midsummer Murders.
When they got to the Q&A, I tentatively explained that I live in a rural area; the nearest thing we have to a city is Milton Keynes, and I doubted the world was holding its breath for The Great Milton Keynes Crime Novel. So was I doomed to write about old ladies and cats?
One panelist – a terrific writer – condemned me as a lazy so-and-so who needed to get off his bottom and go to Glasgow or Manchester and immerse myself in razor gang culture or the like.
Being a stubborn cuss, I wasn't about to give up as easily as that. The Vale does have its share of crimes, and some of them are pretty nasty. And I remembered the West London council estate where I grew up, which has a villagey sense of community. So surely the lines are not so sharply drawn?
I was still thinking this through when I started reading Stephen Booth's excellent Cooper and Fry series. It's set in rural Derbyshire, and he convincingly pulls off exactly what I'd been warned that I couldn't.
Nonetheless, I felt I couldn't give the Vale the dark feel I was looking for without taking a few liberties. The Aylesbury Vale of Archer and Baines is like a shadowy twin of the real one. So, for example, my Aylesbury has an estate that only exists within the pages of the books – both to give me somewhere a little more sinister when I needed it, and so as not to imply that any of the town's real estates were like that. For similar reasons, if the plot calls for a murder in a village, I use a fictional location – although I know that a number of my local readers would be tickled pink if I killed someone down the road from them, or even in their own home!
I feel my location gives me the best of both worlds. I can set my action amongst the bricks and concrete of Aylesbury, pit my detectives against a close-knit, claustrophobic community, or have a body turn up somewhere idyllic. In fact the only trouble is that I'm spoilt for choices when it comes to body dump locations, so I'm often overheard telling companions, "That would make a great place to put a body."
I get some very funny looks. I can't think why…
Fabulous post, thanks Dave!
---
You can buy The Blood That Binds on Amazon along with the previous books in the Archer and Baines series.
PRAISE FOR ARCHER AND BAINES:
'You'll enjoy this if you liked Elizabeth George's Inspector Lynley Mysteries, Gillian Hamer's Gold Detectives series and Val McDermid's Wire in the Blood'
– J J Marsh, author of the Beatrice Stubbs novels.
And don't forget to check out the other blogs on the tour. Aren't the colours on the book cover just gorgeous?
---
About the Author
Dave's civil service career took him to exotic places like Rhode Island USA, Cyprus, Brussels, Northern Norway and Sutton Coldfield. Along the way, he moonlighted variously as nightclub bouncer, bookie's clerk and freelance writer, as well as picking up a first class honours degree from the Open University.
Writing has always been his passion and, since giving up the day job, he has launched a second career as a novelist.
The Scars Beneath the Soul, the first book in his popular Archer and Baines crime series – set in Buckinghamshire's Aylesbury Vale – and the follow-up, Dead in Deep Water, both hit the top three in Kindle's 'Serial Killers' chart. The Blood That Binds is the fourth in the series featuring DI Lizzie Archer and DS Dan Baines.
Dave has also won prizes and publication with his short fiction, written for newspapers and magazines, and writes material for the amateur stage.
Dave lives in Buckinghamshire, England, with his wife, Chris.