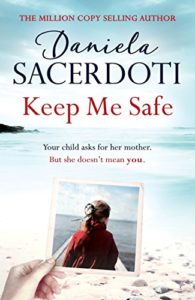 #bookreview – Keep Me Safe by Daniela Sacerdoti @Danisacerdoti @headlinepg
A lost girl shows a mother and her daughter their way home. Keep Me Safe is the gripping new novel from the author of the bestselling Watch Over Me, Daniela Sacerdoti. If you love Amanda Prowse, Jodi Picoult or Dorothy Koomson, you will love this.

When Anna's partner walks away from their relationship, she is shattered. But it is her little girl Ava who takes it hardest of all. The six year old falls silent for three days. When she does speak, her words are troubling. Ava wants to go home. To a place called Seal. To her other mother.

Anna knows to unravel the mystery she must find Seal and take Ava there. She hopes this tiny island will unlock her daughter's memories. But could it also offer a new life… and unexpected love… for Anna too?
I have several of Daniela Sacerdoti's books on my mountainous TBR pile as they just really appeal to me. I think the Scottish setting is a big part of that and when I got my hands on a review copy of Keep Me Safe I was looking forward to it so much, not least because it's set on a small Scottish island.
Anna and Ava are the main characters and I liked both of them very much, but there are also a small number of other characters who are central to the story, including the rather lovely Sorren, whom Anna meets when she gets to the island called Seal. Despite the anxiety that sent them there in the first place, it all sounded rather idyllic and I found myself in that rather whimsical place I go to when I imagine Scottish islands! Seal is portrayed in such an attractive way I wanted to go there myself.
There are themes of reincarnation and having 'the Sight' in this book, and that is slightly out of my comfort zone as I find suspending belief a little difficult sometimes. But Sacerdoti deals with it beautifully. It's all quite believable and magical and sweet.
Keep Me Safe is romantic and gentle and I found it to be a lovely book to read. It's the first in a series and I'm not sure where it will go next as everything got tied up rather nicely at the end but I'd definitely been keen to return to Seal. I did find a little tear creeping its way into the corner of my eye at the conclusion. It really was all quite charming.
With thanks to the publishers and Amazon Vine for the review copy. Keep Me Safe was published in hardback and ebook on 6th April 2017 by Headline Review.
---
About the Author (taken from the author's Amazon page)
Daniela Sacerdoti is a phenomenon. Over one million copies of her novels have been sold in eBook, her debut novel Watch Over Me was the eighth bestselling Kindle book of all time in 2015 and she was also ranked as the eleventh top-selling Kindle author.
Daniela writes beautiful, haunting and bestselling fiction for adults (the Glen Avich series), young adults (the Sarah Midnight trilogy) and children. Her novels have been translated in twelve languages.
Daniela was born and raised in Italy. She studied Classics, then lived in Scotland for fourteen years, where she married and taught in a primary school. Daniela's children's book Really WeirdRemovals.Com was shortlisted for the Scottish Children's Book Awards. She has also written for the BBC.
Daniela, her husband and their two sons make their home in a tiny village in the Alps. To discover more about Daniela and her world, visit www.danielasacerdoti.com.