Seven Day Spotlight – w/e 23/07/17
Happy Sunday everybody! It's my birthday today so here's a virtual slice of birthday cake for you all 😉
This week on my blog I reviewed short story Environmentally Friendly by Elias Zanbaka, I posted a Throwback Thursday post about Ashenden by Elizabeth Wilhide, I reviewed my first children's book, The Fox in the Box by Amanda Gee, and I was on the blog tour for Before You Were Mine by Em Muslin.
---
Now, if you thought I was restrained with my acquisitions last week then wait until you see this week's additions to my TBR pile! Only 4 plus 3 birthday presents!
Acts and Omissions by Catherine Fox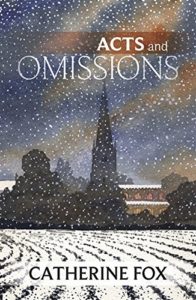 The Bishop of Lindchester is happily married with four daughters. But does he have a secret? Archdeacon Matt is inclined to think not. That said, it's obvious to him that Bishop Paul's got a pretty big bee in his mitre about the brilliant but troubled Freddie May . . . Welcome to the fictional Diocese of Lindchester, where you will be taken (dear reader) on a yearlong romp in the company of bishops, priests and lay people. Prepare yourself for a bumpy and hilarious ride from the rarefied heights of the Cathedral Close down to the coalface of ordinary urban and rural parishes. Acts and Omissions reveals the Church of England in all its mess and glory. It is a world shot through with grace, but one where even the best intentioned err and stray. And occasionally do those things which they ought not to have done . . .
Secrets in the Shadows by Hannah Emery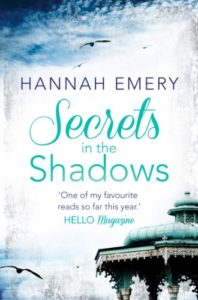 In 1920s Blackpool, eleven year old Rose wanders away from her parents and has a unique gift bestowed upon her. This gift will leave a haunting legacy, seeping down through the generations…

Decades later, Louisa has a vision of her mother walking into the sea. This isn't the first time it happens and it won't be the last, but what she sees isn't always what she wants. The rest of her life is spent trying to change the future that haunts her.

In present day Blackpool, Grace is going to be married someday. She knows this because she's seen it; a vision of a white dress, daisies embroidered on the sleeves, the groom by her side, vowing to love her forever. Except the man in her premonition doesn't belong to her- he belongs to her twin sister, Elsie.

Haunted by what they know and what they are afraid to find out, all three women must make a choice: in the face of certain destiny should you chase the outcome that's "meant to be", or throw away fate and choose your own future?
Tara has it all. Married and about to move into her dream home, she can't explain why she is tempted by one last fling with her ex before she settles down.

David would do anything for Tara. So when he finds her with another man, his world starts to crumble around him.

Ryan isn't prepared for the punch David throws at him. Stumbling, he slips over the balcony and falls three storeys to the patio below.

In one split second a man will be killed. In one split second David and Tara's life will change forever.

How far would you go to save everything you have?
Lost in the Lake by A J Waines
She came at first for answers…now she's back for you

Amateur viola player Rosie Chandler is the sole survivor of a crash which sends members of a string quartet plunging into a lake. Convinced the 'accident' was deliberate, but unable to recall what happened, she is determined to recover her lost memories and seeks out clinical psychologist, Dr Samantha Willerby.

But Rosie is hiding something…

Sam is immediately drawn to the tragic Rosie and as she helps her piece the fragments together, the police find disturbing new evidence which raises further questions. Why is Rosie so desperate to recover her worthless viola? And what happened to the violin lost in the crash, worth over £2m?

When Rosie insists they return to the lake to relive the fatal incident, the truth about Rosie finally creeps up on Sam – but by now, she's seriously out of her depth…

A stand alone novel (and the second book in the Dr Samantha Willerby series), Lost in the Lake is a nail-biting, edge-of-your-seat Psychological Thriller that will leave you glancing over your shoulder.
And these three were my birthday presents:
The Woman in the Wood by Lesley Pearse
Fifteen-year-old twins Maisy and Duncan Mitcham have always had each other. Until the fateful day in the wood . . .

One night in 1960, the twins awake to find their father pulling their screaming mother from the house. She is to be committed to an asylum. It is, so their father insists, for her own good.

It's not long before they, too, are removed from their London home and sent to Nightingales – a large house deep in the New Forest countryside – to be watched over by their cold-hearted grandmother, Mrs Mitcham. Though they feel abandoned and unloved, at least here they have something they never had before – freedom.

The twins are left to their own devices, to explore, find new friends and first romances. That is until the day that Duncan doesn't come back for dinner. Nor does he return the next day. Or the one after that.

When the bodies of other young boys are discovered in the surrounding area the police appear to give up hope of finding Duncan alive. With Mrs Mitcham showing little interest in her grandson's disappearance, it is up to Maisy to discover the truth. And she knows just where to start. The woman who lives alone in the wood about whom so many rumours abound. A woman named Grace Deville.
Ticket to Ride by Tom Chesshyre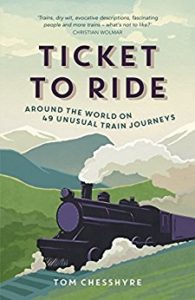 Experience the world by train

Why do people love trains so much?

Tom Chesshyre is on a mission to find the answer by experiencing the world through train travel – on both epic and everyday rail routes, aboard every type of ride, from steam locomotives to bullet trains, meeting a cast of memorable characters who share a passion for train travel. Join him on the rails and off the beaten track as he embarks on an exhilarating whistle-stop tour around the globe, from Sri Lanka to Iran via Crewe, Inverness, the Australian outback and beyond.
Reading Allowed by Chris Paling
Chris works as a librarian in a small-town library in the south of England. This is the story of the library, its staff, and the fascinating group of people who use the library on a regular basis.

We'll meet characters like the street-sleepers Brewer, Wolf and Spencer, who are always the first through the doors. The Mad Hatter, an elderly man who scurries around manically, searching for books. Sons of Anarchy Alan, a young Down's Syndrome man addicted to the American TV drama series. Startled Stewart, a gay man with a spray-on tan who pops in most days for a nice chat, sharking for good-looking foreign language students. And Trish, who is relentlessly cheerful and always dressed in pink – she has never married, but the marital status of everybody she meets is of huge interest to her.

Some of the characters' stories are tragic, some are amusing, some are genuinely surreal, but together they will paint a bigger picture of the world we live in today, and of a library's hugely important place within it. Yes, of course, people come in to borrow books, but the library is also the equivalent of the village pump. It's one of the few places left where anyone, regardless of age or income or background, can wander in and find somebody to listen to their concerns, to share the time of day.

Reading Allowed will provide us with a fascinating portrait of a place that we all value and cherish, but which few of us truly know very much about …