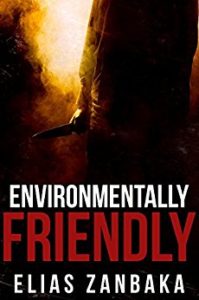 #bookreview – Environmentally Friendly by Elias Zanbaka #shortstory
Today I'm reviewing a very short story called Environmentally Friendly by Elias Zanbaka.

Out of seven billion people, one man has declared war on mother nature and plans to bring it to its knees.

Out of all the criminals in Los Angeles, he's the number one target being hunted by the LAPD tonight.

And out of the entire LAPD , one officer is hell-bent on helping him complete his mission.
Environmentally Friendly is a short story of just 29 pages but it certainly packs a punch in those pages. Right from the beginning the reader is thrown into the heart of the action as we follow a mentally ill man taking revenge on Mother Nature, and one cop who is determined to let him have his day.
I think I'm not quite the target audience for this story. I like a good thriller but I'm not really into action/adventure reads. However, I think if you like that genre then you would enjoy it as it's full of action, very intense and very descriptive.
It's quite a unique storyline and a rollercoaster ride for the 20 minutes it takes to read it. It literally never calms down from the first word to the last and the whole thing is rather frenetic.
With thanks to the author for the review copy. Environmentally Friendly is available now in ebook for free.