Seven Day Spotlight – w/e 09/07/17
This week on my blog I reviewed the gripping book by Jane Corry, The Blood Sisters, which I absolutely loved.
I also reviewed Every Secret Thing by Rachel Crowther and I had a guest post from the author about secrets and lies in fiction.
I then reviewed The Fatal Coin by Lucienne Boyce which is an action packed historical crime novella.
Caryl at Mrs Bloggs' Books kindly featured me in her 'The Reading Light is On' feature – you can find the link here.
And I had a guest post from Charlie Laidlaw about the inspiration for his book, The Things We Learn When We're Dead.
---
Thanks to the Kindle Summer Sale, my acquisitions list is rather large this week.
The Girlfriend by Michelle Frances – only 98p and came with a glowing endorsement from the lovely Jo at My Chestnut Reading Tree.
A girl. A boy. His mother. And the lie she'll wish she'd never told.

The Girlfriend by Michelle Frances is a gripping and chilling debut psychological thriller, based on the fall-out following an unforgiveable lie. It looks at the potentially charged relationship between girlfriend, boyfriend and his mother, which most women can identify with, and locates it in an extreme but believable setting.

Laura has it all. A successful career, a long marriage to a rich husband, and a twenty-three year-old son, Daniel, who is kind, handsome, and talented. Then Daniel meets Cherry. Cherry is young, beautiful and smart but she hasn't had the same opportunities as Daniel. And she wants Laura's life.

Cherry comes to the family wide-eyed and wants to be welcomed with open arms, but Laura suspects she's not all that she seems.

When tragedy strikes, an unforgiveable lie is told. It is an act of desperation, but the fall-out will change their lives forever.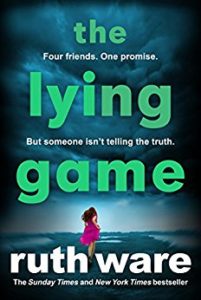 The text message arrives in the small hours of the night. It's just three words: I need you.
Isa drops everything, takes her baby daughter and heads straight to Salten. She spent the most significant days of her life at boarding school on the marshes there, days which still cast their shadow over her.

At school Isa and her three best friends used to play the Lying Game. They competed to convince people of the most outrageous stories. Now, after seventeen years of secrets, something terrible has been found on the beach. Something which will force Isa to confront her past, together with the three women she hasn't seen for years, but has never forgotten.

Theirs is no cosy reunion: Salten isn't a safe place for them, not after what they did. It's time for the women to get their story straight…
The Joyce Girl by Annabel Abbs – I won this in a competition on Love Books Group blog – with thanks to Kelly Lacey and to Impress Books.
Paris 1928. Lucia, the talented and ambitious daughter of James Joyce, is making a name for herself as a dancer, training with many famous dancers of her day and moving in social circles which throw her into contact with Samuel Beckett. Convinced she has clairvoyant powers, she believes her destiny is to marry Beckett, but the overbearing shadow of her father threatens this vision. Caught between her own ambitions and desires, and her parents' demands, Lucia faces both emotional and psychological struggles that attract the attention of pioneer psychoanalyst Dr Jung.
Flying by the Seat of my Knickers by Eliza Watson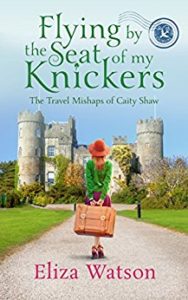 Why run from your troubles when you can fly instead?

When Caity Shaw is fired from her first job that doesn't require an elf uniform, her older sister, Rachel, an event planner, hires her to work a meeting in Dublin. Caity jumps at the opportunity to travel abroad and escape her pathetic life. However, even four thousand miles from home, there's no avoiding debt collectors, an overbearing mother, and haunting memories of a controlling ex.

While in Dublin, Caity suffers a series of humiliating mishaps, causing her to lose even more faith in herself. Caity struggles to earn Rachel's respect—and to keep Declan, her hot Irish coworker, at arm's length. Declan repeatedly saves Caity's butt and helps boost her self-confidence, making it difficult to keep her distance from the charming womanizer. When Declan helps her research her Irish grandmother, Caity discovers the mysterious past of the courageous woman she barely knew might hold the answers to her future.
Before I Left by Daisy White – no link on Amazon yet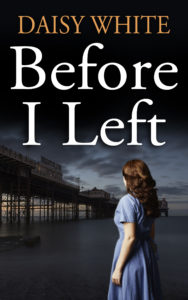 A LONG HOT SUMMER, A CITY BY THE SEA, AND A SERIAL KILLER ON THE LOOSE.

Nineteen-year-old runaway Ruby Baker and pregnant best friend Mary escape domestic violence in London to find a new home in Brighton. They join a glitzy set of party girls, who are hell-bent on enjoying themselves in the new freedom of the 1960s.

But their new life soon comes under threat. Someone is watching Ruby. A tall stranger who Ruby keeps spotting in the shadows.  This man may have followed them from London. And Ruby fears her dark secret will be exposed.

Then a murder at a local beauty spot brings danger for the party-loving set, and the first murder is followed by a second. Rumours of occult sacrifices spread across town. 

In a breathtaking conclusion, Ruby faces a race against time to save someone very close to her, and her new life may be destroyed and her secrets exposed.

Discover a gripping new writer today. Great for fans of Lisa Jewell, Angela Marsons, or LJ Ross.
The Cosy Canal Boat Dream by Christie Barlow – I couldn't resist pre-ordering this one.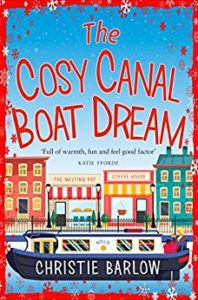 Welcome to the Little Rock marina – where hearts are healed and dreams are made…

For the last two years Nell Andrews has been struggling to stay afloat. As her life tumbled down around her, the only safety net has been her cosy canal boat, The Nollie. Tucked away inside, Nell has found a place to heal her broken heart. And now she's ready to move on and follow her dream…

Gorgeous Guy Cornish, with his easy Irish charm, makes him an instant hit with everyone at the marina, and the perfect person to help Nell with her project. But Guy has his own reasons for being at the marina, and a past that threatens to sink Nell's dream…
The Ludlow Ladies' Society by Ann O'Loughlin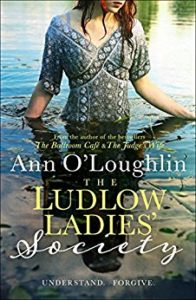 Connie Carter has lost everyone and everything dear to her. Leaving her home in New York, she moves to a run-down Irish mansion, hoping to heal her shattered heart and in search of answers: how could her husband do the terrible things he did? And why did he plough all their money into the dilapidated Ludlow Hall before he died, without ever telling her?

At first Connie tries to avoid the villagers, until she meets local women Eve and Hetty who introduce her to the Ludlow Ladies' Society, a crafts group in need of a permanent home. Connie soon discovers Eve is also struggling with pain and the loss of having her beloved Ludlow Hall repossessed by the bank and sold off. Now, seeing the American Connie living there, the hurt of losing everything is renewed. Can these women ever be friends? Can they ever understand or forgive?

As the Ludlow Ladies create memory quilts to remember those they have loved and lost, the secrets of the past finally begin to surface. But can Connie, Eve and Hetty stitch their lives back together?
Til the Dust Settles by Pat Young – no link on Amazon yet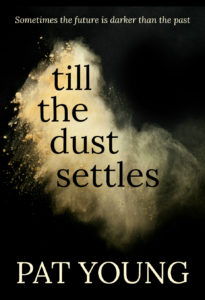 The lives of two women who never meet are about to collide.

Lucie married young. Her husband has become abusive, controlling and violent.  Having lost everything as a result of the marriage, Lucie decides it is time to walk away.

As she leaves the house on the morning of September 11th, heading to a job interview at the World Trade Centre and the promise of a new life, the unthinkable happens.

On a street in New York, choking on the dust, Lucie stumbles upon an opportunity for a new life.

She thought the grass would be greener. But starting again is never that simple…

Sometimes, what lies ahead is even more deadly.
The Little Bed and Breakfast by the Sea by Jennifer Joyce
Mae loves running her little Bed & Breakfast, it's the perfect place to raise her adorable four-year-old daughter! And no matter how persistently local vet, Alfie, chases her, she just doesn't have time for men in her life.

Willow is busy building her dream home with her husband, Ethan, but with every month that passes she secretly worries that her happy ever after will never come true…

Melody only intended to stay in the bustling seaside town for a few days to capture the perfect photo. But when she meets Hugo – the charming man in the ice cream van – she decides to stay a little longer!

One thing is for sure, summer at the little Bed & Breakfast by the sea certainly has a few surprises in store…
Under an Amber Sky by Rose Alexander
When Sophie Taylor's life falls apart, there is only one thing to do: escape and find a new one.

Dragged to Montenegro by her best friend Anna, Sophie begins to see the light at the end of a very dark tunnel. But when she stumbles into an old, run-down house on the Bay of Kotor, she surprises even herself when she buys it.

Surrounded by old furniture, left behind by the former inhabitants, Sophie becomes obsessed by a young Balkan couple when she discovers a bundle of letters from the 1940s in a broken roll-top desk. Letters that speak of great love, hope and a mystery Sophie can't help but get drawn into.

Days in Montenegro are nothing like she expected and as Sophie's home begins to fill with a motley crew of lodgers, the house by the bay begins to breathe again. And for Sophie, life seems to be restarting. But letting go of the past is easier said than done…
None of them would forget that week on the wild Norfolk coast.

Best friends Rosie and Lisa's families had always been inseparable.

But that summer, Lisa had an affair with Rosie's husband Nick.

And now, after years of silence, she sends Rosie a letter begging for help. A letter which exposes dark secrets.

Daughter Daisy's fragile hold on reality begins to unravel.

Teenage son Max blames himself for everything that happened that long hot summer.

And Nick must confront his own version of events.

There are four sides to this story. Who will you believe?
The Little Cafe of Second Chances by J.D Barrett
Lucy Muir is leaving her husband. It's complicated.

As joint owners and chefs at one of the best restaurants in town making a clean break is tough. But, let's face it, a woman can only take so much cheating, recipe stealing and lack of good grace.

Then Lucy happens upon an old, empty terrace that was once the city's hottest restaurant: Fortune. One minute she's peering through grimy windows into an abandoned space, the next she's planning a pop-up bistro.

When Lucy fires up Fortune's old kitchen she discovers a little red recipe book that belonged to the former chef, the infamous Frankie Summers. As Lucy cooks her way through Frankie's recipes, customers come flocking and slowly Lucy begins to regain her confidence. It turns out that courage, passion and just a tiny bit of magic might be the secret recipe for a better life . . .
Seas of Snow by Kerensa Jennings
In 1950s England, six-year-old Gracie Scott lives with her Mam and next door to her best friend Billy; she has never known her Da. When her Uncle Joe moves in, his physical abuse of Gracie's mother starts almost immediately. But when his attentions wander to Gracie, an even more sinister pattern of behaviour begins.

As Gracie grows older she finds solace and liberation in books, poetry and her enduring friendship with Billy, with whom she escapes into the poetic fantasy worlds they create.

But will fantasy be enough to save Gracie? Just how far will Uncle Joe's psychopathic behaviour go?

The story weaves between these events and the visits Billy pays many years later to an old friend, confused and dying in a hospice. It is here that he is forced to revisit the events of the past.

Seas of Snow is a haunting, psychological domestic drama that probes the nature and the origins of evil.
Just for the Holidays by Sue Moorcroft
In theory, nothing could be better than a summer spent basking in the French sun. That is, until you add in three teenagers, two love interests, one divorcing couple, and a very unexpected pregnancy.

Admittedly, this isn't exactly the relaxing holiday Leah Beaumont was hoping for – but it's the one she's got. With her sister Michele's family falling apart at the seams, it's up to Leah to pick up the pieces and try to hold them all together.

But with a handsome helicopter pilot staying next door, Leah can't help but think she might have a few distractions of her own to deal with…
The Summer Seaside Kitchen by Jenny Colgan
Flora is definitely, absolutely sure that escaping from the quiet Scottish island where she grew up to the noise and hustle of the big city was the right choice. What was there for her on Mure? It's a place where everyone has known her all her life, and no one will let her forget the past. In the city, she can be anonymous, ambitious and indulge herself in her hopeless crush on her gorgeous boss, Joel.

When a new client demands Flora's presence back on Mure, she's suddenly swept back into life with her brothers (all strapping, loud and seemingly incapable of basic housework) and her father. As Flora indulges her new-found love of cooking and breathes life into the dusty little pink-fronted shop on the harbour, she's also going to have to come to terms with past mistakes – and work out exactly where her future lies…
The Gin Shack on the Beach by Catherine Miller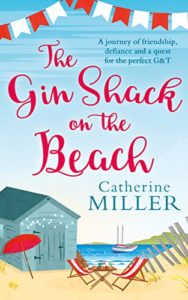 You're never too old to try something new!

When octogenarian Olive Turner is persuaded by her son to move into a retirement home, she congratulates herself on finding the secret to an easy life: no washing up, cooking or cleaning. But Olive isn't one for mindless bingo with her fellow residents, and before the first day is over she's already hatching a plan to escape back to her beloved beach hut and indulge in her secret passion for a very good gin & tonic.

Before long Olive's secret is out and turning into something wonderful and new. Only a select few are invited, but word spreads quickly about the weekly meetings of The Gin Shack Club. Soon everybody on the beach wants to become a gin connoisseur and join Olive on her journey to never being forced to grow older than you feel.

A journey of friendship, defiance and a quest for the perfect G&T.
The Diary of a Bookseller by Shaun Bythell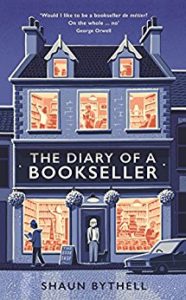 Shaun Bythell owns The Bookshop, Wigtown – Scotland's largest second-hand bookshop. It contains 100,000 books, spread over a mile of shelving, with twisting corridors and roaring fires, and all set in a beautiful, rural town by the edge of the sea. A book-lover's paradise? Well, almost …

In these wry and hilarious diaries, Shaun provides an inside look at the trials and tribulations of life in the book trade, from struggles with eccentric customers to wrangles with his own staff, who include the ski-suit-wearing, bin-foraging Nicky. He takes us with him on buying trips to old estates and auction houses, recommends books (both lost classics and new discoveries), introduces us to the thrill of the unexpected find, and evokes the rhythms and charms of small-town life, always with a sharp and sympathetic eye.
The Maid's Room by Fiona Mitchell
Set in the blistering heat of Singapore, THE MAID'S ROOM follows the lives of two Filipina maids – sisters Dolly and Tala who are working hard to send money back home, and British ex-pat Jules who has left her job as a midwife to move to Singapore with husband David.

Told with humour, heart-breaking detail about daily life as a maid, and with an exhilarating spirit that is ultimately uplifting, this book will resonate with anyone who has struggled to have their voice heard.
The Secrets of Villa Rosso by Linn B. Halton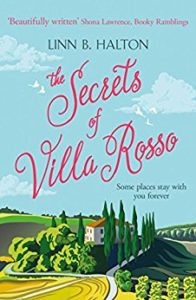 Some places stay with you forever…

When Ellie Maddison is sent on a business trip to Southern Italy, she's reminded why she loves her job – set amongst rolling vineyards and rich olive groves, the beautiful Villa Rosso is the perfect escape from her life back home. But what Ellie isn't prepared for is the instant connection she feels to the estate's director Max Johnson, or the secrets they share that are as intertwined as the rambling vines that cover Villa Rosso.

It's not long before Ellie finds herself entangled in the history of the place, trying to understand the undeniable effect Max is having on her. As their relationship grows, what will Ellie discover about this idyllic villa and those who have walked through its doors?

What started as a simple work trip will change Ellie's life forever.
They All Fall Down by Tammy Cohen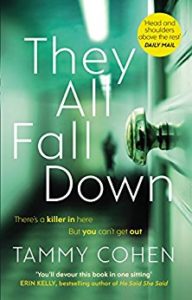 Hannah had a normal life – a loving husband, a good job. Until she did something shocking.

Now she's in a psychiatric clinic. It should be a safe place. But patients keep dying.

The doctors say it's suicide. Hannah knows they're lying.

Can she make anyone believe her before the killer strikes again?
As always, any thoughts and comments are very welcome.