#blogtour – The Fatal Coin by Lucienne Boyce @LucienneWrite @SilverWoodBooks @BrookCottageBks #bookreview
I'm delighted to be posting today as part of the one day tour for The Fatal Coin by Lucienne Boyce. Here's what the story is all about:

Genre:
Historical fiction
Series: A Dan Foster Mystery
Release Date:
16 May 2017
Publisher: S Books
In the winter of 1794 Bow Street Runner and amateur pugilist Dan Foster is assigned to guard a Royal Mail coach. The mission ends in tragedy when a young constable is shot dead by a highwayman calling himself Colonel Pepper. Dan is determined to bring Pepper to justice, but the trail runs cold.

Four months later Dan is sent to Staffordshire to recover a recently excavated hoard of Roman gold which has gone missing. Here he unexpectedly encounters Colonel Pepper again. The hunt is back on, and this time Dan will risk his life to bring down Pepper and his gang.

The Fatal Coin is a prequel to Bloodie Bones, the first Dan Foster Mystery, which was joint winner of the Historical Novel Society Indie Award 2016.

 "Dan dragged himself to the injured man, leaned over him, tried to see how much blood there was. A lot.

'Wilkinson, stay awake. Stay with me.'

Dan struggled to loosen the rope at his wrists until the skin was raw and bleeding. He and the naval lieutenant shuffled back-to-back and tried to unpick each other's knots. Then they tried sawing the ropes on the rim of one of the mail coach's wheels. At the end of an hour they had made little progress.

Release came when a carrier wagon full of seamen on their way back to their ships plodded along the road. But by then, Wilkinson was dead."
The Fatal Coin is a novella but there's no way you could say it compromises on story or characterisations because it is a short read. We meet Dan Foster, a Bow Street Runner as he is engaged to find out what happened to a horde of gold coins that a recently deceased clergyman had found. He discovers this is linked to a man called Colonel Pepper whom Foster had come across before when a constable was shot dead. So Foster is on a mission to bring Pepper to justice and what a mission it turns into.
Right from the beginning the reader is right in the thick of the action, and there's plenty of it. There's certainly never a dull moment as Foster encounters a wide range of fascinating people such as Dilly, a (presumably) albino man, Colonel Pepper himself, and the local magistrate.
Foster has a talent for getting himself out of very sticky situations and I was swept along by his actions. He's quite a hero really.  I think the harsh situations in the late 18th century make it a very interesting time to read about – hard to imagine when you think of our current day luxuries and yet Lucienne Boyce brings it to life so vividly.
I really enjoyed this short look at Dan Foster and his work which is apparently a prequel to Boyce's book, Bloodie Bones. Highly recommended if you enjoy historical crime.
With thanks to S Books and Brook Cottage Books for the review copy and the place on the blog tour. The ebook of The Fatal Coin is available now for just 99p.
BUY LINKS
---
---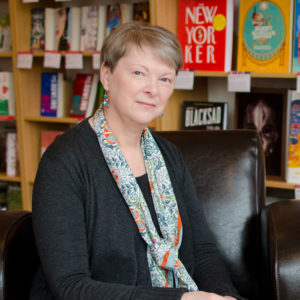 Lucienne Boyce is a historical novelist and women's suffrage historian. Her first historical novel, To The Fair Land (SilverWood Books) an eighteenth-century thriller set in Bristol and the South Seas, was published in 2012. Her second novel, Bloodie Bones: A Dan Foster Mystery (SilverWood Books, 2015) is the first of the Dan Foster Mysteries and follows the fortunes of a Bow Street Runner who is also an amateur pugilist. Bloodie Bones was winner of the Historical Novel Society Indie Award 2016, and was also a semi-finalist for the M M Bennetts Award for Historical Fiction 2016.
In 2013, Lucienne published The Bristol Suffragettes (SilverWood Books), a history of the suffragette movement in Bristol and the west country. She regularly gives talks and leads walks about women's suffrage.
Lucienne is on the steering committee of the West of England and South Wales Women's History Network, and is also a member of the Society of Authors and the Alliance of Independent Authors. She is a regular presenter on the Silver Sound show for BCfm Radio, a Bristol community radio station.
Lucienne is working on the third Dan Foster Mystery, and a biography of a married couple who were involved in the suffragette, socialist and pacifist movements. She was born in Wolverhampton and now lives in Bristol.