Seven Day Spotlight – w/e 06/08/17
This week on my blog I had a fabulous guest post from Sarah Day about visiting San Domino as part of her research for Mussolini's Island.
I also posted a review of Till the Dust Settles by Pat Young which is a great read set around 9/11.
I then posted a review of what will surely be one of my top reads of the year, The Way Back to Us By Kay Langdale.
Next up was a review of After I've Gone by Linda Green which is quite the page turner.
And finally, I posted my review of the absolutely lovely Cocktails and Dreams by A.L. Michael.
---
I seem to have fallen off the book buying wagon this week after a couple of really good weeks. So here are my acquisitions:
Mussolini's Island by Sarah Day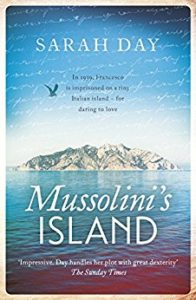 Francesco has a memory of his father from early childhood, a night when life for his family changed. From that night, he has vowed to protect his mother and to follow the words of his father: Non mollare. Never give up.

As Francesco is herded into a camp on the island of San Domino, he realises that someone must have handed a list of names to the fascist police. Locked in spartan dormitories, resentment and bitterness between the men grows each day.

Elena, an illiterate island girl, is drawn to the handsome Francesco. Sometimes, she is given a message to pass on. She's not sure who they are from; she knows simply that Francesco is hiding something. When Elena discovers the truth about the group of prisoners, the fine line between love and hate pulls her towards an act that can only have terrible consequences for all.
The Secrets She Keeps by Michael Robotham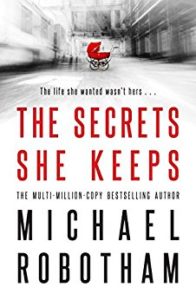 Everyone has an idea of what their perfect life is. For Agatha, it's Meghan Shaughnessy's.

These two women from vastly different backgrounds have one thing in common – a dangerous secret that could destroy everything they hold dear.

Both will risk everything to hide the truth, but their worlds are about to collide in a shocking act that cannot be undone.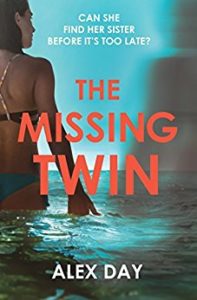 Edie and her identical twin Laura have always been best friends. So when Laura surprises Edie at the Mediterranean holiday resort where she's working, Edie can't wait for the partying to start! But then, Laura vanishes without a trace…

At the same time, in a country on the other side of the sea, Fatima and her twin daughters set out on a harrowing journey that only the strongest – and luckiest – survive.

Edie and Fatima's lives are worlds apart, but now, their paths are set to collide, with devastating consequences. When Fatima hovers on the brink of survival, Edie must risk her own life to save her, and finally discover the truth about her missing sister.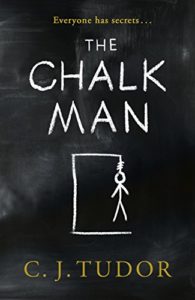 Looking back, it all started on the day of the fair and the terrible accident. When twelve-year-old Eddie first met the Chalk Man.

It was the Chalk Man who gave Eddie the idea for the drawings: a way to leave secret messages between his group of friends.

And it was fun, to start with, until the figures led them to the body of a young girl.

That was thirty years ago and Ed thought the past was behind him. Then he receives a letter containing just two things: a piece of chalk, and a drawing of a stick figure. As history begins to repeat itself, Ed realises the game was never over . . .

Everyone has secrets.

Everyone is guilty of something.

And children are not always so innocent.
When Monica is offered a three-month placement in LA, she knows that for the sake of her career she must accept it – even though it means leaving behind nine-year-old Ruby, toddler Luca and her husband Daniel.

She hires Ursula as a housekeeper and nanny during her absence, although the older woman is oddly reluctant to agree to a childcare position. What is the dark secret in Ursula's past, which has left her so closed-off and reserved? Will her growing attachment to Ruby bring it to the surface? And will Monica regret leaving the children in her care?
The Art of Hiding by Amanda Prowse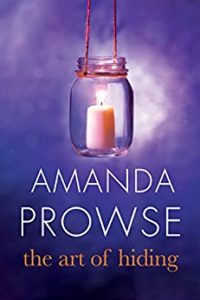 What would you do if you learned that the life you lived was a lie?

Nina McCarrick lives the perfect life, until her husband, Finn, is killed in a car accident and everything Nina thought she could rely on unravels.

Alone, bereft and faced with a mountain of debt, Nina quickly loses her life of luxury and she begins to question whether she ever really knew the man she married. Forced to move out of her family home, Nina returns to the rundown Southampton council estate—and the sister—she thought she had left far behind.

But Nina can't let herself be overwhelmed—her boys need her. To save them, and herself, she will have to do what her husband discouraged for so long: pursue a career of her own. Torn between the life she thought she knew and the reality she now faces, Nina finally must learn what it means to take control of her life.

Bestselling author Amanda Prowse once again plumbs the depths of human experience in this stirring and empowering tale of one woman's loss and love.
Summary Justice by John Fairfax
The last time Tess de Vere saw William Benson she was a law student on work experience. He was a twenty-one year old, led from the dock of the Old Bailey to begin a life sentence for murder. He'd said he was innocent. She'd believed him.

Sixteen years later Tess overhears a couple of hacks mocking a newcomer to the London Bar, a no-hoper with a murder conviction, running his own show from an old fishmonger's in Spitalfields. That night she walks back into Benson's life. The price of his rehabilitation – and access to the Bar – is an admission of guilt to the killing of Paul Harbeton, whose family have vowed revenge. He's an outcast. The government wants to shut him down and no solicitor will instruct him. But he's subsidised by a mystery benefactor and a desperate woman has turned to him for help: Sarah Collingstone, mother of a child with special needs, accused of slaying her wealthy lover. It's a hopeless case and the murder trial, Benson's first, starts in four days. The evidence is overwhelming but like Benson long ago, she swears she's innocent. Tess joins the defence team, determined to help Benson survive. But as Benson follows the twists and turns in the courtroom, Tess embarks upon a secret investigation of her own, determined to uncover the truth behind the death of Paul Harbeton on a lonely night in Soho.

True to life, fast-paced and absolutely compelling, Summary Justice introduces a new series of courtroom dramas featuring two maverick lawyers driven to fight injustice at any cost.
You Don't Know Me by Imran Mahmood
It's easy to judge between right and wrong – isn't it?

Not until you hear a convincing truth.

Now it's up to you to decide…

An unnamed defendant stands accused of murder. Just before the Closing Speeches, the young man sacks his lawyer, and decides to give his own defence speech.

He tells us that his barrister told him to leave some things out. Sometimes, the truth can be too difficult to explain, or believe. But he thinks that if he's going to go down for life, he might as well go down telling the truth.

There are eight pieces of evidence against him. As he talks us through them one by one, his life is in our hands. We, the reader – member of the jury – must keep an open mind till we hear the end of his story. His defence raises many questions… but at the end of the speeches, only one matters:

Did he do it?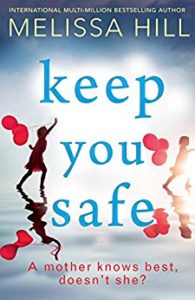 A mother always knows best. Doesn't she?

What if your choice for your child could harm someone else's?

Every mother faces impossible choices. Vaccination is one of the hardest. For single mum Kate O'Hara, there was no decision to make. Her daughter Rosie is one of a small percentage of Irish children who can't be vaccinated against measles. All Kate can do is hope that her little girl is safe.

For mummy blogger Madeleine Cooper, it was a leap of faith she wasn't prepared to take when she and her husband declined controversial measles jabs for their daughter Clara. All she can do is pray that it's the right decision.

But when classmates Clara and Rosie both become sick will Kate pay for Madeleine's choice?

A stunning and addictive new book club read from beloved bestselling Irish author Melissa Hill that explores every mother's worst fear
The Trouble With Henry and Zoe by Andy Jones
Henry and Zoe have more in common than they realise. For a start, they both have pasts they'd rather leave behind.

After jilting his childhood sweetheart on the eve of their wedding, Henry makes a break for London. He has no friends, no job, no home, no plan.

Zoe has great friends, two jobs, a new house, and a big scary plan. After a traumatic, life-changing event, she plans to leave London and spend a year travelling. Alone.

If Henry and Zoe had met one year ago, things might have worked out differently. But that s not the way life works. They meet seven months after their worlds have been turned upside down. And four months before Zoe is due to climb on a plane…
Trouble Brewing by Paul Carroll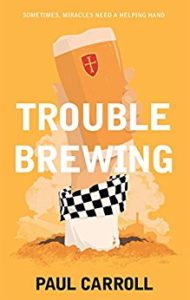 READY STEADY COOK MEETS THE FULL MONTY

Brian Parkin, a TV celebrity chef whose star is on the wane, is enlisted as the somewhat unlikely figurehead to help the Yorkshire town of Brimdale save its brewery and famous Brim miracle ale. But as the clock ticks down to last orders in this bittersweet tale is Brim and its miraculous powers all it it's cracked up to be?
Billy is only nine years old, but he's already learned that when your mum dies, you get your own social worker. He's also learned that once you are ten, the odds of finding a family to adopt you don't look so good. That's the part he wasn't supposed to overhear. Miriam Riley is up against a deadline to give Billy the 'forever family' that every child deserves. Determined to cut through red tape, she finds three very different couples who might fit the bill, though prospective parents come with issues of their own. Through Billy's watchful eyes, the summer unfolds. What does he really need? Will anyone choose him?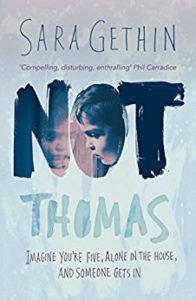 The lady's here. The lady with the big bag. She's knocking on the front door. She's knocking and knocking. I'm not opening the door. I'm not letting her in. I'm behind the black chair. I'm waiting for her to go away.

Tomos lives with his mother. He longs to return to another place, the place he thinks of as home, and the people who lived there, but he's not allowed to see them again. He is five years old and at school, which he loves. Miss teaches him about all sorts of things, and she listens to him. Sometimes he's hungry and Miss gives him her extra sandwiches. She gives him a warm coat from Lost Property, too. There are things Tomos cannot talk about – except to Cwtchy – and then, just before Easter, the things come to a head. There are bad men outside who want to come in, and Mammy has said not to answer the door. From behind the big chair, Tomos waits, trying to make himself small and quiet. He doesn't think it's Santa Claus this time.

When the men break in, Tomos's world is turned on its head and nothing will ever be the same again.
'I am old. That is the first thing to tell you. The thing you are least likely to believe. If you saw me you would probably think I was about forty, but you would be very wrong.'

Tom Hazard has a dangerous secret. He may look like an ordinary 41-year-old, but owing to a rare condition, he's been alive for centuries. From Elizabethan England to Jazz-Age Paris, from New York to the South Seas, Tom has seen a lot, and now craves an ordinary life.

Always changing his identity to stay alive, Tom has the perfect cover – working as a history teacher at a London comprehensive. Here he can teach the kids about wars and witch hunts as if he'd never witnessed them first-hand. He can try to tame the past that is fast catching up with him. The only thing Tom must not do is fall in love.

How to Stop Time is a wild and bittersweet story about losing and finding yourself, about the certainty of change and about the lifetimes it can take to really learn how to live.
Lillian Boxfish Takes a Walk by Kathleen Rooney
In my reckless and undiscouraged youth, I worked in a walnut-panelled office thirteen floors above West 35th Street.

When 85-year-old Lillian Boxfish steps out of her apartment on New Year's Eve in 1984, little does she know she's about to embark on a journey across the whole of Manhattan.

But Lillian is no ordinary 85-year-old. On her arrival to New York in the 1930s she took the city by storm, working her way up from writing copy for Macy's department store to become the highest paid advertising woman in the world. Now, alone on New Year's Eve, her usual holiday ritual in ruins, Lillian decides to take a walk. After all, it might be her last chance. Armed with only her mink coat and quick-witted charm, Lillian walks, and begins to reveal the story of her remarkable life. The trouble is, once she starts walking she finds she can't stop.

On a walk that takes her over 10 miles around the city, Lillian meets bartenders, shopkeepers, criminals, children, parents, and parents-to-be, while recalling a life of excitement and adversity, passion and heartbreak, illuminating all the ways she and New York have changed; and endured.
Sad Summer in Biarritz by Jill Culiner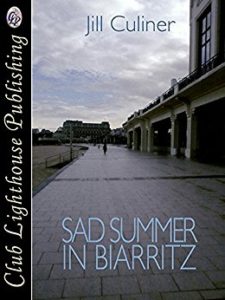 I have now started my new life with its positive dynamic; by recording all details, I'll see a pattern emerge. One day — perhaps in the very near future — I'll peruse these notes with pleasure. One day. When I'm secure in love, in my own home, in happiness.

The narrator, a Canadian woman, hopes to change her life by moving to Biarritz. Having escaped a devastating relationship with the mentally unstable Dominique, she is determined to make new friends and find the perfect mate. But in this summer resort frequented by couples and families, available singles are lonely people, too often embittered by romantic failure. And if the young artist Vinnie has promised entry into local society, he remains an illusive figure.

When Vinnie's body surfaces at the Pointe des Fous new rumours circulate. Had he really been a fortune hunter, a seducer and blackmailer, or just a gentle, over-sensitive man, a loser in love and friendship? The police have concluded his death was accidental, but doesn't everything point to murder? Or is the narrator over-reacting? Perhaps loneliness and isolation have made her suspicious, for love is as unattainable as ever, and threatening letters from Dominique are arriving with increasing frequency.

Sad Summer in Biarritz, is a mystery, a story of the desperately lonely search for love, and a satirical portrait of French nouveau riche society in the 1980s.
Meet Me at the Lighthouse by Mary Jayne Baker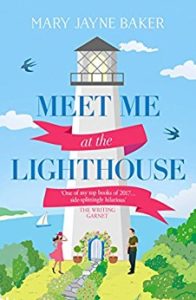 'The day I turned 28, I bought a lighthouse and met the love of my life'

Bobbie Hannigan's life in a cottage by the sea with her dog and her twin sister is perfectly fine … until she decides the logical thing is to buy a lighthouse and open a music venue with Ross Mason, the first boy she ever kissed.

Bobbie tries to be professional with Ross, but the happily-ever-after they're working toward is too good to resist. That is until someone from his past crawls back to cause trouble. Can Bobbie look past the secrets Ross has been keeping from her? Or will the boy, the lighthouse, and the dream all slip away?
The Doll House by Phoebe Morgan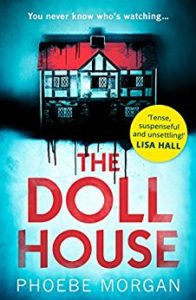 You never know who's watching…

Corinne's life might look perfect on the outside, but after three failed IVF attempts it's her last chance to have a baby. And when she finds a tiny part of a doll house outside her flat, it feels as if it's a sign.

But as more pieces begin to turn up, Corinne realises that they are far too familiar. Someone knows about the miniature rocking horse and the little doll with its red velvet dress. Someone has been inside her house…

How does the stranger know so much about her life? How long have they been watching? And what are they waiting for…?
As always, all comments and thoughts are very welcome.