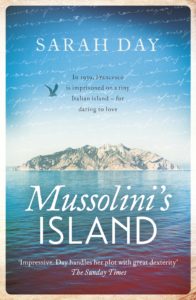 #blogtour – Mussolini's Island by Sarah Day @geowriter @headlinepg #guestpost – Visiting San Domino
I'm delighted to be on the blog tour today for Mussolini's Island by Sarah Day and I have a fabulous guest post from Sarah about visiting San Domino. First of all, here's what the book is about:

Sarah Day's MUSSOLINI'S ISLAND is a novel of sexuality and desire, of hidden passions and the secrets we keep locked within us. Based on the true story of the rounding up of a group of Sicilian gay men in 1939, this book is sure to appeal to readers of the Elena Ferrante novels, Anthony Doerr's ALL THE LIGHT WE CANNOT SEE or Virginia Baily's EARLY ONE MORNING. 

Francesco has a memory of his father from early childhood, a night when life for his family changed. From that night, he has vowed to protect his mother and to follow the words of his father: Non mollare. Never give up.

As Francesco is herded into a camp on the island of San Domino, he realises that someone must have handed a list of names to the fascist police. Locked in spartan dormitories, resentment and bitterness between the men grows each day.

Elena, an illiterate island girl, is drawn to the handsome Francesco. Sometimes, she is given a message to pass on. She's not sure who they are from; she knows simply that Francesco is hiding something. When Elena discovers the truth about the group of prisoners, the fine line between love and hate pulls her towards an act that can only have terrible consequences for all.
---

'There's a problem' I said to my boss, shuffling nervously in front of his desk, my fists balled tight with stress.
'A problem?'
'It's just…I have to go to the Tremiti Islands. Like, now.'
I was working on a draft of my novel, Mussolini's Island, and it was clear something wasn't right. Catania, the setting of one narrative strand, was vivid with detail. San Domino, a tiny island in the Adriatic, hundreds of miles from Sicily, was…vague. It was obvious why – and there wasn't much time to fix it.
Looking back, I should have gone to San Domino far earlier in the writing process. But it's not a straightforward trip, and somehow I had become so immersed in the writing, I couldn't bring myself to take time away from it to travel. But I had always known I had to go there before I could call the novel complete.
Throughout the fascist era, San Domino and many islands like it were used as prisons – people the State wanted to remove from society could simply be left there, with no way of escaping. The Tremiti Islands have been used in that way for centuries – there's even evidence that the Roman Emperor Augustus exiled his granddaughter, Julia, to the islands two millennia ago. Under fascism, anyone suspected of being an enemy of the regime could be exiled – including gay men, whose homosexuality was seen as a threat to the regime's ideals. In 1939, San Domino was used exclusively to imprison a group of gay men, most of whom (45) had been brought from Catania. My novel is inspired by their story.
I arranged the trip hurriedly, flying to Pescara and then taking a train to Termoli, the nearest port. From there, if you know where to look, you can just see the outline of San Domino on the horizon. It's possible to get to the islands by helicopter, but that didn't feel right – I wanted to approach by boat, as the prisoners would have done.
It's hard to describe just how isolated the islands feel, despite how close they are to the mainland. The cliffs rise up threateningly around the boat as you sail between San Domino and its neighbouring island, San Nicola, where antifascist prisoners were kept. The sea is a beautiful, clear blue, and eerily still, unless a storm is brewing. The silence is overwhelming.
'They lived in paradise' one of the residents told me, when I began asking around to see if they knew anything about the prisoners. 'It was a very bad thing, but' he gestured to the clear blue sky, the bright sprays of flowers, the groves of trees, 'this is paradise.'
We were sitting in the kitchen of a man called Attilio, who has lived on San Domino all his life, and still remembers the prisoners who came in 1939. Attilio showed me pictures of his life on the island, riding donkeys along the shore, playing in cornfields, a row of children grinning at the camera, standing in a long line against a backdrop of sea and sky. One man told me how he had gone to the mainland to study, and then come back, finding it impossible to stay away. The island is beautiful, yes. But all of us had the choice to leave whenever we wanted to, constrained only by the timetables of boats and helicopters. To be stranded there with no way out was unimaginable.
In the end, a trip which I thought would simply give my book a better sense of place became much more than that. Entire strands of plot changed because of it, characters' motivations and experiences became clearer, as did the contrasts between the world they had come from and the one in which they found themselves stranded. On top of that, by the time I left, I had made friends.
When I got home, I redrafted the book, and found it was completely transformed. I was lucky to be able to arrange the trip in time – but I've learned my lesson. Next time, I think I'll plan a little further in advance…
That was absolutely fascinating, Sarah, and I'm looking forward to reading the book which is available now in ebook and paperback.
---
With thanks to Millie Seaward from Headline for the place on the blog tour. Please do have a look at the other blogs taking part.
---

Sarah Day lives in London, where she works as a science communicator at the Geological Society. She has written columns for a variety of publications, including the Guardian and The Vagenda. After graduating with a Masters in the History and Philosophy of Science from Durham University, she studied Science Communication at Imperial College London. Mussolini's Island is her first novel.