#blogtour – Cocktails and Dreams by A.L. Michael @ALMichael_ @canelo_co @NeverlandBT #bookreview #giveaway
I'm over the moon today to be on the blog tour for Cocktails and Dreams by A.L. Michael. I loved this book and will be sharing my review and details of a giveaway further down this post. First, though, here's what it's all about:

A heart-warming novel with characters you'll love, don't miss this first in a new series for romance, laugh-out-loud comedy and a feel-good ending. Perfect for fans of Mhairi McFarlane and Lindsey Kelk.

I was seven years old when I realized my mother was not a great person…

Since Savvy was abandoned by her rockstar mother, she has craved a normal life. But after years of financing her boyfriend's lacklustre career, he leaves her when he hits the bigtime.

Savvy's friends at the burlesque club where she serves elaborate cocktails encourage her to make bold changes in her life. She soon meets handsome bartender Milo, and begins to plan a future she can be excited about.

But when Savvy's estranged mother crashes back into her life, her newfound happiness is under threat… will Savvy have the courage to pursue her dreams?

See inside for a delicious cocktail recipe and book club questions!
---
This book had me at the word 'cocktails'. I love a Mojito or a Purple Rain or…..well I could go on but I won't. This book is perfectly described as a romantic comedy. It made me smile but it was also incredibly feel good and A.L. Michael hit exactly the right note, I thought.
The main character is Savvy, short for Savannah. She's got a famous mother and has lived in her shadow all her life, just wanting to be normal. And yet, Savvy works in a Burlesque bar – anything but normal! I loved the bar and I loved the people who worked there although they were never really more than bit parts but the contrasts between them as performers and off stage came through really strongly.
Savvy meets another bartender/cocktail maker, Milo. She's swept off her feet and frankly who wouldn't be by the very lovely Milo?! I really enjoyed the interaction between these two characters and was rooting for them all the way through.
I absolutely loved Cocktails and Dreams. It has a lot of food and drink references which is always a big draw for me in a novel. It also has fantastic characters, particularly Savvy and Milo, and Savvy's dad and aunt. It was just a pleasure to read from start to finish.
I understand this is the first in a new series by A.L. Michael. I don't know if it will be a series featuring Savvy and Milo or a series that is related by alcoholic drinks or bartending but I don't mind which as I'm just looking forward to reading something similar to this book. It made me smile and it's a really heart-warming read. More please, Ms Michael!
Thank you to the publishers and Neverland Blog Tours for the review copy and the place on the blog tour. If you like the sound of Cocktails and Dreams then you can buy it for Kindle or Kobo.
---

You could win a cocktail making gift set and an e copy of the book (UK only).
---
And don't forget to check out the other blogs on the tour.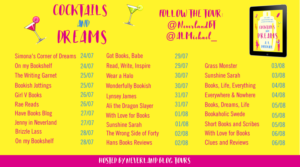 ---

A.L. Michael is hurtling towards the end of her twenties a little too quickly. She is the author of nine novels. Her most recent collection of books, The Martini Club Series, will start with Cocktails and Dreams, released 24th July 2017. She likes to write about sassy females who follow their dreams, and don't take no for an answer.
She is a Creative Therapeutic Facilitator, currently researching the power of creative writing to be helpful in recovering from eating disorders, and believes in the power of writing to heal.
Author photo taken from the author's Amazon page