#blogtour – After I've Gone by Linda Green @LindaGreenisms @QuercusBooks #bookreview
I'm so pleased to be on the blog tour for After I've Gone by Linda Green today. I have a review for you but first here's what the book is all about.

You have 18 months left to live . . . On a wet Monday in January, Jess Mount checks Facebook and discovers her timeline appears to have skipped forward 18 months, to a day when shocked family and friends are posting heartbreaking tributes to her following her death in an accident. Jess is left scared and confused: is she the target of a cruel online prank or is this a terrifying glimpse of her true fate?

Amongst the posts are photos of a gorgeous son she has not yet conceived. But when new posts suggest her death was deliberate, Jess realises that if she changes the future to save her own life, the baby boy she has fallen in love with may never exist.
I loved While My Eyes Were Closed by Linda Green so when I saw she had a new book out I was eager to read it. Jess Mount is a spirited 22 year old, working in a dead end job in a cinema with her best friend, Sadie, when she meets Lee who absolutely sweeps her off her feet. But Jess starts to see updates on her Facebook timeline for 18 months in the future and she is scared by what they say as they indicate that she is going to be dead in 18 months time.
I love books set around social media. It's so current and I love social media myself so I think it makes for an interesting read. Linda Green's concept is clever and I did really enjoy After I've Gone. However, I have to say that I think this book didn't know what genre it wanted to be in. It's billed as a crime or psychological thriller story but I think it reads more like chick lit with an edge. I'm not saying there's anything wrong with that, just it wasn't what I was expecting the tone of the story to be.
Another slight bugbear is the cover. I like it but it really doesn't fit with the story.
Despite those little criticisms I found this book to be quite the page turner. Imagine hurtling towards the date of your death and wondering if there's anything you can do to prevent it taking place. Jess is torn because the photos on Facebook show her something amazing that she knows she doesn't want to miss out on. What if changing her own fate means that she does miss out?
There were times I wanted to shake Jess and times I thought she was brilliantly feisty. Ultimately I was rooting for her all the way through and hoping she could do something to change what was about to happen.
I'd say this is a perfect holiday read. It's modern, witty and unique.  The ending left me with more questions than answers but I didn't really mind that.  It's a very easy book to read and despite it being over 400 pages I read it in two days. Overall I enjoyed it a lot.
Thank you to Quercus and Netgalley for the review copy. After I've Gone is available now in ebook and paperback.
---
Lots of other great blogs are taking part in this tour. Why not take a look?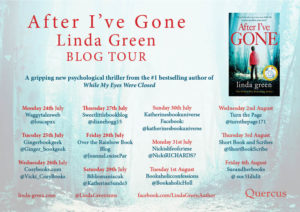 ---

Linda Green is an award-winning journalist and has written for The Guardian, the Independent on Sunday and the Big Issue. Linda lives in West Yorkshire.