Seven Day Spotlight – w/e 30/09/18
Welcome to this week's Seven Day Spotlight post. It's hard to believe it's the last day of September already. Darker nights are upon us and apparently we may be in for a bad winter. What better reason is there for acquiring some new books to snuggle up with during those darker days and nights? You can see what I've added to my reading pile this week further down the post but first, here's a reminder of what I posted on my blog this week:
Monday's post was my review of The Tattoo Thief by Alison Belsham. I loved this intriguing and original thriller.
On Tuesday, I shared an extract from What A Girl Wants by Angie Coleman.
Wednesday was a two post day with me posting my review of The Winter That Made Us by Kate Field, which I thought was a lovely read, along with an extract of The Drowned Village by Kath McGurl.
On Thursday, I shared my review of The Corset by Laura Purcell, a book I found to be dark and compelling.
Friday's post was my review of Street Cat Blues by Alison O'Leary, a imaginative book with a fabulous protagonist.
And finally, on Saturday I shared my review of Reflected Destinies by Florence Keeling. I loved this time slip/time travel romance.
---
And so to those books that have been placed on the tottering TBR pile this week:
The Songs of Us by Emma Cooper
If Melody hadn't run out of de-icer that day, she would never have slipped and banged her head. She wouldn't be left with a condition that makes her sing when she's nervous. And she definitely wouldn't have belted out the Arctic Monkeys' 'I Bet You Look Good on the Dancefloor' in assembly at her son's school.

If Dev hadn't taken the kids to the zoo that day, then the accident wouldn't have happened. He wouldn't have left Flynn and Rose without a dad. Or shattered the love of his life's heart.

But if they hadn't seen the missing person report that day, they might never have taken the trip to Cornwall. And, in the last place they expected, discovered what it really means to be 'Us'.
The Waterway Girls by Milly Adams
War lands them in the same boat. Can they pull together?

October 1943, West London
Nineteen-year-old Polly Holmes is leaving poor bombed London behind to join the war effort on Britain's canals.

Stepping aboard the Marigold amid pouring rain, there's lots for Polly to get to grips with. Not least her fellow crew: strong and impetuous Verity, whose bark is worse than her bite, and seasoned skipper Bet.

With her sweetheart away fighting in the RAF and her beloved brother killed in action, there's plenty of heartache to be healed on the waterway. And as Polly rolls up her sleeves and gets stuck into life on board the narrowboat – making the gruelling journey London up to Birmingham – she will soon discover that a world of new beginnings awaits amid the anguish of the war.
The wry, macabre, unforgettable tale of an ambitious orphan in Revolutionary Paris, befriended by royalty and radicals alike, who transforms herself into the legendary Madame Tussaud.

In 1761, a tiny, odd-looking girl named Marie is born in a village in Alsace. After the death of her parents, she is apprenticed to an eccentric wax sculptor and whisked off to the seamy streets of Paris, where they meet a domineering widow and her quiet, pale son. Together, they convert an abandoned monkey house into an exhibition hall for wax heads, and the spectacle becomes a sensation. As word of her artistic talent spreads, Marie is called to Versailles, where she tutors a princess and saves Marie Antoinette in childbirth. But outside the palace walls, Paris is roiling: The revolutionary mob is demanding heads, and . . . at the wax museum, heads are what they do.

Edward Carey's Little is a wonder – the incredible story of a 'blood-stained crumb of a girl' who went on to shape the world.
Only a Mother by Elisabeth Carpenter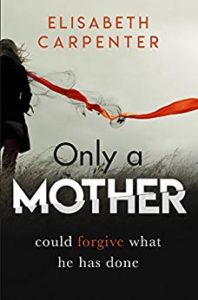 ONLY A MOTHER . . .

Erica Wright hasn't needed to scrub 'MURDERER' off her house in over a year. Life is almost quiet again. Then her son, Craig, is released from prison, and she knows the quiet is going to be broken.

COULD BELIEVE HIM

Erica has always believed Craig was innocent – despite the lies she told for him years ago – but when he arrives home, she notices the changes in him. She doesn't recognise her son anymore.

COULD BURY THE TRUTH

So, when another girl goes missing, she starts to question everything. But how can a mother turn her back on her son? And, if she won't, then how far will she go to protect him?

COULD FORGIVE WHAT HE HAS DONE
'The police belonged to another world – the world they saw on the television or in the papers. Not theirs.'

When two eighteen-year-old girls go missing on their gap year in Thailand, their families are thrust into the international spotlight: desperate, bereft and frantic with worry.

Journalist Kate Waters always does everything she can to be first to the story, first with the exclusive, first to discover the truth – and this time is no exception. But she can't help but think of her own son, who she hasn't seen in two years, since he left home to go travelling. This time it's personal.

And as the case of the missing girls unfolds, they will all find that even this far away, danger can lie closer to home than you might think . . .
It's a Wonderful Night by Jaimie Admans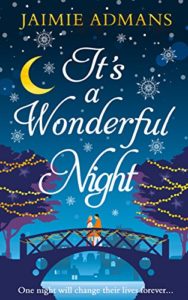 One night will change their lives forever…

Georgia Bailey is closing up her little charity shop in Oakbarrow when she gets a mysterious late night call from a stranger, threatening to jump off the town's bridge.

Something about the man's voice is faintly familiar but all she can do is stay on the line and after talking for hours, losing sense of time passing, coax him back from the edge.

The next morning, Georgia walks to work, buys a festive latte from Leo (who she's had a crush on for months!) at the local coffee shop, and is shocked when she suddenly recognizes the voice from last night…

A heartwarming festive love story that reminds us that even in the darkest of times, hope is always just around the corner!