Seven Day Spotlight – w/e 27/01/19
Welcome to this week's Seven Day Spotlight. The year has got off to an amazing start for me with my reading. I've read four books this month (so far) that could well make my top reads of the year list. At this rate my list will end up being enormous! Have you read any books yet that might make your top reads list this year?
---
Here's what I posted on my blog this week:
On Monday, I shared my review of Gaspard the Fox by Zeb Soanes and James Mayhew.
Wednesday's post was my review of The Woman Inside by E.G. Scott.
Thursday was a two post day with me sharing a guest post by Sharon Thompson, author of The Healer, about where the idea for the book came from, and my review of The Foyles Bookshop Girls at War by Elaine Roberts.
Friday's post was my review of The Puppet Show by M.W. Craven.
And on Saturday, I shared an extract from Midland by James Flint.
---
It's actually been a pretty quiet week for additions to my reading pile, but they're all crackers.
The Other Half of Augusta Hope by Joanna Glen
'What a word it is – home – a million meanings packed up in a giant handkerchief and hanging from a pole which we carry across our shoulder.'

Augusta Hope has never felt like she fits in. And she's right – she doesn't. At six, she's memorising the dictionary. At seven, she's correcting her teachers. At eight, she spins the globe and picks her favourite country on the sound of its name: Burundi.

And now that she's an adult, Augusta has no interest in the goings-on of the small town where she lives with her parents and her beloved twin sister, Julia.

When an unspeakable tragedy upends everything in Augusta's life, she's propelled headfirst into the unknown. She's determined to find where she belongs – but what if her true home, and heart, are half a world away?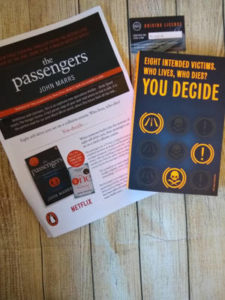 When someone hacks into the systems of eight self-drive cars, their passengers are set on a fatal collision course.

The passengers are: a TV star, a pregnant young woman, a disabled war hero, an abused wife fleeing her husband, an illegal immigrant, a husband and wife – and parents of two – who are travelling in separate vehicles and a suicidal man. Now the public have to judge who should survive but are the passengers all that they first seem?
The Smallest Things by Nick Duerden
It is easy to take for granted the things that are always around us, the people who are always there. And yet they often hold the keys to who we really are.

Nick Duerden's grandparents were always just . . . there. A mysterious yet unchanging presence, a source of dutiful visits, birthday cards and carefully preserved rituals: lunches, dinners and endless card games.

But, as he enters midlife, and his 98-year-old grandmother enters a care home, he realises that, like so many of us, he should perhaps have paid more attention to her true worth years before.

As Nick goes in search of the secrets his late mother took to the grave, he finds it can be the smallest things that keep us together when so much is left unspoken. This is a memoir of the tiny dramas that fill all our lives, and a celebration of the special ties that can bind two intimately connected strangers. Tender and poignant, it captures the richness, and also the complexity, of family life.
The Night Olivia Fell by Christina McDonald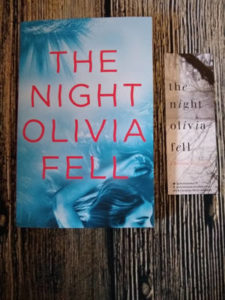 A fast-paced and action-packed thriller, full of twists and turns you won't see coming. It is the most gripping suspense mystery you'll read this year.

They said it was an accident. Her mother knows they're lying. But the truth comes with a price…

IT'S EVERY PARENT'S WORST NIGHTMARE.

Abi Knight is startled awake in the middle of the night to a ringing phone and devastating news – her teenage daughter, Olivia, has been in a terrible accident.

Abi is told that Olivia slipped and fell from a bridge into the icy water below, and now she lies silent, dependent on life support.

But then Abi sees the angry bruises around Olivia's wrists and learns that her sensible daughter is in fact three months pregnant . . .

WOULD YOU BELIEVE IT IF THEY TOLD YOU IT WAS AN ACCIDENT?