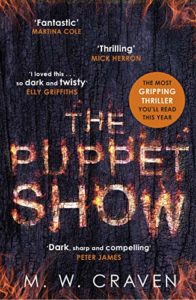 ShortBookandScribes #BookReview – The Puppet Show by M.W. Craven @MWCravenUK @LittleBrownUK
The Puppet Show is one of those books that everyone keeps raving about and I keep seeing everywhere so I'd like to thank the author and Beth Wright from Little Brown for giving me the opportunity to read it by sending a review copy. I can assure you that all those people raving about it were absolutely spot on. It's fantastic.
---
A serial killer is burning people alive in the Lake District's prehistoric stone circles. He leaves no clues and the police are helpless. When his name is found carved into the charred remains of the third victim, disgraced detective Washington Poe is brought back from suspension and into an investigation he wants no part of . . .

Reluctantly partnered with the brilliant, but socially awkward, civilian analyst, Tilly Bradshaw, the mismatched pair uncover a trail that only he is meant to see. The elusive killer has a plan and for some reason Poe is part of it.

As the body count rises, Poe discovers he has far more invested in the case than he could have possibly imagined. And in a shocking finale that will shatter everything he's ever believed about himself, Poe will learn that there are things far worse than being burned alive …
Support your high street with Hive.
---

Holy moly, this is a fabulous book! I've read nothing but amazing reviews of The Puppet Show but there's always a slight chance I will feel differently to those other reviewers. On this occasion I definitely don't.
We have a fantastic protagonist in Washington Poe. He's the kind of cop I love to read about, one who doesn't mind bending the rules to get a result, but does it for the right reasons. He teams up with Tilly Bradshaw, a civilian analyst, and DI Steph Flynn (the one who got his job when he got suspended for doing something he shouldn't have). I loved Tilly. She can't help saying what she thinks, no matter whether it's appropriate or not, and she thrives on data. Tilly and Washington are the perfect pairing and the author is onto an absolute winner there.
They're investigating a serial killer who is burning people alive near stone circles in Cumbria. Given this rather macabre storyline, I was expecting it to be a very gory read but it's not. Obviously there's some detail of the killings, but the story is much more about the why than the what. We follow the investigation from when Washington gets involved, or should I say when he finds out that his name has been carved into the chest of one of the victims!
There are several reasons why I absolutely loved this book (forgive me for resorting to a list):
The story is clever and the plotting is strong. We learn what's going on at the same time as the characters so it's almost like sitting in the room with them.
There's plenty of humour and I think that one or two of the funny lines will stay with me.
It's fast-paced and exciting, and just when I thought I knew what was going to happen a curveball was thrown at me.
The writing is incredible. It drew me in from the very first paragraph. As soon as I had read it I thought to myself "I'm going to really like this book".
Perhaps the most important reason for me is the characters. There are trillions of police procedurals out there and for the most part I think the ones I read are good but not amazing. There are only two series like this that I have been able to stick with past book one and that has been, without a shadow of a doubt, because of the characters. The Puppet Show is the start of the third series that I intend to stick with. Oh yes, the good news is that book two featuring Washington Poe is coming very soon. Yippee!!
Anyway, I didn't like it much. Just kidding – I thought it was a police procedural of the highest calibre and it comes highly recommended by me.
---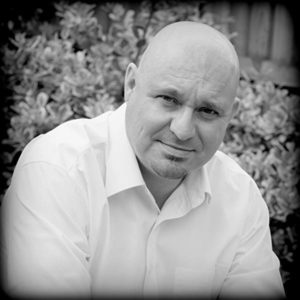 M. W. Craven was born in Carlisle but grew up in Newcastle, running away to join the army at the tender age of sixteen. He spent the next ten years travelling the world having fun, leaving in 1995 to complete a degree in social work with specialisms in criminology and substance misuse. Thirty-one years after leaving Cumbria, he returned to take up a probation officer position in Whitehaven, eventually working his way up to chief officer grade. Sixteen years later he took the plunge, accepted redundancy and became a full-time author. He now has entirely different motivations for trying to get inside the minds of criminals . . .
The Puppet Show, the first in a two-book deal he signed with the Little, Brown imprint, Constable in 2017, was released to critical acclaim in hardback in 2018. It has been sold in numerous foreign territories and the production company Studio Lambert, creators of the award-winning Three Girls, have optioned it for TV. The sequel, Black Summer, follows in June 2019.
M. W. Craven is married and lives in Carlisle with his wife, Joanne. When he isn't out with his springer spaniel, or talking nonsense in the pub, he can be found at punk gigs and writing festivals up and down the country.
Author bio and photo taken from Amazon