ShortBookandScribes #BookReview – The Foyles Bookshop Girls at War by Elaine Roberts @RobertsElaine11 @Aria_Fiction #BlogTour
I'm so pleased to be sharing my review of The Foyles Bookshop Girls at War by Elaine Roberts today, as part of the blog tour. My thanks to Vicky Joss from Aria for the place on the tour and the review copy via Netgalley.
---
'A delightful story of friendship, love and hope during the dark days of WW1. Elaine Roberts is a bright new star in the world of sagas' Elaine Everest.

Swapping books for the bomb factory takes courage – and could be dangerous.

Working at the Foyles bookshop was Molly Cooper's dream job. But with the country at war she's determined to do her bit. So Molly gathers her courage, and sets off for the East End and her first day working at Silvertown munitions factory…

It's hard manual labour, and Molly must face the trials and tribulations of being the 'new girl' at the munitions factory, as well as the relentless physical work.

The happy-ever-afters Molly read about in the pages of her beloved books have been lost to the war. And yet the munitions girls unite through their sense of duty and friendships that blossom in the most unlikely of settings…

Perfect for fans of Elaine Everest, Daisy Styles and Rosie Hendry.

Look out for the next in the Elaine Roberts' heartwarming series The Foyles Girls series, Christmas at the Foyles Bookshop, coming soon!
Buy links
---

It was so nice to take a visit to London during WW1 again and meet up with Alice, Molly and Victoria, aka the Foyles Bookshop Girls. Whilst the first book in the trilogy was very much Alice's story, this second book follows Molly as she leaves the relative safety of Foyles and becomes a 'canary', working at the munitions factory. She's punishing herself for something, and putting herself into a more dangerous job is her way of making herself feel better.
This book is my favourite of the books so far and I very much enjoyed reading about Molly's change of direction. She's really feisty and independent, that new independence being something that women were only starting to have for the first time because of the war. I must admit, I didn't envy her the long journey by bicycle across London to her new place of work, let alone the yellow skin and the constant worry of working in such a dangerous profession. But I did really admire the way she stuck to her guns and got on with it.
It was lovely to catch up with other characters too. Molly's friends still play a major role, and don't worry, Foyles still plays its part in the story. What I did like most of all was the gorgeous love story (I'm not telling you who was involved, go find out for yourself!). That was the bit I couldn't wait to get back to and to see what was going to happen next and it really made my heart melt.
The Foyles Bookshop Girls at War is a delightful story of love and friendship amidst the heartbreak of war. I'm looking forward to reading book three at Christmas.
---

---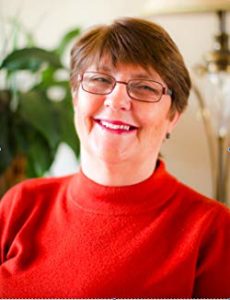 Elaine Roberts had a dream to write for a living. She completed her first novel in her twenties and received her first very nice rejection. Life then got in the way until she picked up her dream again in 2010 and shortly afterwards had her first short story published. Elaine and her patient husband, Dave, have five children who have flown the nest. Home is in Dartford, Kent and is always busy with their children, grandchildren, grand dogs and cats visiting.
Follow Aria