Seven Day Spotlight – w/e 25/03/18
Welcome to this week's Seven Day Spotlight. This is where I round up what I have posted on my blog this week and tell you about the additions to my TBR pile.
It's been a quieter week for some reason so I did a couple of meme posts at the beginning of the week.
On Monday, I did the 'It's Monday, What Are You Reading' meme. I obviously should do more of this one as it actually got me a few comments. I think we all like to talk about what we are reading.
And on Tuesday, I did the 'First Chapter, First Paragraph – Tuesday Intros' meme, posting the first section from Little Big Man by Katy Regan.
On Wednesday, Soulla Christodoulou, author of The Summer Will Come, joined me by video to talk about her book and to read an extract from it.
And then on Saturday, I posted my review of We Were the Salt of the Sea by Roxanne Bouchard.
---
Here are the additions to my TBR pile this week:
In Strangers' Houses by Elizabeth Mundy
Lena Szarka, a Hungarian cleaner working in London, knows all too well about cleaning up other people's messes. When her friend Timea disappears, she suspects one of her clients is to blame. However, the police don't share her suspicions and it is left to Lena to turn sleuth and find her friend.

Searching through their houses as she scrubs their floors, Lena desperately tries to find out what has happened. Only Cartwright, a police constable new to the job, believes that this will lead to the truth – and together they begin to uncover more of Islington's seedy underbelly than they bargained for.

But Lena soon discovers it's not just her clients who have secrets. And as she begins to unravel Timea's past she starts to wonder if she really knew her friend at all.
The Death of Mrs Westaway by Ruth Ware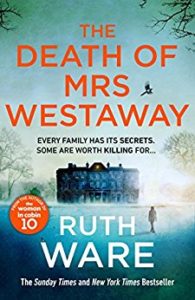 When Harriet Westaway receives an unexpected letter telling her she's inherited a substantial bequest from her Cornish grandmother, it seems like the answer to her prayers. She owes money to a loan shark and the threats are getting increasingly aggressive: she needs to get her hands on some cash fast.

There's just one problem – Hal's real grandparents died more than twenty years ago. The letter has been sent to the wrong person. But Hal knows that the cold-reading techniques she's honed as a seaside fortune teller could help her con her way to getting the money. If anyone has the skills to turn up at a stranger's funeral and claim a bequest they're not entitled to, it's her.

Hal makes a choice that will change her life for ever. But once she embarks on her deception, there is no going back. She must keep going or risk losing everything, even her life…
A moment of pleasure leads to a deadly game of cat and mouse in this slick and suspenseful thriller.

Kit Finn meets handsome sculptor Matt Healy on a business trip and the two share a night of passion. They arrange a second date, but when Kit arrives at Matt's apartment she is greeted by a stranger claiming he is the real Matt and that his identity was stolen.

Realising she has been duped Kit decides to put the encounter behind her. Shortly after, the police ask her to identify a man killed in a hit and run, carrying only her business card, and she is shocked to find the dead man is the person she knows as the genuine Matt Healy.

Kit fears she has become unintentionally embroiled in a sinister web of deceit. With no real evidence to take to the police, Kit resolves to unravel the mystery herself. But can she do so before more lives, including her own, are put in danger?
Behind the Smile by Mary Grand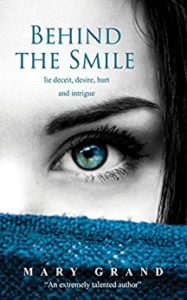 An emotionally charged, totally gripping story that will keep you turning the pages late into the night..
Lowri is pregnant, looking forward to a new life with her lover, Simon. But her plans are shattered. She finds herself alone, her face scarred, her future uncertain
Her estranged husband, Jack, proposes they "settle" for each other, and raise Lowri's unborn child on the Isle of Wight, in the idyllic village of Elmstone.
Lowri is befriended by Carina, the beautiful Italian woman living in Elmstone Manor, and Heather, the popular local café proprietor. However, she soon discovers that no-one is the person they appear.
What dark secrets is Heather hiding from her family and from the village?
Why is Carina desperate for Lowri to fail in her new life and prepared to go to increasingly desperate lengths to destroy her?
As she confronts her own insecurities, and faces another devastating loss, will Lowri find the courage to be proud of the person she is hiding behind the smile? Will she find true love amid the confusion and intrigue?
Your sister. Her secret. The betrayal.

There is no bond greater than blood . . .

When the body of a woman is found stabbed to death, the blame falls to her twin sister. But who killed who? And which one is now the woman behind bars?

Zara and Miranda have always supported each other. But then Zara meets Seb, and everything changes. Handsome, charismatic and dangerous, Seb threatens to tear the sisters' lives apart – but is he really the one to blame? Or are deeper resentments simmering beneath the surface that the sisters must face up to?

As the sisters' relationship is stretched to the brink, a traumatic incident in Seb's past begins to rear its head and soon all three are locked in a psychological battle that will leave someone dead. The question is, who?
The Wisdom of Sally Red Shoes by Ruth Hogan
Masha's life has stopped. Once a spirited, independent woman with a rebellious streak, her life has been forever changed by a tragic event twelve years ago. Unable to let go of her grief, she finds solace in the silent company of the souls of her local Victorian cemetery and at the town's lido, where she seeks refuge underwater – safe from the noise and the pain.

But a chance encounter with two extraordinary women – the fabulous and wise Kitty Muriel, a convent girl-turned-magician's wife-turned-seventy-something-roller-disco-fanatic, and the mysterious Sally Red Shoes, a bag lady with a prodigious voice – opens up a new world of possibilities, and the chance to start living again. But just as Masha dares to imagine the future, the past comes roaring back …
The Lighthouse Keeper's Daughter by Cherry Radford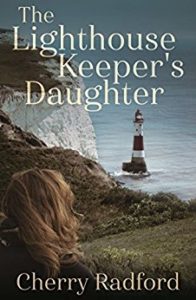 There's someone out there, and an unforeseen, irresistible connection…

After the break-up of her marriage, Imogen escapes to her aunt's converted lighthouse on Beachy Head. Writing for a tedious online magazine but hoping to start a novel, she wants to be alone until she finds an entrancing flamenco CD in her borrowed car and contacts the artist via Twitter. It turns out that actor-musician Santiago needs help with English, and is soon calling her profesora.

Through her window, the other lighthouse winks at her across the sea. The one where her father was a keeper, until he mysteriously drowned there in 1982. Her aunt is sending extracts from his diary, and Imogen is intrigued to learn that, like her and Santi, her father had a penfriend.

Meanwhile, despite their differences Imogen is surrounded by emotional and geographical barriers, Santi surrounded by family and land-locked Madrid their friendship develops. So, she reads, did her father's but shocking revelations cause Imogen to question whether she ever really knew him.

Two stories of communication: the hilarious mistakes, the painful misunderstandings, and the miracle or tragedy of finding someone out there with whom you have an unforeseen, irresistible connection.
How Far We Fall by Jane Shemilt
The perfect couple

Meeting Albie gave Beth a fresh start – a chance to leave her past behind. Now she has her new husband; an ambitious, talented young neurosurgeon.

The perfect marriage

Their marriage gives Beth the safe haven she's always wanted – with just one catch. Albie has no idea of the secrets she's keeping. He doesn't know that years ago, Beth had an affair with Ted, the boss helping Albie's star ascend. Nor that the affair's devastating ending will have consequences for their own future.

The perfect storm

So when Ted's generous patronage begins to sour, Beth senses everything she's built could crumble. And she sees an opportunity. To satisfy Albie's ambitions, and her own obsessive desire for revenge . . .

She'll keep her marriage and her secret safe.

But how far will the fall take them?
Two couples. One reckless night.

**************

In the time they've known each other, Sally, Al and Mike have shared – well, almost everything.

Sally and Al have been married for seven years, though now their relationship is hanging by a thread.

Sally and Mike have been best friends since university. And on many occasions something more.

Mike and Al have been friends and colleagues for many years. Yet with Al poised to become Mike's boss, their friendship comes under threat.

And now there's Mike and Faye. They haven't been together long, but Mike's pretty sure that, this time, it's the real deal.

As the three old friends sit on a train heading towards Brighton to meet Faye, little do they know that after this weekend, the four of them will have shared

. . . everything.

They all know they have made a mistake.
But they could never have imagined the consequences.
Grace After Henry by Eithne Shortall
Grace sees her boyfriend Henry everywhere. In the supermarket, on the street, at the graveyard.

Only Henry is dead. He died two months earlier, leaving a huge hole in Grace's life and in her heart. But then Henry turns up to fix the boiler one evening, and Grace can't decide if she's hallucinating or has suddenly developed psychic powers. Grace isn't going mad – the man in front of her is not Henry at all, but someone else who looks uncannily like him. The hole in Grace's heart grows ever larger.

Grace becomes captivated by this stranger, Andy – to her, he is Henry, and yet he is not. Reminded of everything she once had, can Grace recreate that lost love with Andy, resurrecting Henry in the process, or does loving Andy mean letting go of Henry?
Oh, why are there soooo many fantastic sounding books out there? Do you like the sound of any of these?