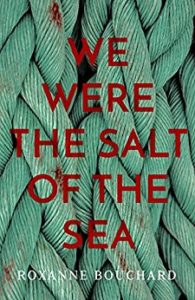 #bookreview – We Were the Salt of the Sea by Roxanne Bouchard @OrendaBooks @annecater #blogtour
Welcome to my stop on the blog tour for We Were the Salt of the Sea by Roxanne Bouchard, translated by David Warriner. My thanks go to Orenda Books for the review copy and to Anne Cater for the place on the tour.
I'm reviewing the book today but first, here's what it's all about.
As Montrealer Catherine Day sets foot in a remote fishing village and starts asking around about her birth mother, the body of a woman dredges up in a fisherman's nets. Not just any woman, though: Marie Garant, an elusive, nomadic sailor and unbridled beauty who once tied many a man's heart in knots. Detective Sergeant Joaquin Morales, newly drafted to the area from the suburbs of Montreal, barely has time to unpack his suitcase before he's thrown into the deep end of the investigation. On Quebec's outlying Gaspé Peninsula, the truth can be slippery, especially down on the fishermen's wharves. Interviews drift into idle chit-chat, evidence floats off with the tide and the truth lingers in murky waters. It's enough to make DS Morales reach straight for a large whisky… Both a dark and consuming crime thriller and a lyrical, poetic ode to the sea, We Were the Salt of the Sea is a stunning, page-turning novel, from one of the most exciting new names in crime fiction.
If you like the sound of it then you can buy the ebook now and the paperback from 30th March.
---

Two things drew me to this book. The beautiful cover was an instant draw, as any good cover should be, and the second thing was the blurb. I'm always attracted to books set near the sea and this one is set in Quebec's Gaspé Peninsula in a fishing village. So far so good.
Catherine Day's adoptive parents have passed away and she's now looking for her birth mother and so has travelled to the peninsula to try and meet her. But a woman's body is caught in a fisherman's net and Catherine's plans change. Along comes Detective Sergeant Joaquin Morales, also new to the area and with problems of his own. I liked his sections best of all and think he's a character that could go far. I believe this book is the first in a series featuring him and I think he's interesting enough to be worth meeting again. I felt his story was left quite open for that purpose.
I have to say that this book was not what I was expecting. It almost comes across as a cosy crime novel in many ways but I was expecting something more gritty. It has very much a closed in, small village feel to it – claustrophobic, where everybody knows everyone else's business. There are also some very quirky people living there, to say the least, and there seem to be a lot of people with catchphrases that they use constantly. I did think it was very evocative in that it wasn't hard to imagine the smell of the sea, the sight of the fishing boats etc.
In all honesty, I struggled with the writing style. I think it's beautifully written and lyrical in style, but I just found it a bit difficult to engage with. I'm definitely swimming against the tide with that opinion though, as I've read many reviews from readers who have adored this book.
In summary, perhaps not the right book for me, but absolutely for you if you love that enclosed community feel, a book with a mystery at its heart and poetic writing, and a fairly gentle feel to your crime novels.
---

---

Ten years or so ago, Roxanne Bouchard decided it was time she found her sea legs. So she learned to sail, first on the St Lawrence River, before taking to the open waters off the Gaspe Peninsula. The local fishermen soon invited her aboard to reel in their lobster nets, and Roxanne saw for herself that the sunrise over Bonaventure never lies. We Were the Salt of the Sea is her fifth novel, and her first to be translated into English. She lives in Quebec.