Seven Day Spotlight – w/e 23/12/18
So, the big day is almost upon us where we can stuff ourselves silly and deal with the consequences afterwards. I wish you all a very Happy Christmas and hope you have a wonderful festive season.
I'm not quite signing off for Christmas as I hope to have a review for you tomorrow and then between Christmas and New Year I will have at least one post along with my top reads of the year post. I can't quite switch off from this blogging lark!
Here's what I posted during the last seven days:
Monday's post was my review of The Rumour by Lesley Kara. I thought this was a fabulous debut with a twist that I never saw coming in a million years.
Tuesday's post was an extract from The Good Teacher by Rachel Sargeant.
And Wednesday brought an extract from Love at the Northern Lights by Darcie Boleyn.
On Thursday, I reviewed the latest book by one of my favourite saga writers, Mary Wood. I absolutely loved The Forgotten Daughter.
Friday's post was my review of The Binding by Bridget Collins which is such a clever story with a powerful love story at its heart.
And on Saturday I posted my review of The Quality Street Girls by Penny Thorpe, which was a real treat of a read.
---
If I thought incoming books wouldn't amount to much this close to Christmas I was wrong. I've had a bumper week for book post and then there's the Kindle sale too. Here's what I added to my TBR pile this week:
The second edge-of-your-seat thriller from M.J. Ford

When a young woman goes missing from Jesus College, Oxford, DS Josie Masters is plunged into a world of panic as fear grips the city. Along with Thames Valley Police's newest recruit, the handsome DS Pryce, Josie must act fast – and when two more students disappear from Oriel and Somerville colleges, she realises the killer is sending her a deadly message in a cruel game of cat and mouse. This time, the case is personal – but who is the perpetrator?

In a desperate race against the clock, Josie hunts for the kidnapper, and soon discovers he could be a lot closer to home than she'd ever thought…

M.J. Ford is back with a gripping new thriller, perfect for fans of Cara Hunter and T.M. Logan.
The Geography of Friendship by Sally Piper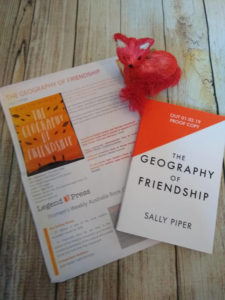 When three women set off on a hike through the wilderness they are anticipating the adventure of a lifetime. Over the next five days, as they face up to the challenging terrain, it soon becomes clear they are not alone.

Lisa, Samantha and Nicole have known each other since school. Lisa is a fighter, Samantha a peacekeeper and Nicole a rule follower. United they bring out the best in one another.

Only once it is too late for them to turn back do they appreciate the danger they are in. Their friendship is tested, and each of them must make a choice that will change their lives forever.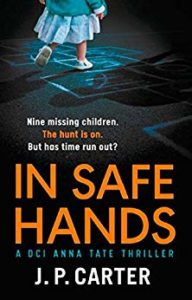 How far would you go to save the ones you love? The first book in a stunning new crime series featuring DCI Anna Tate.

When nine children are snatched from a nursery school in South London, their distressed parents have no idea if they will ever see them again. The community in the surrounding area in shock. How could this happen right under their noses? No one in the quiet suburban street saw anything – or at least that's what they're saying.

But DCI Anna Tate knows that nothing is impossible, and she also knows that time is quickly running out. It's unclear if the kidnappers are desperate for money or set on revenge, but the ransom is going up by £1million daily. And they know that one little boy in particular is fighting for his life.

It's one of the most disturbing cases DCI Anna Tate has ever worked on – not only because nine children are being held hostage, but because she's pretty sure that someone close to them is lying…
Someone You Know by Olivia Isaac-Henry
You can trust your family, can't you…?

Tess Piper was fourteen when her adored twin sister Edie disappeared.

She has spent the last twenty years building a life away from her fractured family, desperate to escape the shadow of the past.

Only now she needs to confront the huge hole her sister's disappearance left in her life, because a body has been found. The police are shining a spotlight on the Piper family. And secrets are about to surface.

After all, it's common knowledge that more often than not, these crimes are committed by someone close to the victim. Someone they trust. Someone they know…

What really happened to Edie Piper?
Tell the Truth by Amanda Brittany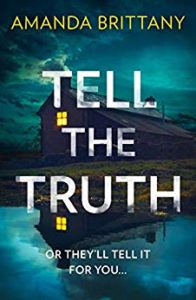 TELL THE TRUTH

Or they'll tell it for you…

Rachel's childhood is a mess of fragmented memories, and her adult life is no less chaotic.

Her mother and daughter were her only concrete links to the past and now they are slipping through her fingers. Fuelled by the fear of losing them both, she delves into her mother's past, fast becoming entangled in her own tragic history.

With eerie friend requests filling Rachel's phone and shocking flashbacks filling her mind, she is plagued by her mother's past, and soon realises that her entire life might just be a lie.

Will she ever discover the truth?

From the bestselling author of HER LAST LIE comes a chilling new thriller you won't want to miss! It will have you questioning your own relationships and doubting if everyone in your life is who they say they are.
The Family Secret by Tracy Buchanan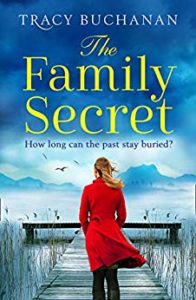 Amber leads an isolated existence. Since she lost her little girl and husband ten years ago, her sole focus has been keeping her small business afloat. Her life seems to be on hold until one morning, she finds a girl on the beach outside her gift shop. A girl that has no shoes, no name, and no idea where she came from.

As a wildlife documentary maker, Gwyneth's work has taken her all over the world, from the diamond ice beaches of Iceland to the frozen plains of Alaska. But when she has a terrible accident in the remote Scottish highlands, she is saved by the McClusky family and taken into the extravagant lodge they inhabit nearby. As welcoming as they are, there is something more to this family than meets the eye, and Gwyneth suspects a long-held secret is threatening to tear them apart.

Tracy Buchanan's twisting, emotional new novel explores the secrets of two distinct families living in two distinct worlds, but there is one very dark mystery at its core…
In at the Deep End by Kate Davies
Until recently, Julia hadn't had sex in three years.

But now:
• a one-night stand is accusing her of breaking his penis;

• a sexually confident lesbian is making eyes at her over confrontational modern art;

• and she's wondering whether trimming her pubes makes her a bad feminist.

Julia's about to learn that she's been looking for love – and satisfaction – in all the wrong places…

Frank, filthy and very, very funny, In at the Deep End is a brilliant debut from a major new talent.

#ImInAtTheDeepEnd
Your darkest moment is your most vulnerable…

Stephen Berry is about to jump off a bridge until a suicide prevention counsellor stops him. A week later, Stephen is dead. Found at the bottom of a cliff, DI Luc Callanach and DCI Ava Turner are drafted in to investigate whether he jumped or whether he was pushed…

As they dig deeper, more would-be suicides roll in: a woman found dead in a bath; a man violently electrocuted. But these are carefully curated deaths – nothing like the impulsive suicide attempts they've been made out to be.

Little do Callanach and Turner know how close their perpetrator is as, across Edinburgh, a violent and psychopathic killer gains more confidence with every life he takes…
Diary of a Somebody by Brian Bilston
Brian Bilston has decided to write a poem every day for a year while he tries to repair his ever-desperate life. His ex-wife has taken up with a new man, a marketing guru and motivational speaker who seems to be disturbingly influencing his son, Dylan. Meanwhile Dylan's football team keeps being beaten 0–11, as he stands disconsolately on the wing waiting vainly to receive the ball. At work Brian is drowning in a sea of spreadsheets and is becoming increasingly confused by the complexities of modern communication and management jargon. So poetry will be his salvation. But can Brian's poetry save him from Toby Salt, his arch nemesis in the Poetry Group and potential rival suitor to Brian's new poetic inspiration, Liz? Worst of all Toby has announced that boutique artisan publishing house Shooting from the Hip will be publishing his first collection, titled This Bridge No Hands Shall Cleft, in the autumn. And when he goes missing Brian is inevitably the number one suspect.

Part tender love story, part murder mystery, part coruscating description of a wasted life, and interspersed with some of the funniest poems about the mundane and the profound, Diary of a Somebody is the most original novel you will read this year.
The Doll Factory by Elisabeth Macneal
The Doll Factory by Elizabeth Macneal is the intoxicating story of a young woman who aspires to be an artist, and the man whose obsession may destroy her world for ever.

London. 1850. The Great Exhibition is being erected in Hyde Park and among the crowd watching the spectacle two people meet. For Iris, an aspiring artist, it is the encounter of a moment – forgotten seconds later, but for Silas, a collector entranced by the strange and beautiful, that meeting marks a new beginning.

When Iris is asked to model for pre-Raphaelite artist Louis Frost, she agrees on the condition that he will also teach her to paint. Suddenly her world begins to expand, to become a place of art and love.

But Silas has only thought of one thing since their meeting, and his obsession is darkening . . .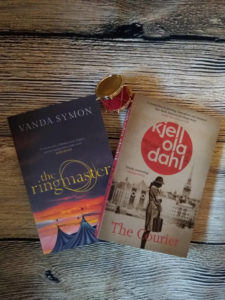 In 1942, Jewish courier Ester is betrayed, narrowly avoiding arrest by the Gestapo. In a great haste, she escapes to Sweden, saving herself. Her family in Oslo, however, is deported to Auschwitz. In Stockholm, Ester meets the resistance hero, Gerhard Falkum, who has left his little daughter and fled both the Germans and allegations that he murdered his wife, Åse, who helped Ester get to Sweden. Their burgeoning relationship ends abruptly when Falkum dies in a fire.
And yet, twenty-five years later, Falkum shows up in Oslo. He wants to reconnect with his daughter. But where has he been, and what is the real reason for his return? Ester stumbles across information that forces her to look closely at her past, and to revisit her war-time training to stay alive…
Written with Dahl's trademark characterization and elegant plotting, The Courier sees the hugely respected godfather of Nordic Noir at his best, as he takes on one of the most horrific periods of modern history, in a exceptional, shocking thriller.
Death is stalking the southern South Island of New Zealand…

Marginalised by previous antics, Sam Shephard, is on the bottom rung of detective training in Dunedin, and her boss makes sure she knows it. She gets involved in her first homicide investigation, when a university student is murdered in the Botanic Gardens, and Sam soon discovers this is not an isolated incident. There is a chilling prospect of a predator loose in Dunedin, and a very strong possibility that the deaths are linked to a visiting circus…
Determined to find out who's running the show, and to prove herself, Sam throws herself into an investigation that can have only one ending…
Rich with atmosphere, humour and a dark, shocking plot, The Ringmaster marks the return of passionate, headstrong police officer, Sam Shephard, in the next instalment of Vanda Symon's bestselling series.
Once Upon a River by Diane Setterfield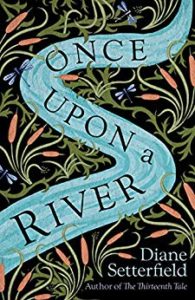 On a dark midwinter's night in an ancient inn on the Thames, the regulars are entertaining themselves by telling stories when the door bursts open and in steps an injured stranger. In his arms is the drowned corpse of a child.

Hours later, the dead girl stirs, takes and breath and returns to life.

Is it a miracle?

Is it magic?

And who does the little girl belong to?

An exquisitely crafted multi-layered mystery brimming with folklore, suspense and romance, as well as with the urgent scientific curiosity of the Darwinian age, Once Upon a River is as richly atmospheric as Setterfield's bestseller The Thirteenth Tale.
Dirty Little Secrets by Jo Spain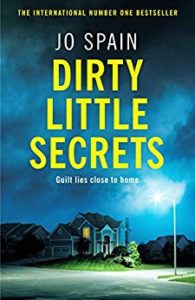 Six neighbours, six secrets, six reasons to want Olive Collins dead.

In the exclusive gated community of Withered Vale, people's lives appear as perfect as their beautifully manicured lawns. Money, success, privilege – the residents have it all. Life is good.

There's just one problem.

Olive Collins' dead body has been rotting inside number four for the last three months. Her neighbours say they're shocked at the discovery but nobody thought to check on her when she vanished from sight.

The police start to ask questions and the seemingly flawless facade begins to crack. Because, when it comes to Olive's neighbours, it seems each of them has something to hide, something to lose and everything to gain from her death.
Whistle in the Dark by Emma Healey
How do you rescue someone who has already been found?

Jen's fifteen-year-old daughter goes missing for four agonizing days. When Lana is found, unharmed, in the middle of the desolate countryside, everyone thinks the worst is over. But Lana refuses to tell anyone what happened, and the police think the case is closed. The once-happy, loving family returns to London, where things start to fall apart. Lana begins acting strangely: refusing to go to school, and sleeping with the light on.
With her daughter increasingly becoming a stranger, Jen is sure the answer lies in those four missing days. But will Lana ever reveal what happened?
Only a Mother by Elisabeth Carpenter
ONLY A MOTHER . . .
Erica Wright hasn't needed to scrub 'MURDERER' off her house in over a year. Life is almost quiet again. Then her son, Craig, is released from prison, and she knows the quiet is going to be broken.
COULD BELIEVE HIM
Erica has always believed Craig was innocent – despite the lies she told for him years ago – but when he arrives home, she notices the changes in him. She doesn't recognise her son anymore.
COULD LIE FOR HIM
So, when another girl goes missing, she starts to question everything. But how can a mother turn her back on her son? And, if she won't, then how far will she go to protect him?
COULD BURY THE TRUTH

Perfect for fans of Lisa Jewell, Louise Jensen, Katerina Diamond, Helen Fields and CL Taylor – a hard-hitting psychological thriller told from the fresh perspective of a killer's mother.
Any of these take your fancy? Or have you read any of them already?
Wishing you all a Merry Christmas and I hope that you receive all the books you desire.