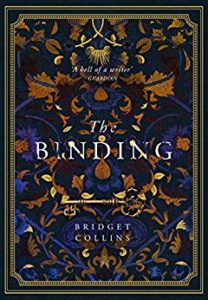 ShortBookandScribes #BookReview – The Binding by Bridget Collins @Br1dgetCollins @BoroughPress @LoveReadinguk #TheBinding
I've been sitting on this review since I read The Binding back in August. I was lucky enough to get an early review copy via LoveReading and I'd like to thank them and the publishers, Borough Press, for the opportunity to read such an amazing book. I had planned to save this post until publication day (7th January for the ebook and 10th January for the hardback folks) but (a) I couldn't wait any longer and (b) I thought that it might help some of you to spend that Christmas money or book vouchers.
---
Imagine you could erase your grief.
Imagine you could forget your pain.
Imagine you could hide a secret.
Forever.

Emmett Farmer is working in the fields when a letter arrives summoning him to begin an apprenticeship. He will work for a Bookbinder, a vocation that arouses fear, superstition and prejudice – but one neither he nor his parents can afford to refuse.

He will learn to hand-craft beautiful volumes, and within each he will capture something unique and extraordinary: a memory. If there's something you want to forget, he can help. If there's something you need to erase, he can assist. Your past will be stored safely in a book and you will never remember your secret, however terrible.

In a vault under his mentor's workshop, row upon row of books – and memories – are meticulously stored and recorded.

Then one day Emmett makes an astonishing discovery: one of them has his name on it.

THE BINDING is an unforgettable, magical novel: a boundary-defying love story and a unique literary event.
---

Oh, this wonderful, wonderful book. Where to begin. If I'm completely honest, I wasn't sure what to expect or whether it was going to be a book that was my thing or not. But the whole bookbinding element was most definitely enough to tempt me into trying it and I was bowled over by the complexity and the cleverness of this story.
The Binding begins with us following Emmett Farmer as he becomes the apprentice to a very old bookbinder called Seredith. She lives in the marshes, well away from the farm where Emmett's parents and sister, Alta, live and where Emmett works the land.
These are no ordinary books though. These are people's memories, sucked out of them so they can no longer remember. Ultimately, the idea is to take away the bad memories and the guilt but it can be misused, memories stolen for titillation, for the amusement of others. There are even fake books called novels. However, those with a true vocation, like Emmett, do it right, not for profit. The catalyst for parts two and three of the book is when Emmett finds a book with his own name on. From there we remember Emmett's past along with him and I must admit that I found that section the most beguiling.
The whole of The Binding is most beautifully written. The prose is perfect and I was thoroughly absorbed by it. I loved Emmett as he's such a kind and strong person, struggling with his feelings at first. All of the characterisations are fabulous. I hated the people I was meant to hate and loved the ones I was meant to love. All are so well-drawn, so perfectly formed.
And that story. It's so incredibly clever. I am in awe of Bridget Collins and the story that her mind has conjured up. It has a slight hint of fantasy (obviously, people can't really take your memories and bind them up into books) but it has such plausibility, such possibility. It's a little bit frightening too – imagine your deepest, darkest secrets getting into the wrong hands.
The most powerful part of this book is a love story though and it's stunning in every way. I experienced it all along with the characters: the realisation, the denial, the highs and lows, the intensity, the loss, the joy.
The Binding is something special, a book that will stay with me. If I didn't have masses of other books to read I would be tempted to go back to the beginning and read it again. It's going to be huge in 2019.
---

Bridget Collins trained as an actor at the London Academy of Music and Dramatic Art after reading English at King's College, Cambridge. She is the author of seven acclaimed books for young adults and has had two plays produced, one at the Edinburgh Fringe Festival. THE BINDING is her first adult novel.