ShortBookandScribes #BlogTour #Extract from The Good Teacher by Rachel Sargeant @RachelSargeant3 @KillerReads
I'm delighted to be able to share an extract from The Good Teacher by Rachel Sargeant with you today. Thank you to Rachel for asking me to take part in her blog tour.

Even the good have to die.
A beloved teacher is murdered and left in a ditch beside a country lane. His wife is found beaten and gagged in their suburban home.

Even the best schools have secrets.
New detective Pippa Adams learns that the teacher ran a homework club for vulnerable pupils. But what did he really teach them?

Even the perfect family has something to hide.
When Pippa scratches the surface of the school community, she meets families who've learned a shattering lesson. And finally uncovers the good teacher's darkest secrets…
Available from Amazon.co.uk
Or Amazon.com
Or HarperCollins website (various eBook formats)
---

Hello, everyone. I'm delighted to be here at Short Book and Scribes to share with you the closing paragraphs of the first chapter of The Good Teacher. A big thank you to Nicola for hosting me.
There's a distant crunching outside. More steps follow and grow louder as they trip their way up the gravel. It must be Linda. Of course, it's nine o'clock. Linda and Dean will have dropped the children off at school and then come to pick her up, as arranged. She pictures Linda teetering up the path, her broad feet forced into tiny sandals.

In the background a car engine rumbles. She's amazed that she can hear it above her hammering heart. Dean will be waiting in the car. She hears a light tapping on the front door glass. Linda's false fingernails. She forms the words "Linda, help" at the back of her mouth, trying to force them through the heavy adhesive that clamps her jaws together.

"Gaby, are you in there?" Linda's voice invades the house through the opened letterbox. "Are you going to let me in?"

With all her might, she gulps out one more "Help". The sound reverberates in her ears and, for a moment, she thinks it's reached the front door. The letterbox snaps shut and footsteps move around the house towards the lounge window. She rocks against the chains, causing two of the chair legs to lift and then slam down with a muffled thud on the carpet.

"Dean, she must have forgotten." Linda's voice is directed away from the house. "I've put their milk in the bushes otherwise it'll be honking in this heat." Linda's jerky steps return past the front door and recede down the path, the sound of gravel scattering in their wake.

Gaby struggles to catch her breath as a car door closes and the car speeds away. Tears prick her eyes. Her best hope of rescue will be joining the Penbury ring road without her. Crying makes her head throb, but she weeps on. The fight flowing out of her.

Reg – ice-numb now despite the heat – tries to lean his bike against the potting shed but it slips, clattering to the ground. The noise brings Doreen to the back door.

"Where the heck have you been all this time?" She squints at him. "You look peaky, a bit like your porridge looked before I chucked it. I suppose you want me to get you something else now?"

"Whisky," Reg gasps.

What time is it now? Exhaustion giving way to panic again. How long can she survive without a drink? It's been hours and her lips feel like crumbling plaster. Gaby makes another effort to calm down by breathing in through her nose and letting the air slowly reach her lungs.

A car pulls up outside the gate. The engine stops and a door slams. Heavy shoes trudge along the gravel accompanied by faint crackling voices like a radio. She breathes in sharply, preparing to hum out as before, but this time ready for disappointment.

"Yes, sarge. If there's no reply, we'll force entry," a calm voice says on the other side of the front door.

Gaby's breathing quickens and she can hardly believe her ears. She's in some other world, unable to move. Seized by terror, suddenly afraid to end her familiar incarceration after so many hours. But then her survival instinct takes hold and she presses against the chains, rocking back and forth, willing herself closer to the window. After hearing three sharp knocks at the door, she crashes to the carpet. Shattering pain spreads across the side of her face. Everything numbs and darkness comes.
---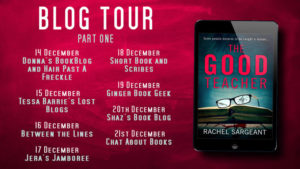 ---

Rachel Sargeant is the author of Kindle Top Ten bestseller The Perfect Neighbours. She is a previous winner of Writing Magazine's Crime Short Story competition and has been placed or shortlisted in various competitions, including the Bristol Short Story Prize. Her stories have appeared in My Weekly and the Accent Press Saucy Shorts series. Rachel grew up in Lincolnshire, spent several years living in Germany and now lives in Gloucestershire with her husband and children.