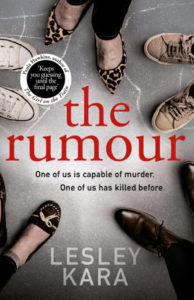 ShortBookandScribes #BookReview – The Rumour by Lesley Kara @LesleyKara @TransworldBooks #RandomThingsTours #TheRumour #BlogTour
Oh, it's a real treat to be reviewing The Rumour by Lesley Kara today as part of the blog tour. My thanks to Anne Cater from Random Things Tours for the place on the tour and to the publishers for providing a copy of the book for review. I had this song running through my head all the time I was reading (or even thinking about reading) so I'm going to pass this particular earworm on to you.

---
When single mum Joanna hears a rumour at the school gates, she never intends to pass it on. But one casual comment leads to another and now there's no going back . . .

Rumour has it that a notorious child killer is living under a new identity, in their sleepy little town of Flinstead-on-Sea.

Sally McGowan was just ten years old when she stabbed little Robbie Harris to death forty-eight years ago – no photos of her exist since her release as a young woman.

So who is the supposedly reformed killer who now lives among them? How dangerous can one rumour become? And how far will Joanna go to protect her loved ones from harm, when she realizes what it is she's unleashed?
---

I had high hopes for this book. I've been hearing about it since the summer and I think it's been one of the most highly anticipated books of the year. So, did it meet my high expectations? Oh yes, and it went way beyond them.
Anyone who has school-aged children will know that cliquey feeling amongst the parents at the school gate. In a desperate attempt to fit in when she moves to the little town of Flinstead, Joanna repeats a rumour that then grows legs of its own. The rumour relates to a convicted child killer who is believed to live in the town.
As you can imagine, Joanna then starts to think that every woman of the right sort of age could be the killer, Sally McGowan. She becomes paranoid, she feels threatened, she worries for her six year old son, Alfie
This description doesn't even touch the surface of the story but I'm not going to say anything else because I don't want to spoil it for anyone. What I will say is that The Rumour is an outstanding psychological tale which wowed me. It hooked me in the first part where the scene is set, only to throw me a massive curveball in the second. In fact, that curveball had me putting my hand over my mouth and just trying desperately to process all that I had read, before I flicked back through the pages over and over trying to take it all in.
It's hard to believe this is a debut novel. The level of plotting and suspense is spectacular – to be able to deliver the kind of twist that Kara does without giving anything away is quite something.
There are some fantastic characters in this book. I particularly liked Joanna and her on/off partner, Michael. Many of the other characters are ones that may or may not be Sally McGowan and I became like Joanna, looking for little clues everywhere amongst the school mums and the people from the book club that Joanna attends.
Don't keep this rumour to yourself. This is one that needs to be passed on. This book is clever, full of twists and turns, a domestic drama which turns into a full-on nightmare. There's so much intrigue, so much drama, so much tension. I found it completely and utterly compelling.
---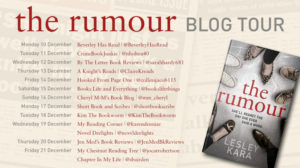 ---

Lesley Kara is an alumna of the Faber Academy 'Writing a Novel' course. She completed an English degree and PGCE at Greenwich University, having previously worked as a nurse and a secretary, and then became a lecturer and manager in Further Education. Lesley has relocated to a small town on the North Essex coast, where she is currently working on her second novel.