Seven Day Spotlight – w/e 18/03/18
Welcome to this week's Seven Day Spotlight post. It's another snowy, cold weekend with the 'Beast from the East 2' making an appearance. Definitely a weekend for hunkering down with a good book.
Here's what I posted on my blog last week:
On Monday, I shared my review of Wartime Brides and Wedding Cakes by Amy Miller. I loved this return to Barton's Bakery in Bournemouth.
No posts on Tuesday, but Wednesday saw two posts. I reviewed the excellent A Perfect Marriage by Alison Booth. I also helped to reveal the cover of Spring at the Little Duck Pond by Rosie Green, which is so cute.
On Thursday, I reviewed The Best Boomerville Hotel by Caroline James, which was a lovely, heart-warming and fun read.
On Friday, I shared an extract from Love Among the Treetops by Catherine Ferguson.
Saturday brought my review of the amazing The Perfect Girlfriend by Karen Hamilton. Oh, I loved this book so much!
And finally, this morning I reviewed Hold My Hand by M.J. Ford which is a fantastic, tightly plotted, crime/thriller/police procedural.
---
And now to this week's additions to my TBR pile. As usual, this list is made up of some cracking sounding books.
People aren't sure what to make of Susan Green – family and colleagues find her prickly and hard to understand, but Susan makes perfect sense to herself, and that's all she needs. 
At 45, she thinks her life is perfect, as long as she avoids her feckless brother, Edward – a safe distance away in Birmingham. She has a London flat which is ideal for one; a job that suits her passion for logic; and a personal arrangement providing cultural and other, more intimate, benefits.

Yet suddenly faced with the loss of her mother and, implausibly, with the possibility of becoming a mother herself, Susan's greatest fear is being realised: she is losing control.

When she discovers that her mother's will inexplicably favours her brother, Susan sets out to prove that Edward and his equally feckless friend Rob somehow coerced this dubious outcome. But when problems closer to home become increasingly hard to ignore, she finds help in the most unlikely of places.

This sparkling debut is a breath of fresh air with real heart and a powerful emotional punch. In Susan we find a character as exasperating and delightful as The Rosie Project's Don Tillman. An uncompromising feminist and a fierce fighter, it's a joy to watch her bloom.
You can always trust your best friend… can't you?

When Rachel discovers a Twitter message arranging a romantic liaison she assumes her husband is having an affair, and follows him. What she witnesses is so much worse: a hit and run using his car.

Meanwhile, Rachel's friend and business partner Suzie is increasingly worried about her fiance, who's not been in touch for days. When Suzie learns of huge debts racked up in her name she fears he has run out on her, but then the threatening calls start and she thinks something terrible has happened.

Rachel and Suzie are both about to learn shocking things about the men they love, worse than they could ever imagine… Can their friendship survive?
What do you do next, after you've changed the world?

It is 1928. Matilda Simpkin, rooting through a cupboard, comes across a small wooden club – an old possession of hers, unseen for more than a decade.

Mattie is a woman with a thrilling past and a chafingly uneventful present. During the Women's Suffrage Campaign she was a militant. Jailed five times, she marched, sang, gave speeches, smashed windows and heckled Winston Churchill, and nothing – nothing – since then has had the same depth, the same excitement.

Now in middle age, she is still looking for a fresh mould into which to pour her energies. Giving the wooden club a thoughtful twirl, she is struck by an idea – but what starts as a brilliantly idealistic plan is derailed by a connection with Mattie's militant past, one which begins to threaten every principle that she stands for.

Old Baggage is a funny and bittersweet portrait of a woman who has never, never given up the fight.
Bellevue Square by Michael Redhill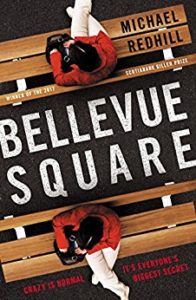 Jean Mason has a doppelganger.

She's never seen her, but others* swear they have.

*others | noun. A peculiar collection of drug addicts, scam artists, philanthropists, philosophers and vagrants – the regulars of Bellevue Square.

Jean lives in downtown Toronto with her husband and two kids. The proud owner of a thriving bookstore, she doesn't rattle easily – not like she used to. But after two of her customers insist they've seen her double, Jean decides to investigate. Curiosity grows to obsession and soon Jean's concerns shift from the identity of the woman, to her very own.

In this darkly comic novel, Redhill takes readers down the existentialist rabbit hole, exploring the surprising and disturbing plasticity of self, and what happens when the sense you've made of things stops making sense.
Tale of a Tooth by Allie Rogers
Four-year-old Danny lives with his mother, Natalie, in a small Sussex town. Life is a struggle and when they are threatened with a benefits sanction, salvation appears in the form of a Job Centre employee called Karen. But Karen's impact is to reach far beyond this one generous gesture, as she and Natalie embark on an intense relationship.

Told in the voice of an intelligent, passionate and unusual child, Tale of a Tooth is an immersive and compelling look at the impact of domestic abuse on a vulnerable family unit.
Susie and her sister have never been close. These days they barely speak. So when Danielle messages her out of the blue and begs to meet, Susie knows something must be wrong.

But what Danielle tells her seems crazy. Her husband, Simon, may be a bully, but surely he wouldn't hurt her?

Then the accident happens. And Susie is forced to rethink everything.

Who is lying?
Who is telling the truth?
And who, really, is the killing type?
Underwater Breathing by Cassandra Parkin
On Yorkshire's gradually-crumbling mud cliffs sits an Edwardian seaside house. In the bathroom, Jacob and Ella hide from their parents' passionate arguments by playing the 'Underwater Breathing' game – until the day Jacob wakes to find his mother and sister gone.

Years later, the sea's creeping closer, his father is losing touch with reality and Jacob is trapped in his past. Then, Ella's sudden reappearance forces him to confront his fractured childhood. As the truth about their parents emerges, it's clear that Jacob's time hiding beneath the water is coming to an end.
They say you killed…BUT WHAT IF THEY'RE WRONG?

Sixty seconds after she wakes from a coma, Maggie's world is torn apart

The police tell her that her daughter Elspeth is dead. That she drowned when the car Maggie had been driving plunged into the river. Maggie remembers nothing.

When Maggie begs to see her husband Sean, the police tell her that he has disappeared. He was last seen on the day of her daughter's funeral.

What really happened that day at the river?
Where is Maggie's husband?
And why can't she shake the suspicion that somewhere, somehow, her daughter is still alive?
One Day in December by Josie Silver
Two people.
Ten chances.
One unforgettable love story.

'The number one feel-good read of Christmas 2018' Dinah Jefferies

Laurie is pretty sure love at first sight doesn't exist. After all, life isn't a scene from the movies, is it?

But then, through a misted-up bus window one snowy December day, she sees a man who she knows instantly is the one. Their eyes meet, there's a moment of pure magic…and then her bus drives away.

Laurie thinks she'll never see the boy from the bus again. But at their Christmas party a year later, her best friend Sarah introduces her to the new love of her life. Who is, of course, the boy from the bus.

Determined to let him go, Laurie gets on with her life. But what if fate has other plans?
Room 119: The Whitby Trader by T.F. Lince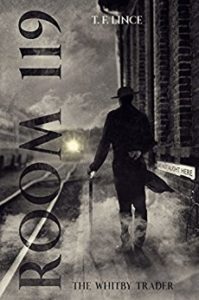 High-flying trader Dean Harrison has it all – the London penthouse apartment; the fast car; the beautiful wife. But when the threads of Dean's life start to unravel, they do so with alarming speed.

Following the advice of a frail stranger, Dean sets off for Welnetham Hall Hotel and is plunged into the mysterious world of Room 119 – a world where nothing makes sense. How does everyone in the hotel know his name? Why does he travel there on a train line that shut down over fifty years ago? And who is the sinister man in black who pursues him wherever he goes?

As he gradually pieces together the puzzle of Welnetham Hall, Dean is forced to re-evaluate his life and realises that nothing is more important to him than his wife and daughter. Desperate to get back to them, he vows he would lay down his life for the people he loves.

It's a promise he may have to keep.
What do you think of these books? I'd love to hear your thoughts.