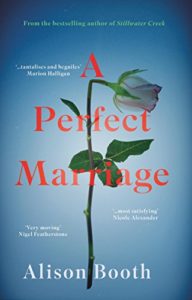 #bookreview – A Perfect Marriage by Alison Booth @booth_alison @RedDoorBooks @LoveBooksGroup #BlogTour
I'm delighted today to be sharing my book review of A Perfect Marriage by Alison Booth. Thank you to Kelly Lacey of Love Books Group and Red Door Books for the review copy and the place on the tour.

Sally Lachlan has a secret that has haunted her for a decade, although perhaps it is time to let it go. A chance meeting with the charismatic geneticist, Anthony Blake, reawakens her desire for love and at the same time, her daughter, Charlie, shows signs of wishing to know more about her father. Both the past and the future are places Sally prefers not to think about.
But if she wants to move towards a new love, she will first have to come to terms with her long-ago marriage.
Only then will she be able to be honest with Charlie. And herself.
A Perfect Marriage is available now in ebook and paperback.
---
A Perfect Marriage is a book that appealed to me straightaway. The cover imagery of a broken rose suggests all in the marriage contained within is not perfect at all.
The book begins with Sally Lachlan on a plane on her way to a conference. Whilst en route she meets Anthony Blake, a fellow scientist and there is an instant connection. This whole thing with Anthony was something I found fascinating to see develop but, despite this being the opening to the book, it's not really the main strand of the story. That belongs to Sally's marriage to Jeff, something she needs to get over before her relationship with Anthony can progress.
The story is divided into sections entitled 'Then' and 'Now'. The reader is thrown back and forth between the two and the 'Then' sections are not in linear order. I loved the way the story of what had happened in the past unfolded and titbits were thrown at me, the reader, to enable me to put it all together like a patchwork quilt. I like being challenged this way, putting the puzzle pieces together to make a whole at the end. That's not to say that any of it was confusing as key events were used as signposts to make it clear which bit of the story was being referred to.
This is not a book with a huge twist. More, it is a slice of life story of a woman looking back at her marriage, or maybe you could call it a psychological drama. I'd call it interesting and I know that that sounds like a bit of a 'meh' way of describing it. But it truly is interesting to read. It's the anatomy of a marriage, a life, a family. It's like being a fly on the wall – something that nosy people like me would love to be!
I found it immensely readable and really liked the author's writing style. I think it showcases the fact that massive plot twists are not necessary when the writing is of good quality and the plotting is tight and clever. I shall look forward to Booth's next book.
---

---

Alison Booth was born in Born in Melbourne and brought up in Sydney, She worked for many years in the UK. Alison is a published novelist with PRH (The Jingera Trilogy). Her debut novel, Stillwater Creek, was Highly Commended in the 2011 ACT Book of the Year Award, and was also published in French (two editions) and in Reader's Digest Select Editions in Asia and in Europe. Her subsequent novels were The Indigo Sky and A Distant Land.