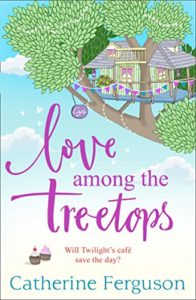 #BlogTour – Love Among the Treetops by Catherine Ferguson @_cathferguson @AvonBooksUK #extract
I'm pleased to be welcoming you today to my stop on the blog tour for Love Among the Treetops by Catherine Ferguson. Thank you to Sabah Khan for the place on the tour.
It sounds like such a lovely read and I've got an extract to share with you today, after we take a look at what it's about.

Can love flourish amongst the tree tops?

When pastry chef Twilight Wilson was a young girl, she would hide from school bullies up in the treehouse at the bottom of her garden in her family home in Sussex. It was her special place, and even as an adult she still loves it.

So when her family tell her they can't afford to live there any more, Twilight is devastated. Not only will they lose their home – but the treehouse too!

She comes up with a plan to save the family home – she'll start up a cafe in the treehouse! It's a brilliant idea, and excitement builds as she starts planning the menus, with the help of Theo – a rather attractive man from the gym. But when former school bully Lucy finds out the plan, she starts plotting – and opens her own rival cafe in the village!

Can Twilight save her family home? Will her friendship with Theo ever be anything more? And who will win the cafe wars?

Catherine Ferguson is back in this hilarious, heartwarming read perfect for summer.
If you like the sound of it too then it's available now in ebook and from 17th May in paperback.
---

It was Dad who first gave me the idea about switching careers and studying to become a pastry chef. When he said it, I laughed, wondering why I hadn't thought of it first. I sometimes think Dad knows me better than I know myself.

He'd always been in great health. Never went to the doctor. His other hobby, apart from the fishing and wood carving, was walking. He and Mum both loved the holidays they spent in the Lake District, getting hot and breathless scaling the peaks and enjoying the panoramic views from the top. At home, when he wasn't busy with the shop, he'd often walk for miles in the country lanes around the village. He was a fit man. Everyone said that. So I didn't have to worry about him.

Then, a month after I started at catering college, Mum phoned to say she'd have to cancel our forthcoming weekend in Amsterdam because Dad was feeling a bit under the weather. I remember thinking it must be a really bad dose of cold or flu to make Dad give up a trip to one of his favourite cities. We'd been looking forward to it, all three of us, for ages.

Then came the news that Dad had diabetes.

I was quite shocked because Dad lived such a healthy life. Okay, he usually had the sticky toffee pudding when he and Mum went out for dinner about once a month, but that was hardly sugar overload.

But after the initial bombshell, I got used to the idea. Dad had diabetes, which wasn't good. But it wasn't the end of the world, either.

Then Mum phoned and mentioned he was going into hospital for more tests, and that was when I started to really worry. If diabetes had been diagnosed, why the need for further tests?

It turned out the diabetes was an underlying symptom of something much more serious.

Mum very rarely cried. But that night, when I took the train back to Sussex and Dad was in bed, too exhausted from the effects of the cancer to even stay up to greet me, we clung to each other and she sobbed her heart out.

Now, the only thing keeping us all going is the thought that this revolutionary new treatment will somehow make a difference. His age – fifty-nine – meant it was touch and go whether he would even be accepted on the trial, but their lovely GP was adamant he was a good candidate for the treatment. The day we heard it was full steam ahead – two months ago, in March – we cracked open a bottle of champagne Mum had been saving for their anniversary, and even Dad managed a glass.

Dad's sister, my Auntie June, lives in North London, so hers was the obvious place for them to stay while Dad underwent his three months of treatment.

But their financial situation was becoming more urgent by the day. Dad had closed the business three months earlier, finally accepting he wasn't well enough to continue working. It broke my heart when he had to sell off his stock just to continue paying the mortgage.

And now it's up to me to save Honey Cottage.
---

---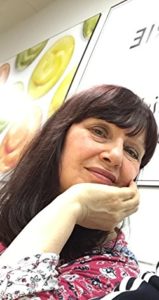 Catherine Ferguson burst onto the writing scene at the age of nine, anonymously penning a weekly magazine for her five-year-old brother (mysteriously titled the 'Willy' comic) and fooling him completely by posting it through the letterbox every Thursday.
Catherine's continuing love of writing saw her study English at Dundee University and spend her twenties writing for various teenage magazines, including Jackie and Blue Jeans, and meeting pop stars. Then she got serious and worked as a sub-editor at the Dundee Courier before moving to Surrey and setting up an organic veg box delivery business.
Her first novel, HUMBUGS AND HEARTSTRINGS, is very loosely based on Dickens' A CHRISTMAS CAROL and was the launch title for Avon's brand new imprint, Maze. Her seventh book, LOVE AMONG THE TREETOPS, is out March 2018.
Catherine lives with her family in Northumberland.